Support the Boston Pops
A Company Celebration at Pops
On December 14, 2021, the BSO's signature corporate Holiday Pops gala, A Company Celebration at Pops celebrated the extraordinary partnership between the corporate community and the Boston Symphony Orchestra.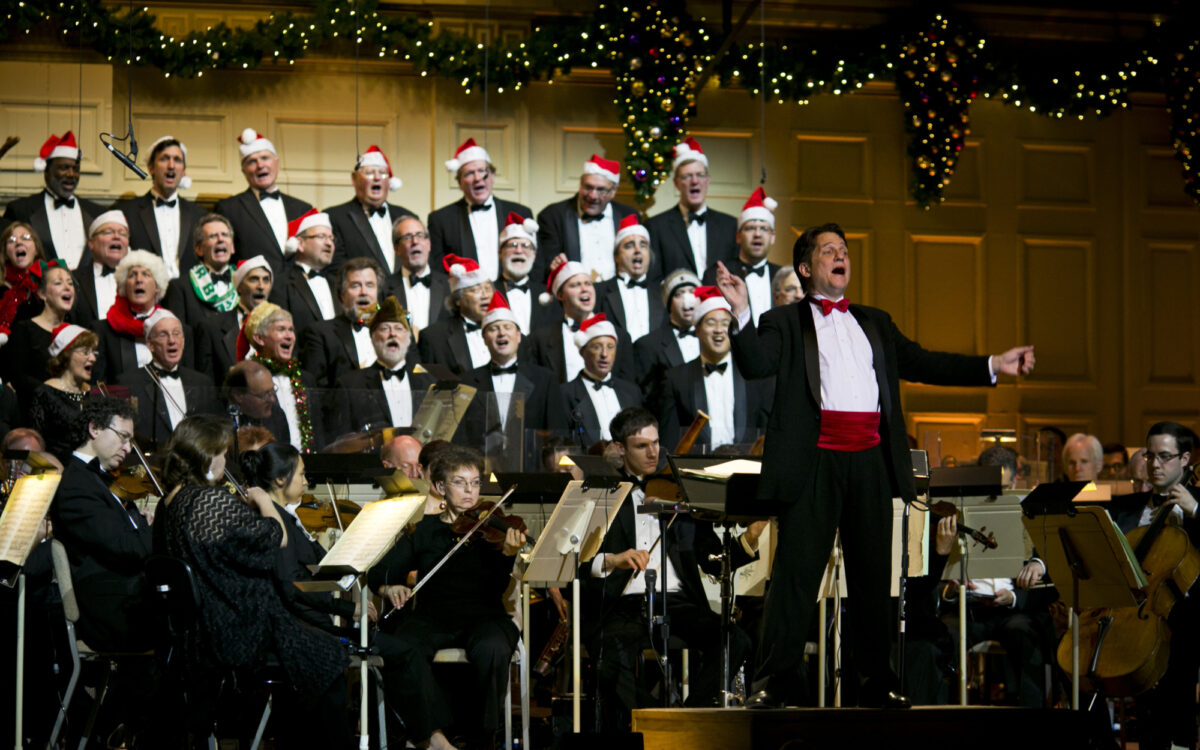 Each year this event celebrates the sounds and spirit of the season, made even more memorable this year with the wonderful Jennifer Nettles and, of course, Keith Lockhart and the Boston Pops. We hope all our guests enjoyed an evening of great music, good company, and holiday cheer. This year we raised more than $1 million for the BSO and the Boston Pops, an extraordinary accomplishment that we could not have achieved without the enthusiasm and generosity of our Co-Chairs, Committee and Sponsors.
---
The BSO is sincerely grateful to this year's sponsors for their extraordinary generosity and leadership.
Lead Sponsors
WINTER WALTZ
Takeda Pharmaceutical Co., Ltd.
WuXi AppTec
Anonymous
CANDLELIGHT CONCERTO
Adage Capital Management
Bayberry Financial Services
Merck & Co,. Inc
Vertex Pharmaceuticals
SNOW GLOBE SONATA
Farley White Interests
Barbara and Amos Hostetter
Intercontinental Real Estate Corporation
The New England Foundation
Putnam Investments



FLANNEL FUGUE
Albrecht Auto Group
Alnylam Pharmaceuticals
AstraZeneca
Dick and Ann Marie Connolly
Boston Red Sox and Fenway Sports Management
Gerald R. Jordan Foundation
Goldman Sachs & Co.
Goodwin Procter LLP
J.P. Marvel Wealth Management
Liberty Mutual Insurance
Sean McGrath, Stonegate Group
John and Christine Maraganore
Mintz, Levin, Cohn, Ferris, Glovsky and Popeo, P.C. and ML Strategies
Morgan, Lewis & Bockius LLP
Needham Bank
Schrödinger
Christopher and Alison Viehbacher
All Sponsors
Accenture
Adage Capitol Management
Albrecht Auto Group
Alnylam Pharmaceuticals
Amuleto Mexican Table
Arbella Insurance Foundation
AstraZeneca
Bank of America
Lisa Barton
Bayberry Financial Services
Belmont Capital, LLC
Berkshire Bank
Blue Cross Blue Shield of Massachusetts
Boston Red Sox and Fenway Sports Management
Irene and Ari Brettman
Alex Brown
Caroline A. Browne and Danielle C. Browne
Laurie Cerveney
Dick and Ann Marie Connolly
Connell Limited Partnership
Angela Crispi
Jack Concannon
Denali Therapeutics
In Memory of H. Dilthey
E.M. Duggan
Evotec
Fairmont Copley Plaza
Farley White Interests
Jason Frank
Rick Filosa
Julia Frost-Davies
Matt Furlong
Janet Gannon
Steve and Betty Gannon
Goldman Sachs & Co.



Goodwin Procter LLP
Elizabeth and Phill Gross, Adage Capital Management
Harvard Business School
ImmuneID
Intercontinental Real Estate Corporation
Gerald R. Jordan Foundation
John Hancock
Roger Joseph
J.P. Marvel Wealth Management
Liberty Mutual Insurance
Liz and Marty Lempres
Locke Lord LLP
Longwood Fund
Longwood Health Care
Manatt, Phelps & Phillips, LLP
John and Christine Maraganore
Sean McGrath, Stonegate Group
Mintz, Levin, Cohn, Ferris, Glovsky and Popeo, P.C. and ML Strategies
Morgan, Lewis & Bockius LLP
Navigator Management
Needham Bank
The New England Foundation
Andy and Suzanne Plump
Putnam Investments
Schrödinger
Shepley Bulfinch
Bill and Cynthia Sibold
Steward Health Care System
Takeda Pharmaceutical Co., Ltd.
Tectonix
The TJX Companies, Inc.
Vertex Pharmaceuticals
Christopher and Alison Viehbacher
WuXi AppTec
Anonymous
---
For additional information, please contact:
Katie Gassert
Assistant Director of Development Events
617-638-9392 | kgassert@bso.org