Tanglewood Online Exhibits
A Festival Is Born: 1934-1936
Every year, nearly 350,000 visitors come to Tanglewood to enjoy music under the stars. Learn how this annual tradition got its start as the Berkshire Symphonic Festival.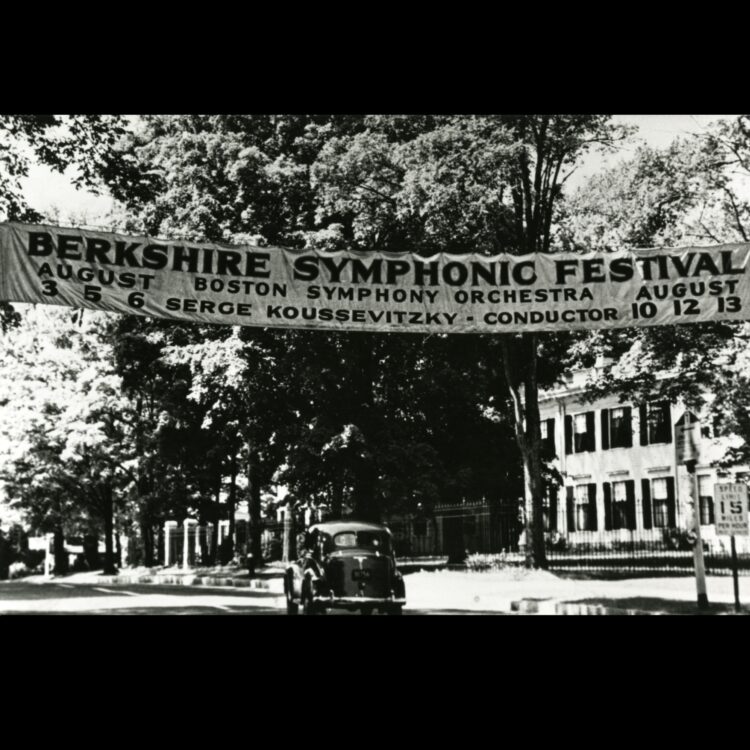 In Search of a Venue
In the spring of 1934, American composer/conductor Henry K. Hadley was traveling through the Berkshires looking for a site for a summer concert series.
An Organizer Is Found
His search for a local organizer led him to Gertrude Robinson Smith, a Berkshire summer resident from New York. Miss Robinson Smith gathered other Berkshire leaders and led the charge to produce a local music festival.
A Likely Spot
When he saw the large horse ring on the Dan Hanna property in Stockbridge, he knew he had found the perfect place for a summer festival.
The Inaugural Program
The first Berkshire Symphonic Festival was held August 23, 25, and 26, 1934, with Hadley conducting 65 members of the New York Philharmonic.
A Great Success
It was such a success that the organizers incorporated the Berkshire Symphonic Festival and immediately started planning for the next year. In 1935, Henry Hadley returned with 85 members of the New York Philharmonic.
A Change In Orchestras
In 1936, Hadley's poor health and artistic differences with the festival leadership motivated the organizers to invite the Boston Symphony Orchestra and its dynamic conductor Serge Koussevitzky to perform.
A Change in Venue
The 1936 festival took place at Holmwood, a former Vanderbilt estate on the boundaries of Stockbridge, Lenox, and Lee. A tent measuring 250 by 120 feet was erected on a lawn in front of a grove of pine trees.
First BSO Berkshire Program
The third Berkshire Symphonic Festival took place on August 13, 15, and 16, 1936, with crowds that overflowed the capacity of the 3,600-seat tent.
A Traffic Jam
Reporters from more than 20 newspapers attended, and with 5,000 tickets sold, the traffic jams were so severe that the starting time for the concert had to be set back half an hour. The festival was deemed a financial and cultural success.