Tanglewood Online Exhibits
A Great Future for the Festival: 1937-1938
Long before Tanglewood became the name and site of the music festival, school, and summer home of the Boston Symphony Orchestra, it was the name given to the estate developed by William Aspinwall Tappan and his wife, Caroline Sturgis Tappan, who purchased the property in 1851. The manor house was completed ca. 1865.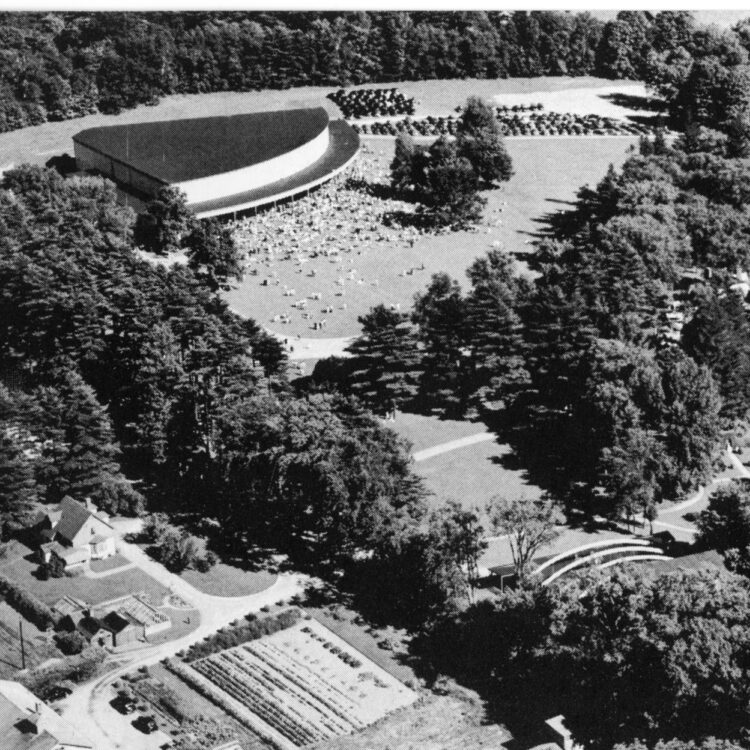 A Gift of Land
The early success of the festival gained momentum when in late 1936, Mrs. Gorham Brooks (born Rosamond Sturgis Dixey, and the granddaughter of William Aspinwall Tappan) and her aunt, Miss Mary Aspinwall Tappan, offered their 210-acre estate — Tanglewood — as a gift to the BSO, thus providing a permanent home for the festival and ensuring the BSO's future role in it.
The Festival Grows
With a permanent home, the festival was expanded to a total of six concerts over the course of two weekends.
Live from Tanglewood
The 1937 festival opened at Tanglewood on August 5 with an all-Beethoven concert that was broadcast across the U.S. on the NBC radio network. Some 8,000 attendees, the largest audience yet for the festival, gathered inside a tent to enjoy the music.
A Storm-Drenched Audience
However, at the all-Wagner concert that opened the 1937 festival's second weekend, rain and thunder twice interrupted the Rienzi Overture and canceled the performance of the "Forest Murmurs" from Siegfried, music too delicate to be heard through the downpour.
Instant Appeal
At the intermission, Miss Gertrude Robinson Smith, one of the festival's founders, made an appeal to raise funds for a permanent structure. Within a few minutes, $30,000 had been pledged.
Just a Shed
The eminent Finnish-born architect Eliel Saarinen was selected by Koussevitzky to design the structure. After his plans twice exceeded the $100,000 budget for the project, the architect warned the Trustees that they would end up with "just a shed."
Stockbridge engineer Joseph Franz was called on to simplify the plans and oversaw the "Shed" to its completion — ahead of schedule and under budget.
Wintry Work
No time was wasted in preparing the site for the Music Shed after the 1937 season ended. Despite snow and frost, workmen dug holes for the 78 steel columns needed to support the building and steel workers toiled through the wintry Berkshire months to keep the project on schedule.
A Finished Structure
Completed in time for the very next season, the Music Shed was inaugurated on August 4, 1938. It remains, with modifications, to this day.
Listen:
Gertrude Robinson Smith Speech at the Tanglewood 1938 Shed Dedication