Tanglewood
Tanglewood Announces the 2021-2022 Fall/Winter/Spring Schedule of Activities at the Linde Center for Learning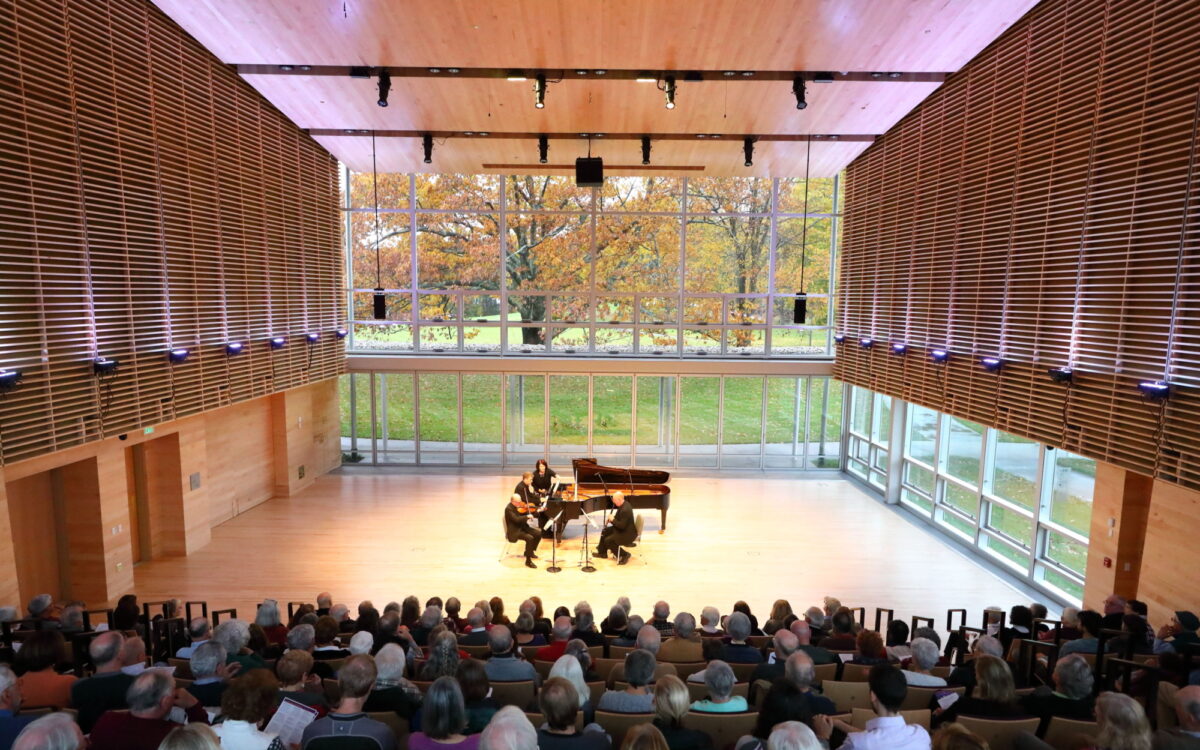 2021-22 TLI Season Concert Series To Include Four Chamber Music Programs Performed by Boston Symphony Orchestra Musicians and Guests; The Linde Center Will Also Host a Special Collaboration Between BSO Musicians and WBUR's Circle Round Podcast.
Programs Will Be Available Later This Season as Video-On-Demand BSO NOW Concert Streams at BSO.org/BSO-NOW
---
TLI Fall/Winter/Spring Tickets for Chamber Music Concerts at the Linde Center—$20 for General Admission and $10 for Young People Ages 17 and Under are Currently at TLI.org
Tickets for the Free Circle Round Taping are Required and Available Here.
Four Sunday-Afternoon Chamber-Music TLI CONCERTS Featuring BSO Musicians and Guests
• Sunday, November 14, at 3 p.m.: Members of the Calyx Trio—BSO violinist Catherine French, cellist Jennifer Lucht, and pianist Nina Ferrigno—perform Beethoven's Sonata in G major for piano and violin, Op. 30, No. 3; the world premiere of James Lee III's Piano Trio No. 3 Tones of Clay; and Beethoven's Piano Trio in E-flat major, Op. 1, No. 1; the James Lee world premiere and commission made possible by the generous support of Chamber Music America and the Andrew W. Mellon Foundation.
• Sunday, December 12, at 3 p.m.: Violinist Yevgeny Kutik, BSO Principal Bass Edwin Barker, and pianist Anna Polonsky present Shostakovich's Sonata in G for violin and piano, Op. 134; Weinberg's Sonata for solo double bass, Op. 108; Penderecki's Duo Concertante for violin and double bass; and Andrea Clearfield's Three Songs after Pablo Neruda, for violin and double bass.
• Sunday, March 13, at 3 p.m.: BSO violinists Victor Romanul and Xin Ding, BSO violist Daniel Getz, BSO cellist Mickey Katz, and pianist Randall Hodgkinson play Jessie Montgomery's Duo for violin and cello, Shostakovich's Five Pieces for two violins and piano, and Sibelius' String Quartet in A minor
• Sunday, April 10, at 3 p.m.: Members of the BSO bass section (Ben Levy, Larry Wolfe, Dennis Roy, John Stovall, Carl Anderson), bassist Charles Clements, harpist Charles Overton, tenor Eric Carey, and BSO Assistant Conductor Anna Rakitina perform Doug Balliett's Beast Fights, Katherine Balch's Kalesa Ed Kaluca for bass septet; Britten's Canticle V: The Death of St. Narcissus, Op. 89, for tenor and harp, and duets by Bartók
"Concert for Very Young People": A Special Collaboration with WBUR'S Circle Round Podcast Presented by BSO Education and Community Engagement
• Saturday, November 20, at 10:30 a.m.: For this special live taping of the popular children's storytelling podcast Circle Round, hosted by WBUR's Rebecca Sheir, BSO musicians (violinist Bonnie Bewick, piccolo player Cindy Meyers, bassoonist Suzanne Nelsen, and horn player Rachel Childers) perform with actors Karen Allen, Megan Boone, Scott Cohen, Marielle Heller, and Peter Riegert.
Press Contact
Jan Devereux
Senior Director, Public Relations and Communications
jdevereux@bso.org
Matthew Erikson
Senior Publicist
merikson@bso.org
617-638-9280

Rena Cohen
Publicist
rcohen@bso.org