Visit Symphony Hall
Health & Safety: Symphony Hall
We're committed to creating a safe and healthy environment in Symphony Hall.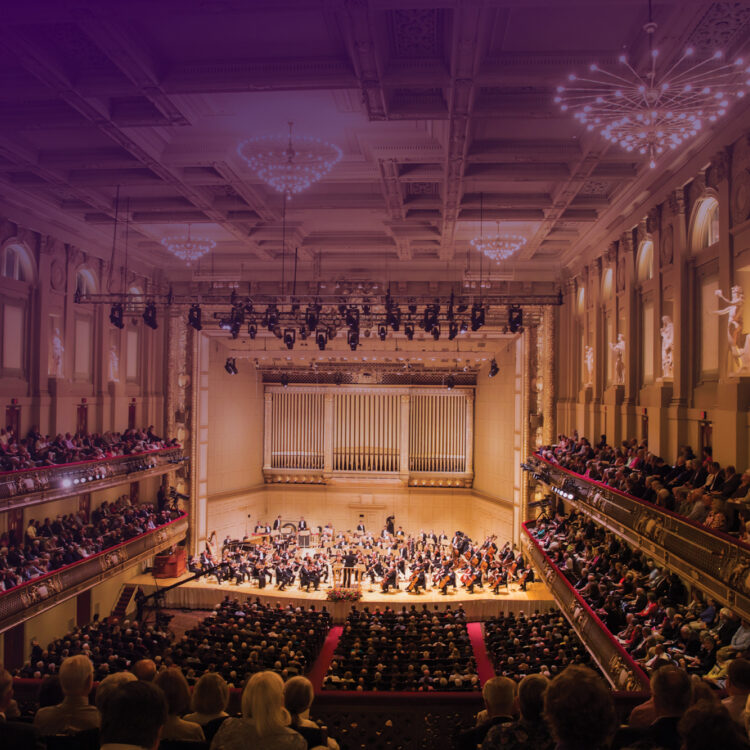 Please see our health and safety protocols below. These policies will apply to all public events held in Symphony Hall until further notice, including BSO and Boston Pops performances, Boston Speaker Series events, Celebrity Series performances, Handel and Haydn Society concerts, and other third-party events.

Please note:

These policies are subject to change as the COVID-19 pandemic and government mandates evolve. Before you visit Symphony Hall, be sure to check this page and your email for the latest information. If you purchase tickets for someone else, please direct them to this page before they attend an event.
Your Health and Safety
When to Stay at Home
Please stay home if:
You are sick or have COVID-19 symptoms (such as fever, a sore throat, chills, cough, shortness of breath, congestion, nausea, or vomiting).
You're unvaccinated and have been in close contact with an individual diagnosed with COVID-19 or exhibiting COVID-19 symptoms within the past 14 days.
You have been directed to self-isolate or quarantine by a health care provider or public health official. Please follow CDC guidelines and any relevant state travel guidelines.
You're awaiting the results of a COVID-19 test.
No Proof of Vaccination or Negative Test Needed
You do not need to show proof of vaccination or a negative test result to enter Symphony Hall.
Face Masks
Mask wearing is recommended, but optional, while in Symphony Hall. Anyone who wishes to wear a mask is welcome to do so. Higher efficiency masks such as N95s, KN94s, or KF94s are recommended.
Cleaning Procedures
The BSO has earned the WELL Health-Safety Rating for Facility Operations and Management of Symphony Hall. The WELL Health-Safety Rating is an evidence-based, third-party verified rating focusing on operational policies, maintenance protocols, stakeholder engagement, and emergency plans to address a post-COVID-19 environment now and into the future. Visit wellhealthsafety.com for details.
Air Quality
Air handling systems were evaluated and upgraded as necessary to provide enhanced ventilation and filtration, including filtration with a MERV13 or higher rating on recirculated air systems and bringing in 100% outdoor air at increased rates of ventilation.
Additionally, the BSO has achieved UL Solution's Healthy Buildings Verification Mark for Indoor Air, demonstrating that Symphony Hall provides healthy indoor air quality (IAQ). It shows a commitment by building owners and managers to create and maintain an indoor environment that supports tenant health, well-being, and comfort, backed by UL's globally recognized expertise in IAQ and building health. Symphony Hall meets rigorous performance criteria and has policies and plans in place for continual advancement of IAQ.
Hand Sanitizer
Hand sanitizer is readily available throughout Symphony Hall.
Your Concert Experience
Touchless Ticketing
We're offering secure, contactless mobile ticketing this season to reduce physical touchpoints. Printed tickets are also available upon request. We recommend buying tickets online ahead of time wherever possible to further reduce contact.
Flexible Exchanges and Credits
For maximum flexibility, you can request an exchange or credit up to 24 hours before the start of your performance until further notice.
Food and Beverage
BSO Concerts:

Refreshment Centers and Bars are open throughout Symphony Hall for light snacks and beverages before performances and during intermissions. Symphony Café serves a selection of small plates for lunch beginning at 11am prior to Friday-afternoon concerts. Before evening concerts, Prelude in Higginson Hall offers three-course plated meals. Reservations are required for Prelude in Higginson Hall. Please note that service may be limited and that eating and drinking is confined to designated spaces within Symphony Hall.
Symphony Shop

The Symphony Shop is not open at this time, but we look forward to reopening it as soon as we are able. In the meantime, you can visit the BSO Online Shop.

Performances Outside of Symphony Hall
Boston Symphony Chamber Players performances at Jordan Hall: Please check Jordan Hall's health and safety protocols.
Community Chamber Concerts: Please check each venue's website for health and safety information.
Frequently Asked Questions
Last updated: September 9, 2022