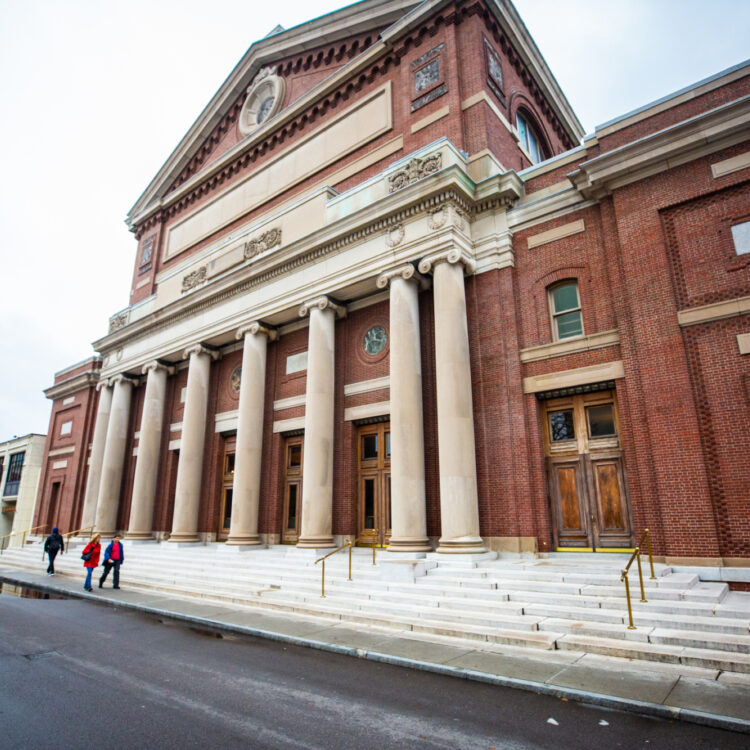 Located on the orchestra and first balcony levels of Symphony Hall, this season's BSO archival exhibits trace the changing face of the orchestra (focusing on immigration and several important "first" players), highlight some extra-orchestral uses of Symphony Hall (from silent film screenings to early 20th century band performances to folk and jazz popular artist concerts in the 1960s-70s), spotlight the history of the horn and trumpet sections of the BSO, display selections from a recently donated baton collection, dig into the construction of a Symphony Hall seat, and examine Black voices at the BSO and Pops.
At the start of each season, BSO Archives staff select documents, photographs, and artifacts from the Archives' permanent collection for display in exhibit cases located throughout the orchestra and first balcony levels of Symphony Hall. The Symphony Hall Exhibit Program as it exists today was inaugurated in 2000 when the BSO celebrated Symphony Hall's Centennial. Because Symphony Hall does not have a gallery or museum space, the decision was made to incorporate the displays into the hallways so that patrons visiting Symphony Hall would be able to discover different aspects of the BSO's and Symphony Hall's history as part of the concert-going experience. Each case is organized around a theme inspired by an anniversary, an artistic or programmatic emphasis, a significant event, the acquisition of a document or artifact by the Archives, or just for the fun of it!
Please send comments, feedback, and suggestions to archives@bso.org.