Visit Symphony Hall
Irving W. and Charlotte F. Rabb Symphony Hall Tours
Go behind the scenes with a tour of Symphony Hall!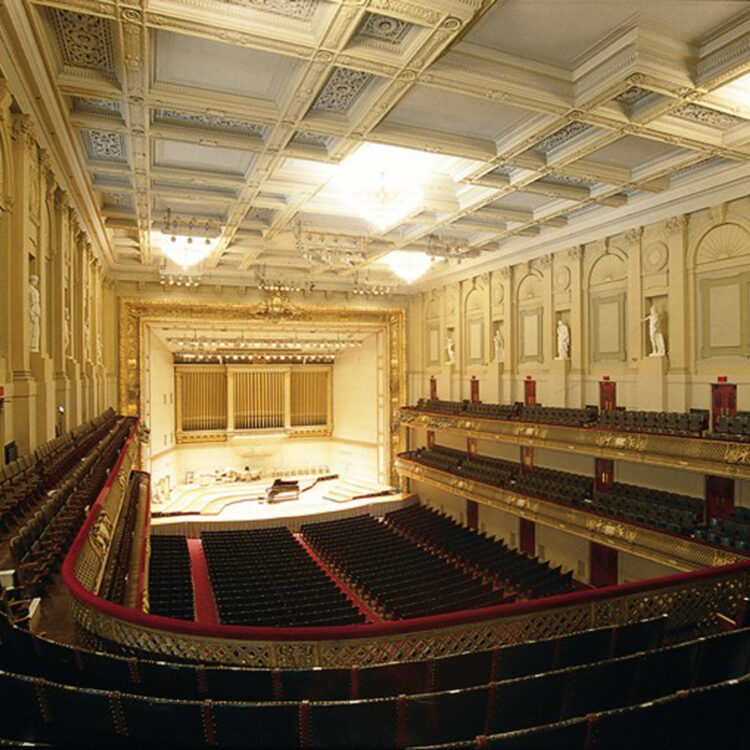 Explore Symphony Hall as experienced members of the Boston Symphony Association of Volunteers unfold the history of the Boston Symphony Orchestra — its musicians, conductors, and supporters — as well as offer information about the historic hall.
Tours last approximately one hour to 90 minutes, depending on the group.
Tours include public spaces in Symphony Hall, as well as select behind-the-scenes areas when available.
We offer public walk-up tours for free, and private group tours for a small fee.
Attendees for Saturday and Casual Friday performances can attend shortened, 30 minute tours starting at 7:10pm in the Cogan-Cornille Corridor (near the musician photos). The tour is only open to ticket-holders for this concert. RSVP is required. Links to RSVP will be emailed prior to concert and limited to 50 people.

Public Walk-Up Tours
Free
Please see the form below for available dates.
On the day of the tour, your tour guide will meet you inside the Box Office Lobby at Symphony Hall (on Massachusetts Avenue). Doors to the Box Office Lobby will open 10-15 minutes prior to tour start time.
Reservations are not required, but recommended for planning purposes. Please fill out the form below to help us best prepare for your visit. If you have any questions about walk-up tours, please email bsav@bso.org.
Private Group Tours
$15 per person*
All groups with more than 10 participants are asked to make reservations no less than three weeks prior to your visit. Any group with fewer than 10 participants can book a private tour, but they will be charged as a group of 10 participants.
*$10 per person for groups attending a BSO or Boston Pops concert or organizing a private event in Symphony Hall within one week of the tour.
Additional information:
Tours for local, Boston-area elementary schools, high schools, and youth/education community groups are free. This does not include college/university groups.
Tours can accommodate a maximum of 100 people, including chaperones.
Fee must be paid in full one week prior to the scheduled tour.
Cancellations must be received 24 hours in advance; after that time, full payment will be required.
No tours can be scheduled on holidays or during the Pops seasons. We also do not have hall tours in the summer months due to hall repairs.
Tours must be scheduled during times when Symphony Hall is not otherwise in use.
For any additional information or questions, please email bsav@bso.org.
Please fill out the form below to make your tour reservation.