Special Ticket Opportunities
Learn more about special discounts to experience the music you love for less.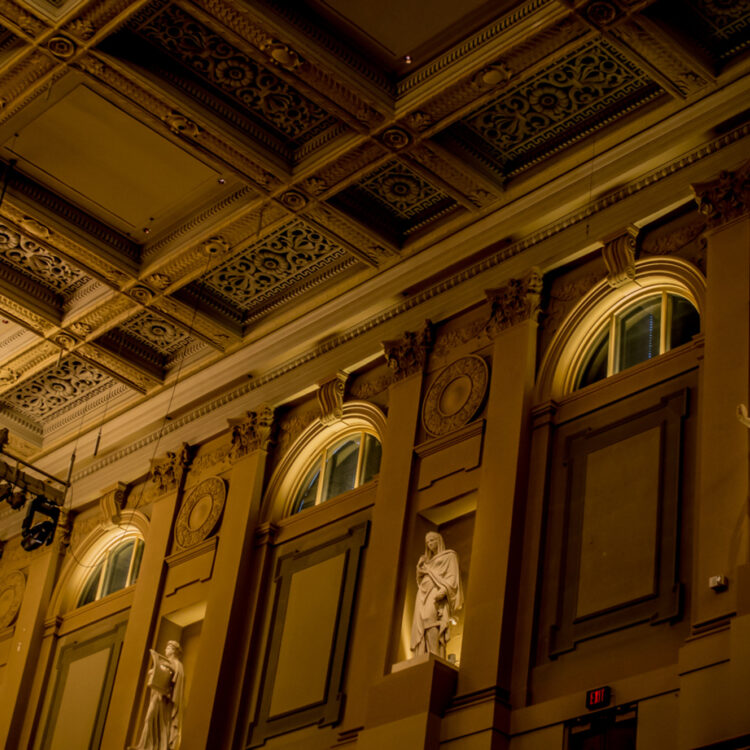 This is where you can find all the information you need on special discounts and offers for BSO concerts.
Looking for Pops or Tanglewood deals? See the links below!
The best prices of the year have arrived!
From November 21 – 28, take 20% off select Holiday Pops concerts and up to 40% off select BSO concerts!
$25 Under 40
Select seats for the following performances are currently available for the $25 under 40 program. Please enter promo code 25under40 before selecting your seats. Limit 2 tickets per person per concert. Ticket purchasers must be under 40 and be prepared to provide proof of age.
Currently there are no performances available with this discount. Please check back when the BSO season resumes in January for more information.
High School and College Cards
BSO High School and College Cards are the best way for students to experience the BSO on a regular basis. Priced at just $15 for high schoolers and $30 for college students, cardholders can attend most BSO concerts throughout the season at no additional cost. Blackout dates apply.

Rush Tickets
A limited number of Rush Tickets for BSO subscription concerts on Thursday evenings, Friday afternoons, and Sunday afternoons are set aside to be sold on the day of the performance, based on availability. These tickets are sold at $10 each, by cash or credit card, one per customer, at the BSO Box Office on Massachusetts Avenue. Sales begin:

Thursdays at 5pm
Fridays at 10am
Sundays at 11am
Sales continue while supplies last or up until one hour prior to concert time, whichever comes first. Please note that there are no Rush Tickets available on Friday evenings or Saturday evenings.
This program is made possible through the Richard and Claire Morse Rush Ticket Fund.
Medical Card

For just $30, Medical Cards allow health care professionals to attend most BSO performances throughout the season at no further costs after the initial card is purchased. Blackout dates apply.

BYSO Family Pass
The BYSO Family Pass allows Boston Youth Symphony Orchestra (BYSO) families to attend BSO performances throughout the season at no further costs after the initial card is purchased. Blackout dates apply.
MTA Discounts
Massachusetts Teachers Association (MTA) members receive a 30% discount on BSO tickets with their MTA membership card and matching photo ID. MTA card and ID must also be shown for tickets purchased by phone, which will be held at will call. The discount cannot be retroactively applied to previously purchased tickets.
Military Discount
The BSO is proud to salute our military with a 30% discount for all military personnel and veterans. This discount applies to BSO and Boston Pops concerts at Symphony Hall and Tanglewood, based upon availability. Please identify yourself when placing your ticket order to receive the discount. Available through Ticketing and Customer Service at 888-266-1200 and at the Symphony Hall and Tanglewood Box Offices. Offer not available for previous purchases.
Card to Culture
The BSO is proud to participate in the Card to Culture program, a collaboration between Mass Cultural Council and the Department of Transitional Assistance, Massachusetts Health Connector, and Women, Infants & Children (WIC) Nutrition Program to broaden cultural programming accessibility.

The BSO is pleased to offer $10 adult tickets and $5 children-under-18 tickets for EBT, WIC, and ConnectorCare Card holders. Note: The total number of tickets that can be purchased at these rates during the 2022-2023 BSO season is 8 per card holder (8 tickets over the entire season).
Tickets may be purchased beginning on Monday, September 12, 2022 at noon by visiting the Symphony Hall Box Office or by calling Customer Service. A valid EBT, WIC, or ConnectorCare Card must be shown at the Box Office for in-person purchases. Tickets ordered by phone will be held at the Box Office for pick up with a valid EBT, WIC, or ConnectorCare Card. EBT, WIC, and ConnectorCare Card tickets are limited and subject to availability. Blackout dates apply.

Ticket quantities are limited for all performances.

See the full list of participating organizations offering EBT, WIC, and ConnectorCare discounts.