Visit Symphony Hall
Health & Safety: Symphony Hall
The Boston Symphony Orchestra is committed to creating a safe and healthy environment in Symphony Hall as we reunite for the 2021-22 season.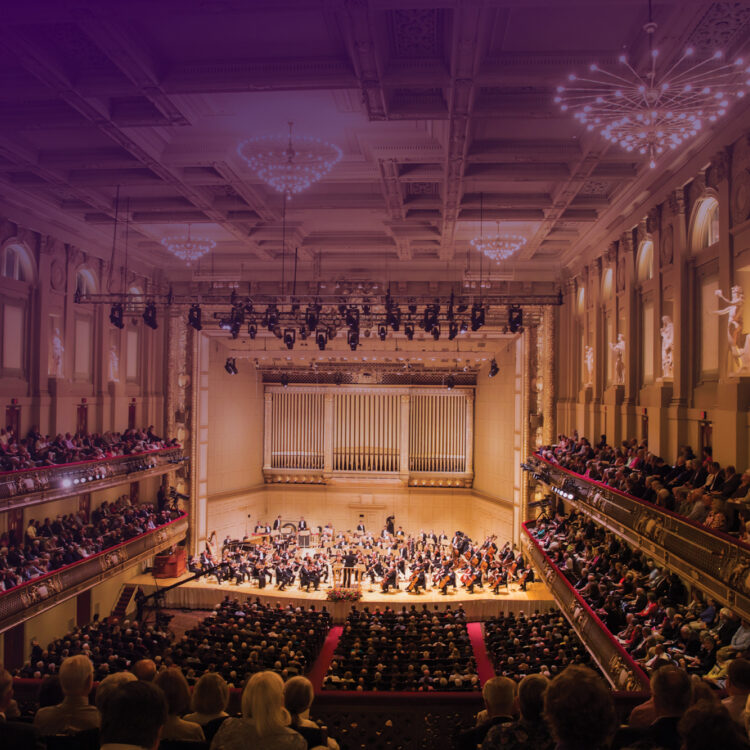 To that end, we are implementing the protocols outlined below beginning on September 30, 2021. These policies will apply to all public events held in Symphony Hall, including BSO and Boston Pops performances, Boston Speaker Series events, Celebrity Series performances, Handel and Haydn Society concerts, and other third-party events.
These policies are subject to change as the COVID-19 pandemic evolves. Before you visit Symphony Hall, please check this page and your email for the latest information. If you purchase tickets for someone else, please direct them to this page before they attend an event.
---
Your Health and Safety
When to Stay at Home
Please stay home if:
You are sick or have COVID-19 symptoms (such as fever, a sore throat, chills, cough, shortness of breath, congestion, nausea, or vomiting).
You're unvaccinated and have been in close contact with an individual diagnosed with COVID-19 or exhibiting COVID-19 symptoms within the past 14 days.
You have been directed to self-isolate or quarantine by a health care provider or public health official. Please follow CDC guidelines and any relevant state travel guidelines.
You're awaiting the results of a COVID-19 test.
Proof of Vaccination or Negative Test
All visitors must present full proof of vaccination or a negative COVID-19 test each time they enter Symphony Hall. Fully vaccinated is defined as having had a second COVID-19 vaccination shot. Attendance is based on your concert date being 2 weeks post the second COVID vaccination.
A negative COVID-19 test must either be a PCR test taken within the last 72 hours or an antigen test taken within the last 24 hours.
Proof of a negative test can be in the form of a photo or email of negative test results from a clinic, testing center, medical professional or a time-stamped photo of an at home test.
Options for proof of vaccination include showing a vaccination card or a photo of the card, or a digital vaccine record.
For all Holiday Pops performances, children under 12 years of age must show full vaccination proof (having received a second vaccination shot 2 weeks prior to attendance) or a negative test result (either a rapid test or PCR test as defined above) for entrance to Symphony Hall.
Face Mask Requirement
Everyone aged 2 years or older* is required to wear a CDC-approved mask during all indoor public events in Symphony Hall, regardless of vaccination status, except when actively eating or drinking.
*Children under 2 years old are not required to wear a mask but will need proof of a negative COVID-19 test to enter the hall.
Cleaning Procedures
The BSO has achieved the Global Biorisk Advisory Council® (GBAC) STAR™ accreditation, the gold standard for prepared facilities, indicating that we have implemented the most stringent protocols for cleaning, disinfection, and infectious disease prevention. Learn more at gbac.org.
The BSO has also earned the WELL Health-Safety Rating for Facility Operations and Management of Symphony Hall. The WELL Health-Safety Rating is an evidence-based, third-party verified rating focusing on operational policies, maintenance protocols, stakeholder engagement, and emergency plans to address a post-COVID-19 environment now and into the future. Visit wellhealthsafety.com for details.
Air Quality
Air handling systems were evaluated and upgraded as necessary to provide enhanced ventilation and filtration, including filtration with a MERV13 or higher rating on recirculated air systems and bringing in 100% outdoor air at increased rates of ventilation.
Hand Sanitizer
Hand sanitizer will be readily available throughout Symphony Hall.
Your Concert Experience
Touchless Ticketing
There will be secure, contactless mobile ticketing this season, which will reduce physical touchpoints. Printed tickets will also be available upon request. We recommend buying tickets online ahead of time wherever possible to further reduce contact.
Flexible Exchanges and Credits
To provide maximum flexibility, we will offer ticket buyers exchanges or credits up to 24 hours before the start of each performance until further notice.
Food and Beverage
BSO Concerts:
Refreshment Centers and Bars will be open throughout Symphony Hall for light snacks and beverages before performances and during intermissions. Symphony Café will serve a selection of small plates for lunch beginning at 11am prior to Friday-afternoon concerts. Before evening concerts, Prelude in Higginson Hall will offer 3-course plated meals. Reservations are required for Prelude in Higginson Hall. Please note that service may be limited and that eating and drinking may be confined to designated spaces within Symphony Hall.
Holiday Pops Concerts:
Patrons seated at tables on the orchestra level of Symphony Hall may order from the Pops menu and enjoy dining during the concert. Per City of Boston mandates, these guests may remove their masks only while actively eating and drinking. No food or beverage (except for water) is permitted in balcony seats. To comply with Boston's COVID-19 policies, all patrons seated in the balcony must keep their masks on at all times, unless actively drinking water.

Tables and chairs on the floor of Symphony Hall are placed directly next to each other at these performances, so please help keep yourself and your neighbors safe by wearing your mask when you're not eating or drinking. If you have tickets at a table and do not feel comfortable with these circumstances, you may request an exchange for balcony seats or a credit* by contacting Ticketing and Customer Service at tickets@bso.org or 617-266-1200.

*Exchanges for balcony seating are based on availability and are not guaranteed. Exchanges and credits must be requested no later than 24 hours prior to the concert.

Bars will be open throughout Symphony Hall for light snacks and beverages before performances and during intermissions.
Symphony Shop
The Symphony Shop will not be open at this time, but we look forward to reopening it as soon as we are able. In the meantime, you can visit the BSO Online Shop.
FAQ
Will there be any social distancing in Symphony Hall?
At this time, there will not be any social distancing in the hall. Performances will be held at standard capacity.
Will musicians and staff follow these protocols?
All musicians, guest artists, staff, and volunteers are required to show proof of vaccination. (Reasonable accommodations will be made for those who qualify.) While instrumentalists are not required to wear masks on stage, all Tanglewood Festival Chorus members will be masked, along with staff and volunteers working offstage or attending indoor public events.
Will performances have intermissions?
All BSO performances will include an intermission. For information about intermissions at other events, please contact the presenter directly.
I'm fully vaccinated. Do I also need a booster shot to enter Symphony Hall?
At this time, a booster shot is not required to enter the hall.
Will I need to show my vaccine card or a negative test every time I see a concert?
Yes, all visitors will need to provide proof of vaccination or a negative COVID-19 test every time they enter Symphony Hall.
Can I take a rapid test at Symphony Hall to be allowed in?
The BSO is not providing rapid tests at Symphony Hall.
How were these protocols developed?
The BSO's reopening plan for Symphony Hall has been developed and adapted through months of work by more than 100 individuals including BSO staff, Board, and musicians, with expert guidance from 9 Foundations, Inc. led by Dr. Joseph G. Allen. The Audience Outlook Monitor, a longitudinal survey sponsored locally by ArtsBoston and run nationally by independent consultant WolfBrown, also provided input from BSO patrons, tracking their perceptions, concerns, and intentions during the pandemic to inform these protocols. Under the core planning principle that health and safety are paramount, the roadmap for returning to live programs at Symphony Hall is grounded in a layered approach designed to reduce the risk of COVID-19 transmission and is based on the best available science and a philosophy of holistic risk reduction. The BSO remains committed to monitoring and following the science behind all recommended protocols and restrictions and updating ticket buyers every step of the way.
What are the protocols for other third-party events?
Proof of vaccination or a negative test is required for everyone attending third-party events at Symphony Hall, and masks are required indoors, except when actively eating or drinking or during a photo session. Those renting space from the BSO bear the responsibility of verifying the vaccinations or negative tests for their staff, artists, audiences, and other attendees.

Last Updated: 11/16/21