When You're Here
Access to Tanglewood
The BSO is committed to providing access to Tanglewood for everyone.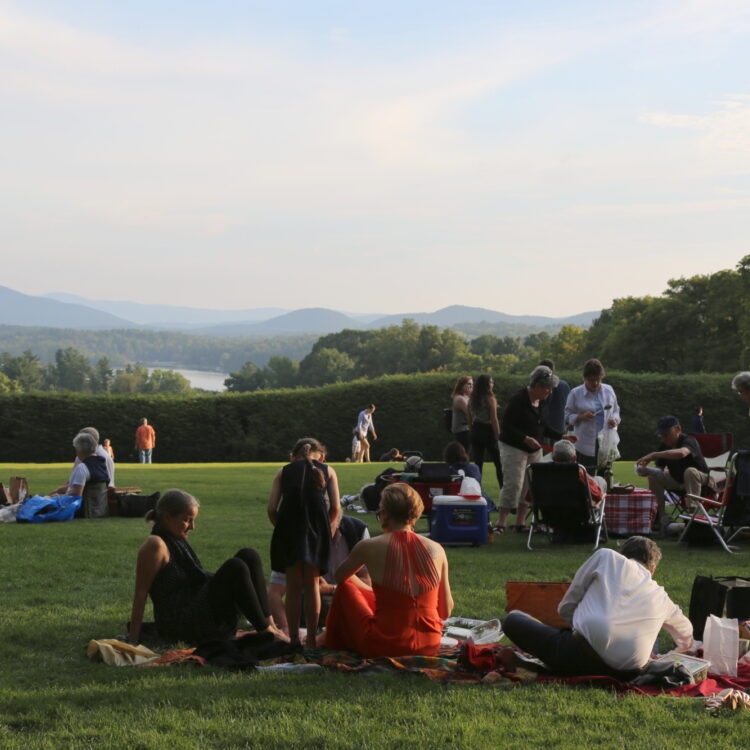 What to Know Before You Arrive
When purchasing tickets, please let Ticketing and Customer Service or Box Office staff know your needs.
Purchase your tickets in advance whenever possible to avoid lines at the Box Office.
Allow ample time to arrive at Tanglewood before your concert begins.
Park at the Main Gate in our accessible parking lots for easy access to the Tanglewood grounds.
Contact Tanglewood Accessibility Services
For questions or more details on any of the information below, please contact us at:
617-638-9431
Toll-free: 888-266-1200, ext. 9431
access@bso.org
Suggestions?

We want to make Tanglewood an enjoyable, accessible experience for you. In our continuing efforts to improve accessibility for patrons with disabilities, we invite you to contact us with your suggestions.

---
General Information
Parking
Patrons who have an official parking plate or placard are advised to park at the handicapped-designated parking areas. Please alert a parking attendant or a police officer upon arrival at the Main Gate entrance that handicapped-accessible parking is required. If wheelchair transport or escort assistance is needed from the parking lot to any of our concert halls, please alert a parking attendant. For concerts at Ozawa Hall or the Linde Center for Music and Learning, please alert the parking attendants if you require accessible parking.
Large-Print and Braille Programs
Large-print and Braille programs are available for all BSO concerts at Tanglewood. Large-print programs are available upon request. For Braille programs, please contact Accessibility Services at least a week in advance so that we may print them for you.
Restrooms
Accessible restrooms are located throughout the Tanglewood grounds.
Wheelchairs
For those patrons requiring wheelchair assistance, please alert a Tanglewood staff member or parking attendant. Assistance is available at the Koussevitzky Music Shed, Ozawa Hall, and the Linde Center. We do not offer wheelchairs for rent; if services are needed, one of our wheelchair escort staff members will be able to assist with transport.
Assistive Listening Devices
Assistive listening devices (portable FM receivers with earphones) are available in the Shed, Ozawa Hall, and Linde Center. Please speak with an usher for more information.
Service Animals
Due to Americans with Disabilities Act (ADA) regulations, only service animals are allowed on the grounds. Please contact us with questions or concerns or if any special accommodations are required.
Pedestrian Walkways
There are paved and hard-packed gravel pathways located around campus. If you need assistance, please ask a Tanglewood staff member.
Food and Beverage Services
Two dining locations provide covered, outdoor, and physically distanced table seating.
---
Tanglewood Seating Plans
Koussevitzky Music Shed
Accessible seats are located throughout the Shed, with companion seats available. We also offer seats with moveable armrests. Requests for accessible seating can be made by calling Accessibility Services or by visiting the Box Office in person in both Boston and when the season opens at the Lenox Box Office.
---

Power-Driven Mobility Devices
The BSO wants everyone to have full and safe access to the Tanglewood campus, including the ability to move about the campus and enjoy the programs and beautiful grounds and vistas in a manner consistent with Tanglewood's access and safety policies.
In order to make the Tanglewood experience more enjoyable, the BSO recommends that other power-driven mobility device (OPDMD) users contact Tanglewood Accessibility Services in advance of their arrival so that BSO staff can advise the OPDMD user of the most convenient access points and parking spaces for that visit.
Please note that Tanglewood operates a small fleet of gas-powered multiple passenger jitneys that are driven by BSO staff to transport individuals with mobility impairments around the campus before and after concerts and other events presented by the BSO at Tanglewood.
The BSO's Policy for OPDMDs
The Americans with Disabilities Act (ADA) defines "other power-driven mobility devices" as any mobility device powered by batteries, fuel, or other engines, whether or not designed primarily for use by individuals with mobility disabilities, that is used by individuals with mobility disabilities for the purpose of locomotion, or any mobility device designed to operate in areas without defined pedestrian routes, but that is not a wheelchair.
A Segway PT® is a two-wheeled, gyroscopically stabilized, battery-powered personal transportation device ("Segway"). This Policy applies to the use by visitors to the campus of Tanglewood of Segways and other devices included in the definition of "other power-driven mobility devices" (with Segways, collectively referred to herein as "OPDMDs"). The BSO understands that individuals with mobility impairments may require the use of a variety of devices for mobility, and will do its best to assist with those other devices in accordance with this Policy.
Because of their size, weight and speed, golf carts, whether electric, gas, solar or battery powered, are prohibited on the Tanglewood Campus. Electric powered wheelchairs and electric powered scooters, designed to be alternatives to electric powered wheelchairs, are generally allowed throughout the Tanglewood Campus.
The BSO asks that individuals who use OPDMDs ("OPDMD Users") comply with the terms of this Policy. OPDMD Users who use their OPDMDs under this Policy are confirming that they (a) have a mobility impairment, (b) require the use of an OPDMD, (c) have experience using their OPDMD, (d) will operate their OPDMD at a reasonable speed of not more than 5 miles per hour, and (e) will operate their OPDMDs in a manner that is (i) safe and (ii) respectful of other Tanglewood patrons and the feeling of tranquility that the BSO works hard to maintain on the Tanglewood Campus.
Due to the uneven terrain, the large crowds and the size and speed of some OPDMDs, the BSO recommends that OPDMDs: (a) not be used (i) inside the Shed, Ozawa Hall or the Theater Concert Hall, except the walkway through the rear of the Shed (adjoining the lawn) or (ii), during concerts or performances, on the lawns at the rear of the Shed and Ozawa Hall, (b) be parked in areas designated for OPDMDs where assistance will be available to help OPDMD Users to their seats, and (c) be driven on the designated pathways highlighted on the map attached as Attachment A.
Use of OPDMDs under this Policy is subject to the general condition that the BSO, through the Tanglewood Facilities Manager, or his designee, has the authority to immediately revoke permission to use an OPDMD on the Tanglewood Campus if he determines that the OPDMD is being operated in a way that (a) is dangerous to the OPDMD User or others or (b) interferes with BSO performances, services or other activities.