Boston Pops
2022 Holiday Pops season, under the direction of Keith Lockhart, to feature 34 festive performances at Symphony Hall, December 1–24.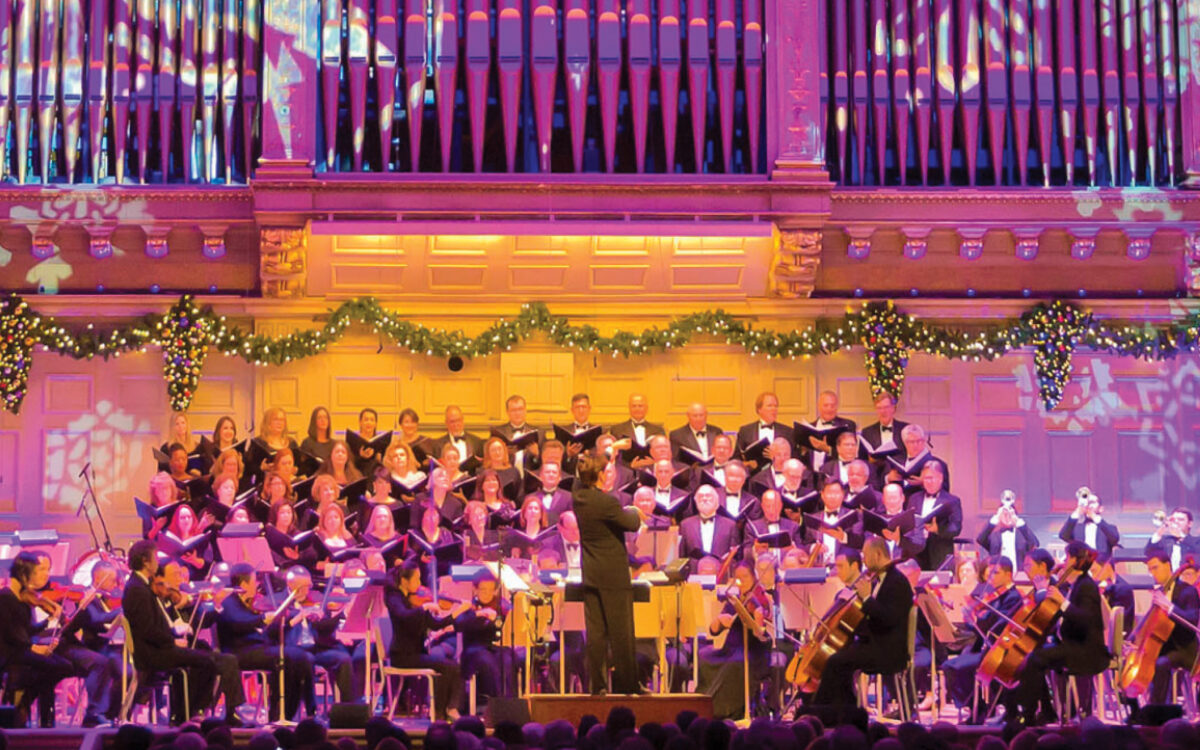 2022 Holiday Pops season, under the direction of Keith Lockhart, to feature 34 festive performances at Symphony Hall, December 1–24.
---
Tickets go on sale Tuesday, September 13, at 10am, through bostonpops.org OR 888-266-1200.
Holiday Concerts Include a Sensory-Friendly Program on Saturday, December 3, at 10:30 a.m. and Six Kids' Matinees, Offering a Family-Friendly Menu with Special Holiday Treats, a Children's Holiday Sing-Along, and an Opportunity for Photos with Santa Claus
---
Season Sponsored by Fidelity Investments

---
View online press kit with B roll and photos

---
The 2022 Holiday Pops season, under the direction of Keith Lockhart, offers 34 evening and matinee concerts, December 1–24, including six family-friendly Kids' Matinees and a Holiday Pops Sensory-Friendly Concert. Programs will feature favorites of the season, including the Boston Pops signature work "Sleigh Ride," alongside new arrangements of holiday classics sure to add to the spirit of joyous music-making. Symphony Hall will be festively decorated for the season and patrons on the orchestra level can order food and drink from their café-style tables. No Holiday Pops performance would be complete without a visit from Santa Claus and selections featuring the Tanglewood Festival Chorus, under the direction of James Burton. Program details will be announced in the coming weeks.

Quote from Keith Lockhart, Julian and Eunice Cohen Boston Pops Conductor:
"It is with incredible joy that we announce our 2022 Holiday Pops season and look forward to sharing the extraordinary gift of music with our audiences at this special time of year. We welcome families, friends, and newcomers to celebrate the great music traditions, encompassing orchestral and choral favorites, that enrich our lives during the holidays. Especially during these times, we cherish this opportunity to bring our very best music-making to all who join us this holiday season at Symphony Hall."

2022 Holiday Pops Ticket Information in Brief
The 2022 Holiday Pops season goes on sale Tuesday, September 13, at 10 a.m. online at bostonpops.org or by phone at 888-266-1200; in-person ticket purchases will be available at the Symphony Hall box office (301 Massachusetts Avenue, Boston, MA) starting at 10 a.m. on September 13. Tickets for the Holiday Pops series begin at $37, $45, $48, or $50, depending on the concert date. All tickets for the Sensory-Friendly Concert on December 3 at 10:30 a.m. are priced at $30. For groups of 20 or larger and to save on per-ticket handling fees, please contact the Group Sales Office via email at groupsales@bso.org or call 617-638-9345. Most Holiday Pops concerts will have one intermission; Kids' Matinees and the Sensory-Friendly Concert are no more than 75 minutes in length and are performed without an intermission. Additional details are available at bostonpops.org.

A complete listing of Holiday Pops concert dates appears at the end of this release.
Links to additional information about the 2022 Holiday Pops Season: Sensory-friendly concert and kids' matinees; ticket information, history on pandemic-related concert cancellations; and brief background on Holiday Pops
The Boston Pops Presents a Sensory-Friendly Holiday Pops Concert, December 3 at 10:30 a.m.

Six Kids' Matinee concerts with special kid-friendly menus and holiday treats

Ticket Information

About Holiday Pops
Sponsorhip
The 2022 Holiday Pops Season is sponsored by Fidelity Investments. For over 50 years, Fidelity Investments and the Boston Pops have proudly worked together to bring wonderful performances to local audiences. As our partnership grows, so does our investment in the community we both share, including the Young Artists Competition which was created in 2009 for high school students to compete for the opportunity to perform live at a Boston Pops concert during a regular spring concert.

The Boston Pops is also grateful for our other long-term sponsors that support our holiday season:
• Arbella Insurance Foundation is the Music for All Sponsor, supporting the Holiday Pops season and Kids' Matinee performances
• American Airlines is the Official Airline of the Boston Pops
• Fairmont Copley Plaza is the Official Hotel of the Boston Pops.
Press Contact
Matthew Erikson
Senior Publicist
merikson@bso.org
617-638-9280

Bernadette Horgan
Director of Public Relations
bhorgan@bso.org
617-638-9280