Dining & Lodging
The Pops Kitchen
Whether you're in the mood to sit down and dine during the concert or grab a quick bite before the show, Symphony Hall has many dining options.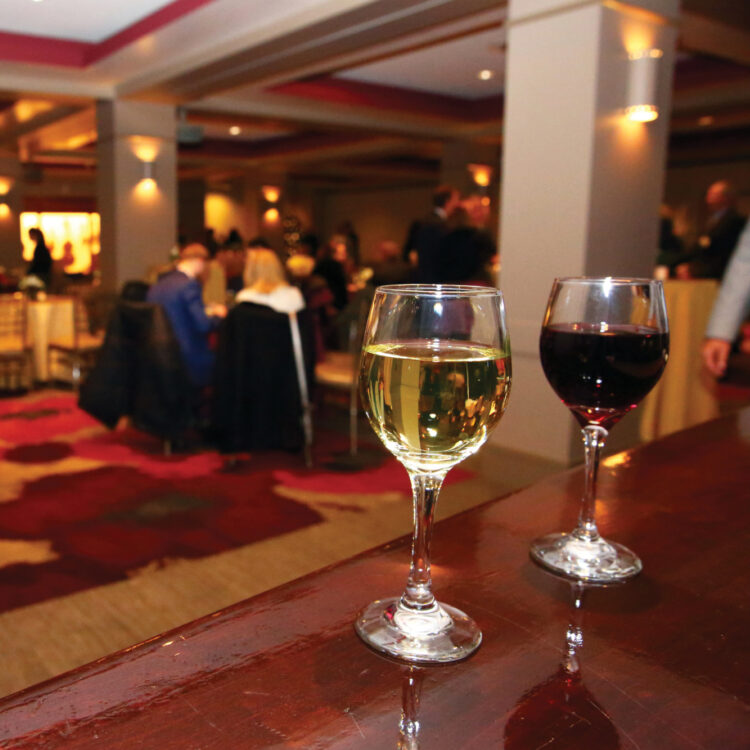 Purchase a Pre-Concert Meal Ahead of Time
How to place your order:
All orders must be placed 72 hours prior to the show performance.
View the pre-concert menu (coming soon).
Please call 617-638-9328 to place your order.
---
Dining During the Concert
Patrons seated at tables (on the orchestra level of Symphony Hall) for a Boston Pops concert may order from the Pops menu and enjoy dining during the concert.
The Pops Kitchen offers a varied menu of appetizers, sandwiches, desserts, and beverages, including beer, wine, and soft drinks.

To expedite your order, we ask your cooperation in placing your order by scanning the QR code at your table as soon as possible before the concert begins. Please note there is no service during a solo artist's performance. You may also order in advance by calling Boston Gourmet at 617-638-9328.

Please note: No food or beverage (except for water) is permitted in balcony seats.
---
Pre-Concert and Intermission Refreshments
Refreshment Centers
Casual pre-concert and intermission appetizers and desserts are available at the Refreshment Centers. Located outside the O'Block/Kay Room (next to the coatroom) and on the landing outside the Cabot-Cahners Room, the Refreshment Centers serve hot beverages and a variety of non-alcoholic beverages, as well as assorted mini sandwiches, appetizers, desserts, and snacks.
Cabot-Cahners and O'Block/Kay Bars
The bars in the O'Block/Kay and Cabot-Cahners Rooms offer a full complement of beverages. Visit the Champagne Bar, located outside the O'Block/Kay Room, for champagne by the glass, brandy, and gourmet chocolates.
All bars accept credit cards and are open prior to and during all Pops concerts except the Youth and Family Concert series.
---
Gourmet Caterers
The Boston Symphony Orchestra is pleased to have Gourmet Caterers as the exclusive food service company for the BSO's two performance venues, Symphony Hall and Tanglewood.
Gourmet Caterers, founded in 1973 by Buddy Wiggins, Bob Wiggins, and Joe DiCicco, is one of New England's largest and most respected privately owned and operated caterers. The company has a long-standing history with the BSO. Historically, the preferred caterer of Symphony Hall patrons, Gourmet has catered many high-profile fundraising and corporate events at Symphony Hall.
Stephen Ponchak
Director of Catering
Boston Gourmet
301 Massachusetts Avenue, Boston, MA 02115
phone: 617.638.9242
stephenp@gourmetcaterers.com
gourmetcaterers.com
Attending a BSO Concert?
Learn more about your dining options while seeing the Boston Symphony Orchestra.
BSO Dining Options