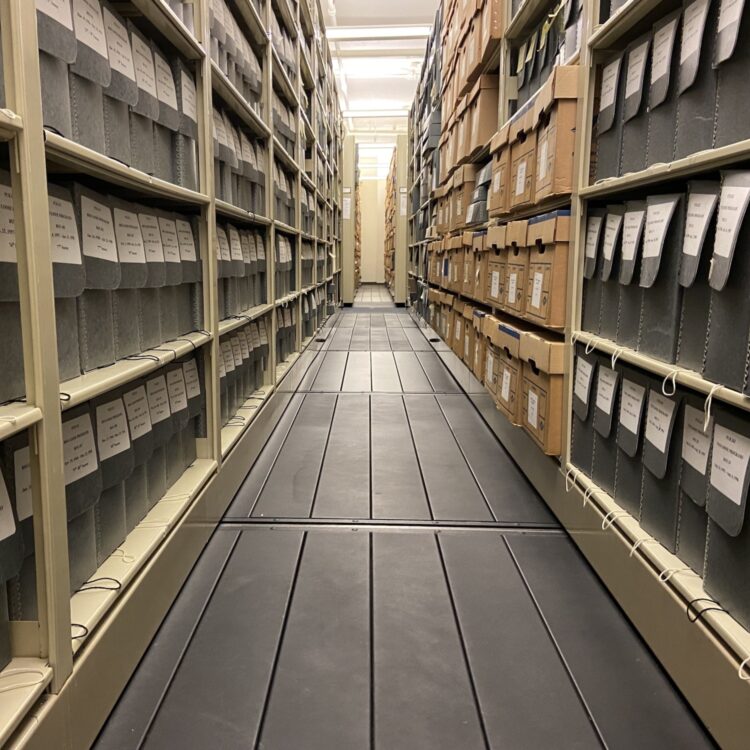 Archives
Using the Archives
Only a small fraction of our collection had been digitized. Find out how to access more or get in touch with Archives staff.
Archival materials are unique, often fragile, and sometimes confidential. We strive to provide access to materials to the greatest extent possible, while observing copyright and privacy considerations and being mindful to preserve the materials under our care so they will be available for future research and use. Materials which are generally open to all users include program notes, annual reports, scrapbooks, newspaper clippings, press releases, public relations biographical files, printed material, photographs, and audio/visual materials for which digital copies have been created.

---
Research Services Reading Room
On-site visits
Located in Symphony Hall, the Archives is open for researchers and visitors Monday-Friday. We also welcome classrooms or other groups interested in exploring the BSO's history. To help us prepare for your visit, please make an appointment by calling (617) 638-9434 or you can send an email to archives@bso.org.
Remote Reference Service
The Archives also answers reference questions by telephone, mail and e-mail for those unable to visit in person. When possible, we try to provide access to digital copies of original materials. However, based on item condition or the quantity of materials requested, the Archives may charge a fee for digitization of materials.
Requests may be made via the telephone; however, requests submitted in writing, either through the mail or e-mail, are easier for us to process and fulfill. To further help us process your request more quickly, please provide us with as much relevant detail as possible.
Audio Recording Requests
To request a copy of an audio recording for study purposes, please fill out and submit the following Audio Request Form.
Contact Information
Boston Symphony Orchestra Archives
Symphony Hall
Boston, MA 02115
Phone: (617) 638-9434
Email: archives@bso.org
---
Donating Historical Documents and Memorabilia to the Archives
The Archives actively collects records in various formats that relate to the history of the BSO and its numerous activities and is delighted to accept donations of materials that support our mission. We are especially interested in receiving materials (such as flyers, posters, program books, newspaper clippings) that document the history of Symphony Hall, particularly non-BSO events that have occurred in the Hall since its opening in 1900. Note: We are unable to accept donations of commercially released recordings on LP or CD. Our collection is already very robust in this area, and we unfortunately lack room to care for any more of these items.
Questions concerning the transfer or donation of materials to the Archives should be addressed to the Archivist at (617) 638-9434 or archives@bso.org.