BSO
Andris Nelsons Opens his 10th BSO Season Conducting 10 Concerts October 5–21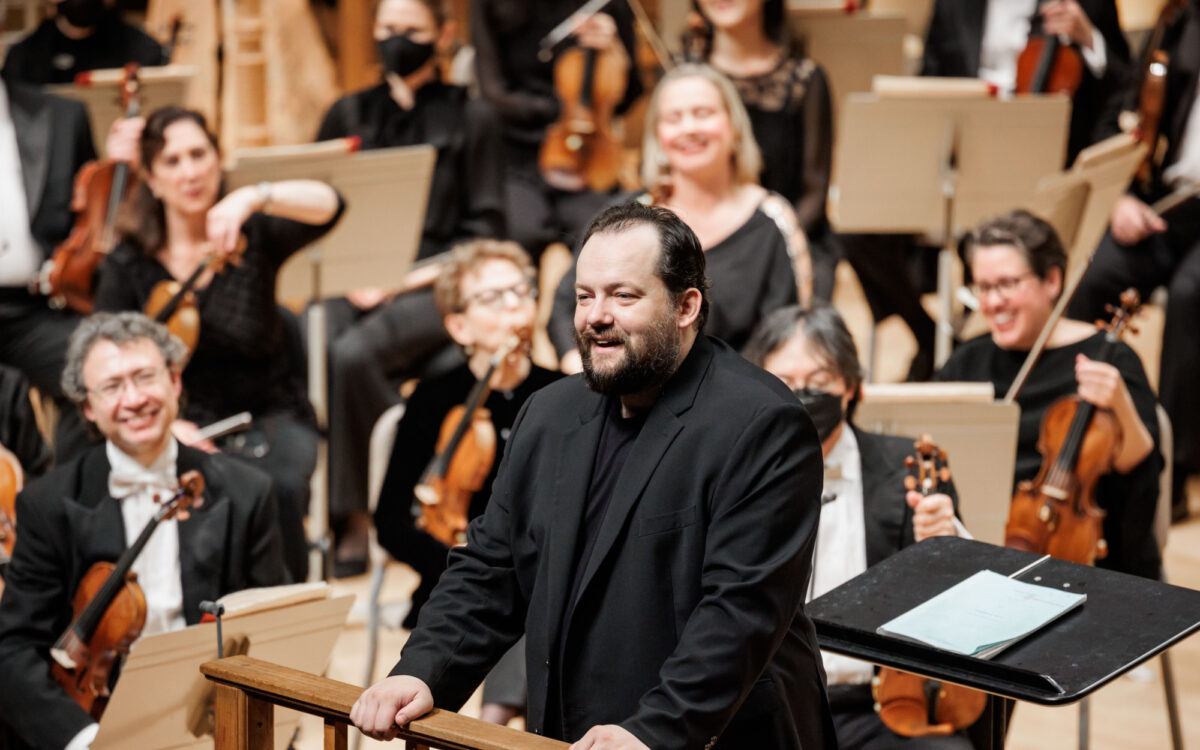 From October 5–21, Boston Symphony Orchestra Music Director Andris Nelsons, now in his 10th year, leads the orchestra in 10 exciting concerts featuring both classical favorites and resonant contemporary compositions. The Orchestra's 143rd season kicks off on Thursday, October 5 with Nelsons conducting Ludwig van Beethoven's Consecration of the House Overture, a Suite from Richard Strauss' Der Rosenkavalier, and Tango by Arturs Maskats. One of the most significant Latvian composers, Maskats shares a personal connection with Andris Nelsons, having mentored him at the Latvian National Opera. Austrian pianist Rudolf Buchbinder, a renowned interpreter of Mozart who first collaborated with the BSO in 1986, joins Nelsons to perform Wolfgang Amadè Mozart's Piano Concerto No. 23 in A, K.488.
On Saturday, October 7, the Aaron Diehl Trio makes their Symphony Hall debut alongside Nelsons and Buchbinder for Opening Night at Symphony, a celebratory concert that places the Mozart and Beethoven pieces from the prior two nights in conversation with music inspired by Black American musical traditions. Nelsons will conduct two works by legendary jazz pianist, composer, and conductor Duke Ellington: New World A-Coming, played by the BSO and the Aaron Diehl Trio, and Tonk, a piano four-hands piece written with Ellington's longtime collaborator Billy Strayhorn, performed here by Buchbinder and Diehl side by side. Carlos Simon's Four Black American Dances, commissioned by the BSO in 2022 and performed seven times to great acclaim throughout the BSO's recent European tour, brings the program to what The Times of London called an "irresistibly jubilant" conclusion. The 6 p.m. concert will be followed by an 8 p.m. reception with the BSO's new President and CEO Chad Smith (reception tickets may be purchased here).
Concerts the following week (October 12-15) continue to pair classical repertoire with groundbreaking music from contemporary composers. The incomparable Yo-Yo Ma plays both of Shostakovich's powerfully emotional cello concertos, which will be recorded for future release by Deutsche Grammophon as part of the BSO's ongoing Shostakovich recording series. (The final installment of the Grammy Award-winning recordings of the composer's symphonies, featuring nos. 2, 3, 12, and 13, will be released October 20). Nelsons will also conduct Haydn's Symphony No. 22, Philosopher, and Canadian-Iranian composer Iman Habibi's Zhiân, a BSO commission. Praised for its "sincerity and emotional inspiration" by The Boston Globe after this summer's Tanglewood premiere, Zhiân was composed following 22-year-old Mahsa Amini's death at the hands of the Iranian morality police in 2022 and the resulting wave of mass protests. Iman Habibi will participate in a pre-concert talk, 12:15-12:45 p.m., prior to the concert on Friday, October 13, as well as a pre-concert talk for high schoolers prior to the Thursday-morning High School Open Rehearsal on October 12.
Early fall programs conducted by Nelsons conclude with a three-concert series in which British pianist Paul Lewis, acclaimed as one of the world's great Beethoven interpreters, plays all five Beethoven piano concertos (October 19–21). Beethoven's commitment to humanism and personal freedom are reflected in the program's other orchestral works: Hannah Kendall's The Spark Catchers, inspired by Lemn Sissay's poem about the women who labored at the Bryant and May match factory in 19th century East London, and James Lee III's Freedom's Genuine Dawn, a BSO co-commission that sets text by Frederick Douglass, narrated by Thomas Warfield.
For more information, including press kits and a complete season listing, download the press release.
Press Contact
Jan Devereux
Senior Director, Public Relations and Communications
jdevereux@bso.org
Matthew Erikson
Senior Publicist
merikson@bso.org

Rena Cohen
Publicist
rcohen@bso.org
Voice mailbox: 617-638-9280