BSO
Boston Symphony Orchestra and Andris Nelsons Announce the 2022–23 Symphony Hall Season, September 22-May 6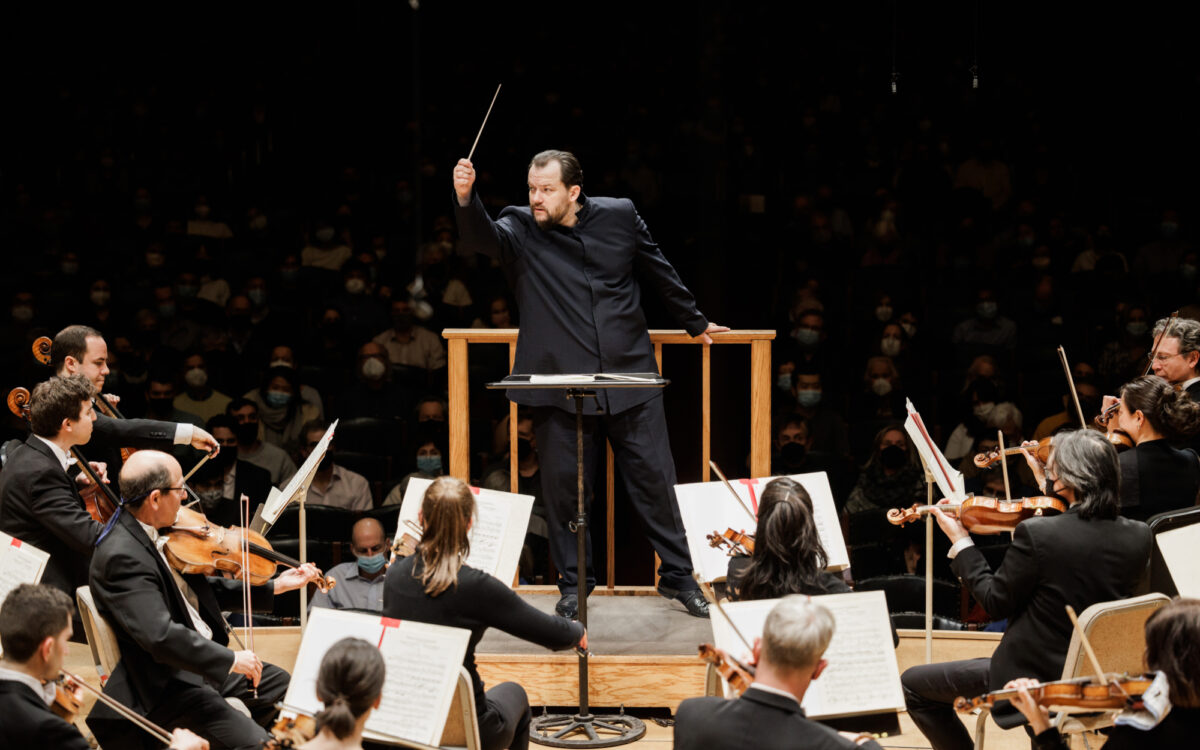 2022–23 BSO programs expand the orchestra's work with young artists and voices new to the BSO, open a dialogue on social change, and celebrate enduring classics and renowned guest artists
New Addition to the Symphony Hall Season
The BSO presents a three-week festival — March 3-18 — Voices of Loss, Reckoning, and Hope — to feature musical perspectives on race, civil rights, and women's rights by American composers Uri Cane, Anthony Davis, and Julia Wolfe; performances to be accompanied by a separate series of guest speakers, panel discussions, and chamber music concerts designed to spark ideas and conversation on essential issues of our time.
BSO Music Director Andris Nelsons Leads 13 Programs
The September 22 opening night program welcoming Awadagin Pratt in his BSO debut performing J.S. Bach's Piano Concerto in A and Jessie Montgomery's Rounds for piano and string orchestra; program opens with John Williams' A Toast! and closes with Holst's The Planets, featuring the Lorelei Ensemble
World premieres by Iman Habibi, Steven Mackey, and Carlos Simon, American premieres by Thierry Escaich and Thomas Adès, and recent works by Elizabeth Ogonek and Caroline Shaw
An all-Wagner program — Act III of Tannhäuser, opening with the opera's overture and Venusberg music; featured vocalists include Amber Wagner (Elisabeth), Klaus Florian Vogt (Tannhäuser), and Christian Gerhaher (Wolfram), as well as the Tanglewood Festival Chorus, under the direction of James Burton
The continuation of the orchestra's Grammy Award-winning Shostakovich cycle with Symphony No. 3, The First of May, and Symphony No. 13, Babi Yar, with bass Ildar Abdrazakov and the Tanglewood Festival Chorus, as well as Symphony No. 5
Programs featuring three preeminent pianists of our time — Lang Lang (Saint-Saëns), Yuja Wang (Shostakovich), and Mitsuko Uchida (Beethoven); two rising stars of the classical music field — cellist Sheku Kanneh-Mason (Bloch) and pianist Seong-Jin Cho (Ravel); and four widely acclaimed violinists — Augustin Hadelich (Britten), Janine Jansen (Bernstein), Anne-Sophie Mutter (Thomas Adès, American premiere), and Baiba Skride (Shostakovich)
Beethoven's Symphony No. 7, Bernstein's Chichester Psalms, Brahms' Symphony No. 4, Mahler's Symphony No. 6, Rachmaninoff's Symphony No. 2, Sibelius' Symphony No. 5, Strauss' An Alpine Symphony, and Stravinsky's Petrushka (1947 version, complete)
A two-concert series at Carnegie Hall
View a listing of BSO concerts with Andris Nelsons.
BSO Presents Voices of Loss, Reckoning, and Hope — a Three-Week Festival March 3-18, Featuring Works by American Composers that Inspire Dialogue on Social Change
Uri Caine's The Passion of Octavius Catto — a work that reflects on the life and tragic death of civil rights activist Octavius Catto — with conductor André Raphel in his subscription series debut, the BSO, Uri Caine Trio, Barbara Walker, and the Catto Chorus; the program will also include Coleridge-Taylor's Petite Suite de Concert and Still's Symphony No. 1, Afro-American
Anthony Davis' You Have the Right to Remain Silent, featuring clarinetist Anthony McGill, on a program with a selection from Margaret Bonds' Montgomery Variations and William Dawson's Negro Folk Symphony, under the direction of Thomas Wilkins
Julia Wolfe's Her Story (BSO co-commission) invokes the words of historical figures and the spirit of pivotal moments to pay tribute to the centuries of ongoing struggle for equal rights for women in America; the performance will be conducted by Giancarlo Guerrero and feature the Lorelei Ensemble, Beth Willer, conductor
Programs Throughout the Season that Address the Tragedies of War and Conflict
Shostakovich's Symphony No. 13, Babi Yar, under the direction of Andris Nelsons, based on poems by Yevgeny Yevteshenko, is a five-movement denunciation of Stalinism, the first of which condemns Soviet revisionist history and anti-Semitism surrounding a Nazi massacre of Ukrainian Jews
The American premiere of Ella Milch-Sheriff's The Eternal Stranger, for narrator and orchestra, under the direction of Omer Meir Wellber; the work connects Beethoven's difficulty in society due to his deafness to the hostility and rejection experienced by refugees and other "strangers"
Górecki's Symphony of Sorrowful Songs, with soprano Aleksandra Kurzak, under the direction of Giancarlo Guerrero (on program with Julia Wolfe's Her Story), movingly contemplates the grief of a mother who lost her child to war ("Where has he gone, my dearest son? Perhaps during the uprising the cruel enemy killed him" is the opening text of the third song)
Osvaldo Golijov's Falling Out of Time, A Tone Poem in Voices, composed for a multicultural, multistylistic instrumental ensemble, drawing powerfully upon popular and folk music styles, and inspired by the experimental novel by David Grossman — who characterizes the loss of his son to war as "a disaster that befell me," which "now permeates every minute of my life"; featured vocalists include Biella da Costa and Nora Fischer
View an online press kit including photos and video of the BSO and Andris Nelsons, guest artist bios and photos, concert listings, and a narrative season overview.
---
Links to season calendar listings, narrative overview of season, ticket purchasing details, an Andris Nelsons bio, and BSO history:
Press Contact
Jan Devereux
Senior Director, Public Relations and Communications
jdevereux@bso.org
Matthew Erikson
Senior Publicist
merikson@bso.org

Rena Cohen
Publicist
rcohen@bso.org
Voice mailbox: 617-638-9280