BSO
Boston Symphony Orchestra Music Director Andris Nelsons Closes 2021-22 Season with Two Weeks of Concert Programs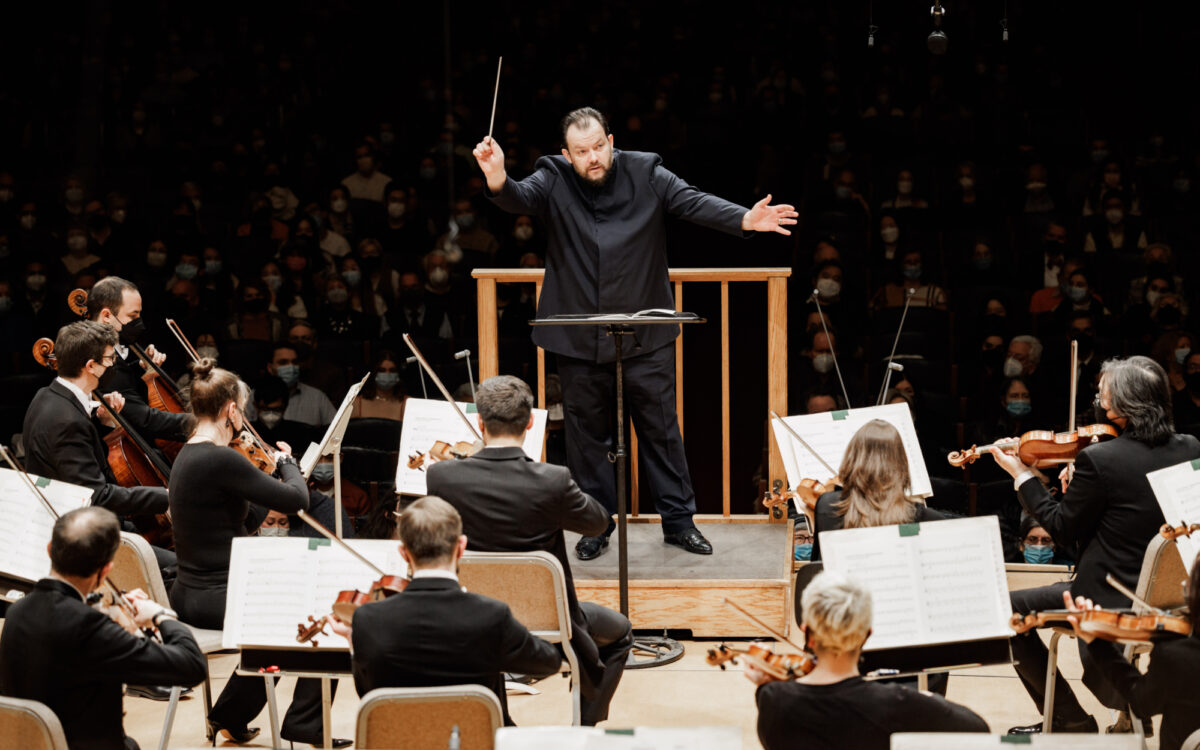 Celebrated Norwegian Soprano Lise Davidsen Performs Strauss' Four Last Songs on an All-Strauss Program Led by Andris Nelsons Thursday, April 21 at 8pm
---
Andris Nelsons Conducts the BSO in Three Monumental Richard Strauss Works: Till Eulenspiegel's Merry Pranks, Symphonic Fantasy on Die Frau ohne Schatten, and Symphonia domestica
Friday, April 22, at 8 pm (Casual Friday); Saturday and Tuesday, April 23 and 26, at 8pm
---
BSO Principal Cello Blaise Déjardin Makes His First Major Solo BSO Appearance with Saint-Saëns' First Cello Concerto, Led by Andris Nelsons
Thursday and Saturday, April 28 and 30, at 8pm; Friday, April 29 at 1:30pm
---
Program Details for BSO Concerts with Andris Nelsons and Lise Davidsen, April 21
Music Director Andris Nelsons' multi-season focus on the music of Richard Strauss with the BSO culminates in two weeks of programming at the close of the 2021–2022 season. The celebrated Norwegian soprano Lise Davidsen sings the composer's final musical statements, his powerful and gorgeous Four Last Songs — a lasting tribute to his wife, the singer Pauline de Ahna. Also on the program, the symphonic poem Till Eulenspiegel's Merry Pranks follows the madcap and sometimes tender antics of the title character, based on a famous rogue in German history. Strauss' own family are the stars of his Symphonia domestica, which manages to elevate to artistry the musical depiction of a day in the life of two busy parents — by turns quarrelsome and loving — and their exuberant young son.
Program Details for BSO Concerts with Andris Nelsons, April 22–26
Music Director Andris Nelsons leads the orchestra in three monumental Strauss works: the tone poems Till Eulenspiegel's Merry Pranks and Symphonia domestica (described above) as well as the Symphonic Fantasy on Die Frau ohne Schatten ("Woman with a Shadow"), Strauss' own 1946 distillation of his fabulist 1919 opera.
The April 22 performance is part of our Casual Fridays series and will include only performances of the Symphonic Fantasy on Die Frau ohne Schatten and Symphonia domestica. The orchestral host for the Casual Friday concert is bassist Carl Anderson.
Program Details for BSO Concerts with Andris Nelsons and Blaise Déjardin, April 28–30
The BSO's own principal cello Blaise Déjardin makes his solo concerto debut with the orchestra in these concerts performing the astonishingly gifted French composer Camille Saint-Saëns' 1873 Cello Concerto No. 1.
In one movement, this compact concerto moves from exhilarating energy to great charm and finally to impassioned, virtuosic lyricism. Also on the program, the orchestral interludes from Strauss' 1924 opera Intermezzo are self-contained miniature tone poems of great dramatic effectiveness. The gorgeous "Dreaming by the Fireside" depicts a woman's yearning for her husband, who is a musician on tour — part of the autobiographical plot of the opera. Strauss' absolute mastery of the orchestra is put to very different use in the tone poem An Alpine Symphony, which musically illustrates nature in all its glory via the climb and descent of a mountain in the Alps.
Press Contact
Jan Devereux
Senior Director, Public Relations and Communications
jdevereux@bso.org
Matthew Erikson
Senior Publicist
merikson@bso.org
617-638-9280

Rena Cohen
Publicist
rcohen@bso.org