BSO
Music Director Andris Nelsons Leads 3 Programs Including 2 World Premieres and Act III of "Tannhäuser"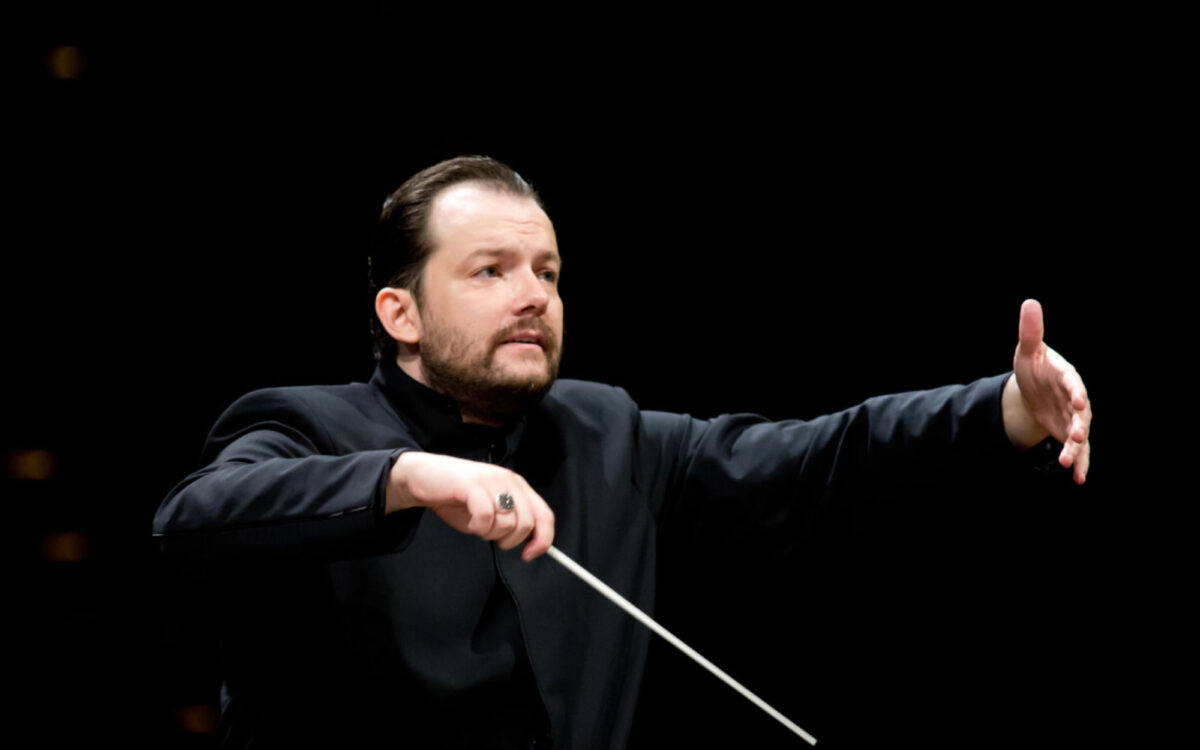 BSO Music Director Andris Nelsons returns to Symphony Hall, January 26–February 12, to lead the Boston Symphony Orchestra in three wide-ranging programs, including a "Casual Friday" concert with reduced pricing, shorter programs, "conductor cam" seating, and opportunities to socialize with musicians post-concert
Highlights of Andris Nelsons' upcoming programs include a concert presentation of excerpts from Wagner's Tannhäuser, with a cast led by tenor Klaus Florian Vogt (Feb. 2 & 4); world premieres by Steven Mackey (Jan. 26 & 28) and Carlos Simon (Feb. 9-12); and guest appearances by violinist Baiba Skride (Jan. 26-28) and cellist Sheku Kanneh-Mason (Feb. 9-12)
Details at bso.org
---
Photos, Video, and bios for 2022–23 BSO Season
---
Further details about BSO concerts under the direction of Andris Nelsons, January 26–February 12
Thursday, January 26, 7:30 p.m.; Friday, January 27, 1:30 p.m.; Saturday, January 28, 8 p.m.
Andris Nelsons leads the world premiere of American composer/guitarist Steven Mackey's Concerto for Curved Space, a BSO co-commission (Thursday and Saturday concerts only). Mackey's style embraces influences ranging from Beethoven to modern rock. For composer notes about his new work, click here. Fellow Latvian and a frequent collaborator with Mr. Nelsons, Baiba Skride performs Shostakovich's Violin Concerto No. 2, written in 1967 for the great Ukrainian violinist David Oistrakh. Closing this program is Brahms' majestic Fourth Symphony.

Preceding the January 26 concert, composer Steven Mackey is the focus of the "What I Hear" concert and talk at 5:30 p.m. at the New England Conservatory's Brown Hall. A collaboration between the BSO and NEC, "What I Hear" a series of free, hourlong programs featuring performances by NEC students and composer conversations with BSO Assistant Artistic Administrator Eric Valliere.
BSO Casual Friday Concerts—A Different Kind of Concert Experience
January 27 marks the second of this season's four Casual Friday concerts, where informal attire and a relaxed attitude are encouraged. Casual Friday patrons have the opportunity to hear introductory remarks from a BSO musician and to attend a post-performance Casual Conversation with the players. These lower-priced concerts have no intermission (the January 27 program includes the Shostakovich and Brahms works only). Audience members in the Tech Section at the rear of the floor have access Conductor-Cam seating, allowing them to view the conductor from the players' vantage point. Remaining 2022-23 Casual Friday performances take place March 3 (André Raphel conducts Still and Caine with the Uri Caine Trio, vocalist Barbara Walker, and Catto Chorus) and April 28 (Nelsons leads Ravel and Stravinsky with Seong-Jin Cho, piano).
Thursday, February 2, 7:30 p.m.; Saturday, February 4, 8 p.m.
The BSO and Andris Nelsons continue their opera-in-concert tradition with the Overture and "Venusberg Music," plus Act III of Wagner's 1845 opera Tannhäuser, sung in German with English supertitles. The all-star cast includes American soprano Amber Wagner in her subscription series debut as Elisabeth; German tenor Klaus Florian Vogt, also making a subscription series debut, as Tannhäuser; German baritone Christian Gerhaher as Wolfram; and Russian mezzo-soprano Marina Prudenskaya as Venus. The Tanglewood Festival Chorus and a children's choir, both under the direction of James Burton, add their voices to the performance. Struggling to reject the lure of sensual pleasures (represented by the "Venusberg Music" from Act I), the minstrel-knight Tannhäuser is ultimately redeemed by the pure love of Elisabeth and with the help of the wise minstrel Wolfram.
Thursday, February 9, 7:30 p.m.; Friday, February 10, 1:30 p.m.; Saturday, February 11, 8 p.m.; Sunday, February 12, 2 p.m.
For his final February concerts, Andris Nelsons opens the program with the world premiere of Four Black American Dances, a BSO-commissioned new work by Washington, D.C.-based composer Carlos Simon( read a note from the composer); closing the concert is Beethoven's exciting Symphony No. 7. In between comes Ernest Bloch's 1916 Schelomo ("King Solomon") for cello and orchestra with the talented young English cellist Sheku Kanneh-Mason making his BSO debut. In this Rhapsody Hébraïque, the solo cello represents the voice of the King Solomon.
Program Listings
Thursday, January 26, 7:30 p.m.
Friday, January 27, 8 p.m. (Casual Friday)
Saturday, January 28, 8 p.m.
Andris Nelsons, conductor
Baiba Skride, violin
Steven MACKEY Concerto for Curved Space (world premiere; BSO co-commission) (January 26 & 28 only)
SHOSTAKOVICH Violin Concerto No. 2
BRAHMS Symphony No. 4

Thursday, February 2, 7:30 p.m.
Saturday, February 4, 8 p.m.
Andris Nelsons, conductor
Amber Wagner, soprano (Elisabeth)
Klaus Florian Vogt, tenor (Tannhäuser)
Christian Gerhaher, baritone (Wolfram)
Marina Prudenskaya, mezzo-soprano (Venus)
Tanglewood Festival Chorus
Children's Choir,
James Burton, conductor
ALL-WAGNER program
Overture and Venusberg Music from Tannhäuser
Tannhäuser, Act III

Thursday, February 9, 7:30 p.m.
Friday, February 10, 1:30 p.m.
Saturday, February 11, 8 p.m.
Sunday, February 12, 2 p.m.
Andris Nelsons, conductor
Sheku Kanneh-Mason, cello
Carlos SIMON Four Black American Dances (world premiere; BSO commission)
BLOCH Schelomo: Rhapsody Hébraïque, for cello and orchestra
BEETHOVEN Symphony No. 7
Press Contact
Jan Devereux
Senior Director, Public Relations and Communications
jdevereux@bso.org
Matthew Erikson
Senior Publicist
merikson@bso.org

Rena Cohen
Publicist
rcohen@bso.org
Voice mailbox: 617-638-9280