Dayna Stephens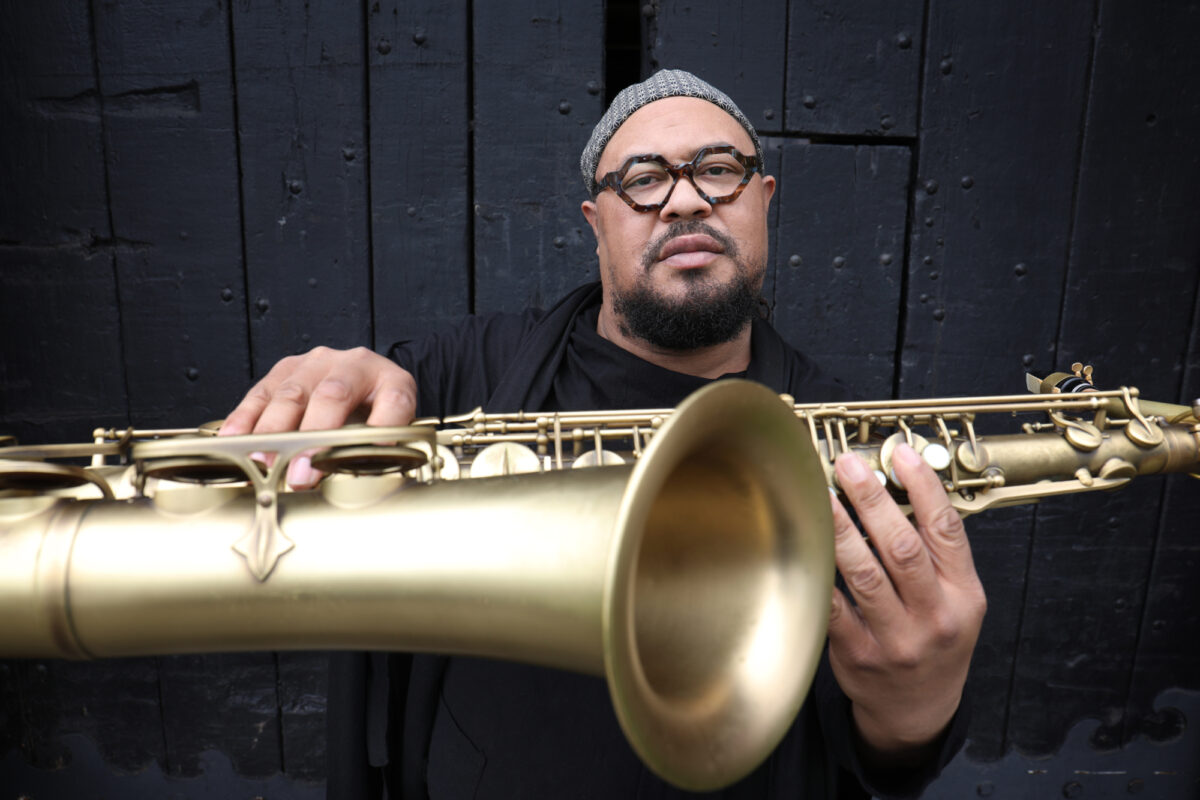 About
Dayna Stephens is globally recognized as a saxophonist, composer and arranger, and is the first place recipient of the 2019 DownBeat Critics Poll in the category Rising Star-Tenor Saxophone.
His highly anticipated 10th album, Right Now! Live at the Village Vanguard, was released on October 3, 2020 and features Aaron Parks, Ben Street, and Greg Hutchinson. Earlier that year he released his 9th album Liberty to critical acclaim. It was his first trio recording that features Ben Street and Eric Harland. Both 2020 albums were produced by Matt Pierson and released on Dayna's own label, Contagious Music. In collaboration with drummer Toronto native Anthony Fung the futuristic electronic band Pluto Juice was born and produced its self titled first release in July 2021. NPR's Kevin Whitehead had this to say about Liberty, "Dayna Stephens can cry and rip it up on tenor, but at heart, he's a streamlined melodic player. His handsome down-the-middle tone is not too heavy or light, though he can lean either way. His sound is sleek, with very light vibrato. And the lines he improvises are uncluttered and well-organized. His horn sings". J. Hunter of Nippertown says, "Stephens' latest outing—recorded at Rudy Van Gelder's history-filled studio—delivers an elegant, uncompromising look at how less can definitely be more." In describing Liberty's trio format Jay N. Miller from The Patriot Ledger applauds, "while the concept may seem esoteric, the triumph of Stephens' latest work is how accessible and even intoxicating it is."
Among Dayna's latest endeavor is a collaborative group born in Toronto called Pluto Juice. Co-led with drummer Anthony Fung this futuristic electronic group features Dayna mostly on EWI and Keyboards along with Electric Bassist Rich Brown and Guitarist Andrew Marzotto band Pluto Juice was born and produced it's self titled first release in July 2021. Playing with pureness of intention, Dayna admits he's always searching to find what's "singable." That search often results in live improvisations and written compositions that challenge traditional concepts of harmony, pushing phrasing and sending beautiful and unintentional melodies in unlikely directions.
Dayna's soulful lines have resonated through the halls of such internationally renowned venues as the Village Vanguard, Blue Note Jazz Club, Dizzy's Club Coca-Cola, Birdland, Yoshi's, The Blue Whale, Marians Jazzroom in Switzerland, Blue Note Milano, Philharmonie de Paris, Le Duc des Lombards, Red Rocks and San Francisco Jazz Center.
Rhythmic dialogue excites the Brooklyn-born, Bay Area-raised artist, as both an improviser and a written composer. His creative expression leads him to uncover different rhythmic interpretations of harmonic ideas as part of a spontaneous interchange with other players. These evolving interpretations help serve Dayna's commitment to the authenticity of the moment, whether he's playing live or in the studio. And his rhythmic inquiry has earned him the attention and admiration of some of the music's most beloved drummers—many of whom have collaborated with him on recordings, on the bandstand and on the road, including Al Foster, Idris Muhammad, Jeff "Tain" Watts, Billy Hart, Marcus Gilmore, Bill Stewart, Eric Harland, Johnathan Blake, Jaimeo Brown, Brian Blade, Victor Lewis, Lewis Nash, Jorge Rossy, Jeff Ballard and Justin Brown.
Dayna has traveled and recorded with a cross-section of such distinctive voices, including pianists Kenny Barron, Aaron Parks, Fred Hersch, Billy Childs, Geoffrey Keezer, Taylor Eigsti, Herbie Hancock, Muhal Richard Abrams, Brad Mehldau, and Gerald Clayton; trumpet players Roy Hargrove, Tom Harrell, Sean Jones, Terell Stafford, Philip Dizack, Ambrose Akinmusire, Michael Rodriguez, and Terence Blanchard; saxophone players Wayne Shorter, Walter Smith III, Mark Turner Jaleel Shaw, Ben Wendel, Chris Potter, and John Ellis; bass players Ben Street, Rufus Reid, Kiyoshi Kitagawa, Joe Sanders, Linda Oh, Doug Weiss, Larry Grenadier and Harish Raghavan; vocalists Cecile McLorin Savant, Alicia Olatuja, Gretchen Parlato, Becca Stevens and Sachal Vasandani; and guitar players Julian Lage, Charles Altura, Mike Moreno, Lage Lund, Pete Bernstein and John Scofield, and Carlos Santana.

To hear his music is to fall in love with whatever instrument Dayna uses to channel his ideas. Through a tendency toward experimenting with both tone and texture in a harmonic context, he embraces a range of instruments—and their varying degrees of warmth—including double bass. A master of tenor, alto, soprano and baritone saxophones and Nyle Steiner's EWI (electric wind instrument), Dayna's openness and sensitivity as an artist have allowed him to stretch as a composer and arranger. Through the years, he has created and interpreted pieces for San Francisco's Peninsula Symphony Orchestra, Berklee College of Music and the Oakland East Bay Symphony—for the latter of which he wrote a wide-screen arrangement of Dave Brubeck's "The Duke" and his own piece "Haden's Largo" (for Charlie Haden) that premiered at Oakland's Paramount Theatre for its 2013 Celebration of the Music of Dave Brubeck Concert.
A graduate of the Thelonious Monk Institute of Jazz, where he studied under artistic icons Terence Blanchard, Wayne Shorter and Herbie Hancock, Dayna began his formal studies with a full scholarship at Berklee College of Music in Boston. He currently teaches at Manhattan School of Music and William Paterson University in Wayne New Jersey. As an undergraduate, he was diagnosed with the rare kidney disease focal segmental glomerulosclerosis (FSGS) which resulted in a six-year course of dialysis that began in 2009, grounding him in the New York area and preventing him from touring internationally until he received a kidney transplant in October 2015 from a donation chain facilitated by his aunt. Aside from his own projects Dayna's label Contagious Music released "Yekum", by pianist/ composer Eden Ladin's which was his debut recording released in 2018 and Billy Mohler's "Anatomy" released in June 2022, his 2nd recording as a leader which has received great recognition world wide.
See More