Conductor
Keith Lockhart
Julian and Eunice Cohen Boston Pops Conductor, endowed in perpetuity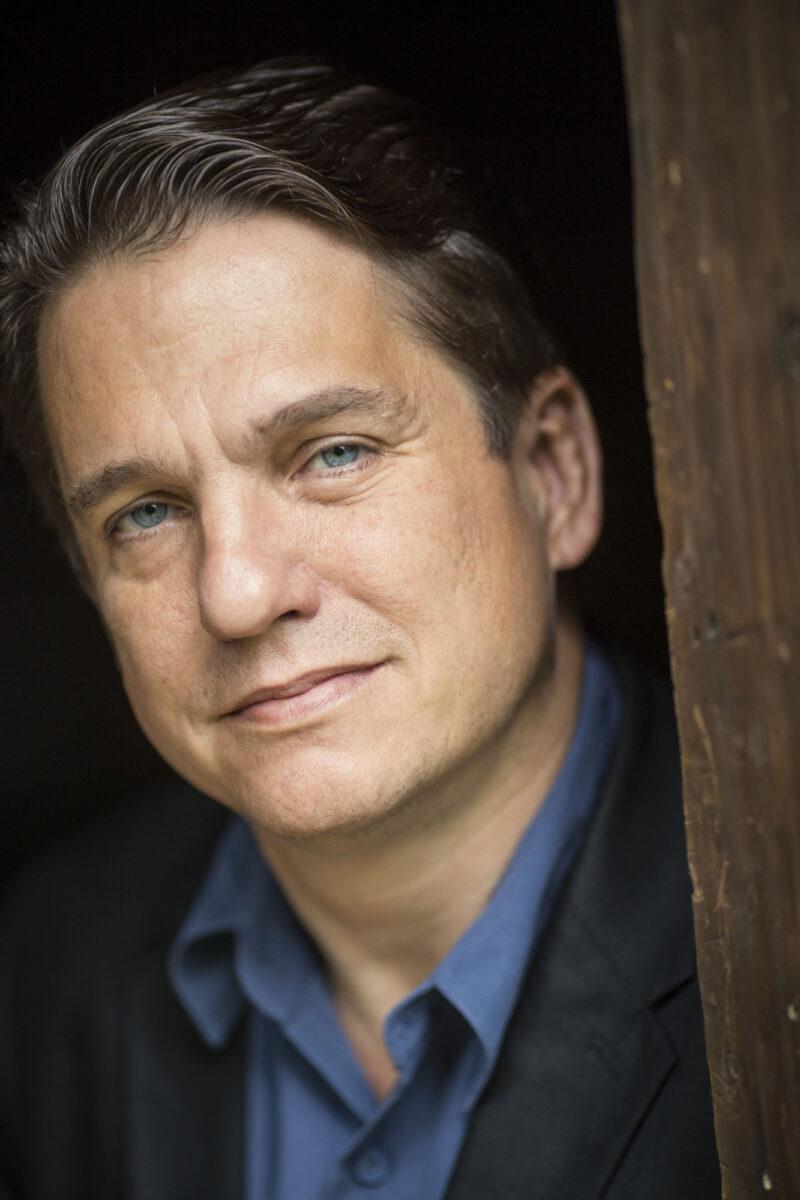 About
On May 10, 1995, Keith Lockhart, the 20th Conductor of the Boston Pops Orchestra, opened his very first Boston Pops season, leading a concert featuring guests Sylvia McNair, Mandy Patinkin, and Doc Severinsen, and repertoire ranging from Wagner to "Charlie on the MTA." He was only 35 years old—the same age as Arthur Fiedler was when he became Boston Pops Conductor in 1930—and was dubbed "The Kid" by longtime Pops Associate Conductor Harry Ellis Dickson. The press coverage from the time of Keith's appointment to the position in February 1995 was extensive, commenting on not only his musical talent but also his good looks and enviable head of hair, as well as the challenge of following in the illustrious footsteps of John Williams and Arthur Fiedler. But this baby boomer, born in 1959, came to the position with musical chops, a remarkable work ethic, and a deep appreciation for both the institution of the Pops and its audience. His varied conducting experience encompassed both the symphonic and pops repertoire, as well as performances in concert halls and on recordings; he had most recently served as Associate Conductor of both the Cincinnati Symphony and Cincinnati Pops, and made his Boston Pops debut as a guest conductor in 1993, just two years before he was appointed Conductor.
Over the next 25 years, with seemingly endless energy, Keith Lockhart, who holds the Julian and Eunice Cohen Boston Pops Conductor chair, would lead the Boston Pops in more than 2,000 concerts, in every imaginable setting—from hospitals to the Super Bowl—and collaborate with nearly 300 guest artists, drawn from the worlds of classical and popular music, rock, jazz, sports, politics, Broadway, and Hollywood.
Although acclaimed around the world, the Boston Pops—sometimes called "America's Orchestra"—remains a treasured local fixture, as beloved as the region's sports teams and historic landmarks. Its reputation has been acknowledged in popular culture, recently in a memorable episode of the animated television series "The Simpsons." The family decided to take a "hate-cation" to Boston—because of Homer's resentment of the "Boston Americans" football team and its fans—and ultimately fell in love with the city that has "a Symphony AND a Pops." Through the years, Keith Lockhart has embraced Boston and in return, Boston has embraced him.
Most of the concerts led by Keith Lockhart take place in Symphony Hall, itself a registered historic landmark, during the orchestra's spring and holiday seasons. He has also led annual Boston Pops appearances at Tanglewood, Pops concerts at Carnegie Hall and Radio City Music Hall, 45 national tours to more than 150 cities in 38 states, and four international tours to Japan and Korea. He and the Pops have made 80 television shows, including 38 new programs for the PBS series Evening at Pops, and participated in such high-profile sporting events as Super Bowl XXXVI, the 2008 NBA finals, the 2013 Boston Red Sox Ring Ceremony, and the Red Sox Opening Day game at Fenway Park in 2009. The annual July 4 Boston Pops Fireworks Spectacular draws a live audience of over half a million to the Charles River Esplanade, and millions more view it on television or live webcast. During Keith's tenure, the July 4 event was televised by a major national network for the first time. In 2017, with Eaton Vance as presenting sponsor and Bloomberg as the exclusive media partner, the Pops organization presented its first self-produced Boston Pops Fireworks Spectacular, which was broadcast on Bloomberg Television and all its media outlets. Both companies are continuing their commitments to the event.
Lockhart-led albums on the RCA Victor/BMG Classics label include Runnin' Wild: The Boston Pops Play Glenn Miller, American Visions, The Celtic Album (Grammy-nominated, the first Boston Pops recording to be so honored), Holiday Pops, A Splash of Pops, The Latin Album (Latin Grammy-nominated), Encore!, and My Favorite Things: A Richard Rodgers Celebration. Recent releases on the in-house label, Boston Pops Recordings, include The Red Sox Album, A Boston Pops Christmas—Live from Symphony Hall, and The Dream Lives On: A Portrait of the Kennedy Brothers, which was a Boston Pops commission premiered in 2010 during the orchestra's 125th season. Released at the beginning of the 2017 Pops season, Lights, Camera...Music! Six Decades of John Williams features Keith Lockhart leading the Boston Pops in a collection of Williams compositions from the 1960s onward, including some rarities.
Keith's personal affinity for American music has led him to program full-length Broadway musicals and invite stars of the musical theater world to perform with the Pops. He has worked closely with hundreds of talented young musicians, including Fellows of the Tanglewood Music Center, college students from the Boston Conservatory and Berklee College of Music, and area high school students. He introduced the PopSearch talent competition and the innovative JazzFest and EdgeFest series, featuring prominent jazz and indie artists performing with the Pops. Well aware of the influence of technology on our lives and the concert experience, he was the driving force behind "Pops on Demand," allowing audience members to vote on their cell phones in such categories as "Favorite Disney Song" and "Favorite John Williams Theme" and see the results in real time. The Lockhart/Pops album Oscar & Tony was the basis of a Pops internet TV broadcast, the first such program offered by a symphony orchestra. In recent seasons, he and the Pops have presented a number of films in concert, both classic (The Wizard of Oz) and contemporary (Home Alone). He is dedicated to building and updating the Boston Pops library of music, which contains over 5,000 arrangements.
With a renewed commitment to bringing the Boston Pops into the Boston community and to important civic events, Keith Lockhart and the Pops have appeared at gubernatorial and mayoral inauguration ceremonies; the holiday tree lighting in Boston's Public Garden; sporting events including Red Sox, Patriots, Bruins, and Celtics games, and the memorial service for the Boston Marathon bombing victims. He has led free concerts in such major public spaces as the Boston Common and Franklin Park, and each holiday season he brings musicians of the Pops to play for patients at Children's Hospital and Spaulding Rehabilitation Hospital. He is a recipient of the 2017 Commonwealth Awards for Achievement, the state's highest honor in the arts, humanities, and sciences presented by the Massachusetts Cultural Council.
More recently Keith and the Pops initiated a conducting competition for students aged 18 to 30 during the 2018 season-long celebration of Leonard Bernstein's centennial. As part of a 2019 Pops tour concert in Fort Lauderdale, Keith invited student survivors from the shooting at Margery Stoneman Douglas High School in Parkland to perform a song, composed by two of them, honoring the resilience of their community. Back at Symphony Hall, both the spring and holiday Pops seasons in 2019 included a sensory-friendly concert designed for families with children or adults diagnosed with an autism spectrum disorder or sensory sensitivities.
Keith recently completed a decade-long relationship with the BBC Concert Orchestra, first as principal conductor and then as the orchestra's chief guest conductor. During his tenure as principal conductor, he led the 2012 Diamond Jubilee Concert for Queen Elizabeth II. He continues to serve as artistic director of the Brevard Music Center Summer Institute and Festival in North Carolina. Prior to his BBC appointment, he spent eleven years as music director of the Utah Symphony, which he led at the 2002 Olympic Winter Games in Salt Lake City. He has appeared as a guest conductor with virtually every major symphonic ensemble in North America, as well as many prestigious orchestras in Asia and Europe. Before coming to Boston, he was the associate conductor of both the Cincinnati Symphony and Cincinnati Pops orchestras, as well as music director of the Cincinnati Chamber Orchestra. Born in Poughkeepsie, New York, Keith Lockhart began his musical studies with piano lessons at the age of seven. He holds degrees from Furman University and Carnegie Mellon University, and honorary doctorates from several American universities.
Having the gift of being able to communicate with people of all ages, Keith Lockhart readily conveys his passion for the music he loves, which covers a wide spectrum. His programming reflects this breadth of interest and he is completely at ease articulating his professional and personal perspectives. Above all, he believes in and appreciates the experience that only the Boston Pops can provide—an atmosphere of music-making that is both fun and entertaining. He has called the Pops "the great outreach arm of the classical music industry. There's no orchestra like it in this country or in the world that plays such a wide variety of music at such a high level."

See More
Links