Composer
Leonard Bernstein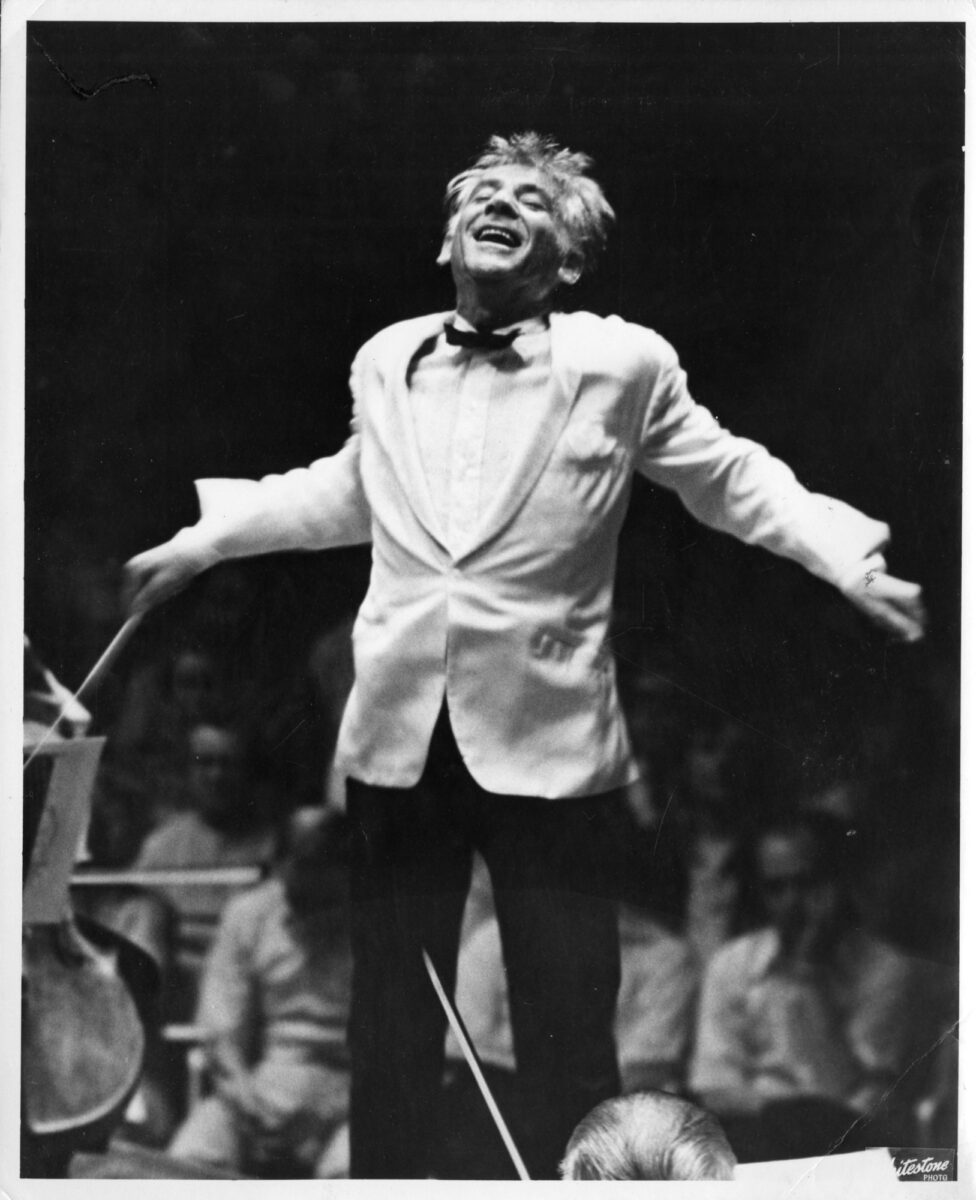 About
Any one of the arcs of Leonard Bernstein's musical career would be enough to mark him as one of the great artists in American history. From his Tanglewood legacy, to his virtuosic conducting, to his composing and leading his own scores for Broadway and the concert hall, to his role as an educator and inspirer of younger generations, there are many facets to Bernstein's sparkling musical achievements. The 2023 film Maestro features, filmed on location, prominently features Bernstein's time — and the music he made — at Tanglewood.

Although Bernstein — perpetually known as "Lenny" to those closest to him — was born in Lawrence, Massachusetts, where his mother's family lived, he grew up entirely in Boston. His family moved frequently within Boston, mostly living in apartments and houses in Mattapan and Roxbury, with Franklin Park always nearby. He first attended concerts at Symphony Hall in the early 1930s and had a subscription to the Boston Symphony Orchestra by 1933. Bernstein eventually was accepted to the Boston Latin School, then Harvard, from which he graduated in 1939.
When his father Sam Bernstein bought a summer house in Sharon, Massachusetts — reflecting the great success of his beauty products business during the Depression — Lenny and his siblings got a tiny local taste of resort-camp life, which included swimming, outdoor games, and summer friends with whom the budding musician was able to put on shows for the entertainment of themselves and the assembled adults. These experiences put Bernstein in a good place to accept his first "professional" conducting assignment in summer 1937 as music and drama counselor for Camp Onota for Boys, in Pittsfield, MA—just a few miles from Tanglewood, the recently-inaugurated summer home of the Boston Symphony Orchestra. 1940 saw the opening of the Berkshire Music Center (as the Tanglewood Music Center was first called), conceived by BSO music director Serge Koussevitzky as a high-level training academy for young musicians. Among the programs was a conducting course, which included mentoring by Koussevitzky himself, and composition courses with Aaron Copland and Paul Hindemith.
It somehow seems as though fate wouldn't have let Leonard Bernstein avoid Tanglewood if he'd wanted to. Almost three years after his Camp Onota experience, he won a Boston Herald Traveler music quiz, the prize for which was to have been a scholarship to the inaugural Berkshire Music Center session. As it turned out, Bernstein had already met and been befriended by Aaron Copland several years earlier, and through Copland and his Harvard studies had already earned a scholarship to Tanglewood.
At Tanglewood in summer 1940, Bernstein was mentored by both Copland and Koussevitzky and led the Berkshire Music Center Orchestra many times, including a performance on July 12 of his Harvard teacher Randall Thompson's Symphony No. 2. He also led an Allied Relief Fund benefit on August 16, 1940 — recall that the United States would not enter World War II until December 1941 — which was a precursor to what today is known as Tanglewood on Parade.
In 1941, the year after his first Tanglewood summer, Bernstein made his real professional conducting debut (no offense to the Onota Rhythm Band) with the Boston Pops on the Esplanade on July 11. He conducted the Prelude to Wagner's Die Meistersinger with no rehearsal.
In 1942 Bernstein was named Koussevitzky's assistant, and over the ensuing several years Koussevitzky provided his protégé with a variety of opportunities to exhibit his many talents as a pianist, composer, and conductor. Already in the 1940s, these included performing as piano soloist in the premiere of his own Symphony No. 2, Age of Anxiety; conducting the Tanglewood Music Center's American premiere of Benjamin Britten's opera Peter Grimes; and leading the world premiere of Olivier Messiaen's epic Turangalîla-symphoniewith the BSO at Symphony Hall.
One of Tanglewood's great Bernstein stories involves the violinist Midori. At age 14 in 1986, she gave such a committed performance of Bernstein's Serenade (after Plato's Symposium) in her BSO debut with Bernstein conducting that she broke strings on two different instruments — first her own, then the concertmaster's — finishing the performance on the associate concertmaster's violin. The episode made front-page news in the New York Times.

In 1988, a weeklong celebration of Bernstein's 70th birthday took place at Tanglewood, with a sprawling gala concert on the composer's birthday, August 25, that featured performances by Midori, Mstislav Rostropovich, Dawn Upshaw, Frederica von Stade, Barbara Hendricks, Victor Borge, Bobby McFerrin, Lukas Foss, and many others, along with Michael Tilson Thomas, John Williams, and Seiji Ozawa leading the BSO in a wide swath of music by Bernstein, Copland, Mahler, and others close to the maestro's heart. That evening remains legendary in Tanglewood lore; the BSO's equally star-studded celebration of the composer's centennial at Tanglewood in August 2018 mirrored that fabled 1988 party.
Bernstein and Copland were lifelong friends, the older composer dying just a couple of months after Bernstein in 1990. In 1990, 50 years after his first summer at Tanglewood, Bernstein conducted the Tanglewood Music Center Orchestra in Copland's Symphony No. 3 and the BSO in Beethoven's Symphony No. 7 and Britten's Four Sea Interludes from Peter Grimes. This BSO concert would be Bernstein's last performance. He was to have taken the Tanglewood Music Center Orchestra on a European tour that fall, but fell ill, canceling the tour. He died in New York on October 14, 1990.
Throughout his life Bernstein remained closely tied to the Boston Symphony Orchestra and especially to Tanglewood, even after his international conducting career took off and after he became the first U.S.-born music director of the New York Philharmonic. He was head of the orchestra and conducting programs at Tanglewood beginning in the early 1950s (while still in his mid-30s!) and over the years brought, often at his own expense, many outstanding young international musicians to Tanglewood as Fellows, some of whom went on to become members of the BSO. A Leonard Bernstein Fellowship continues to support a TMC Fellow to this day.
See More