Pamela Z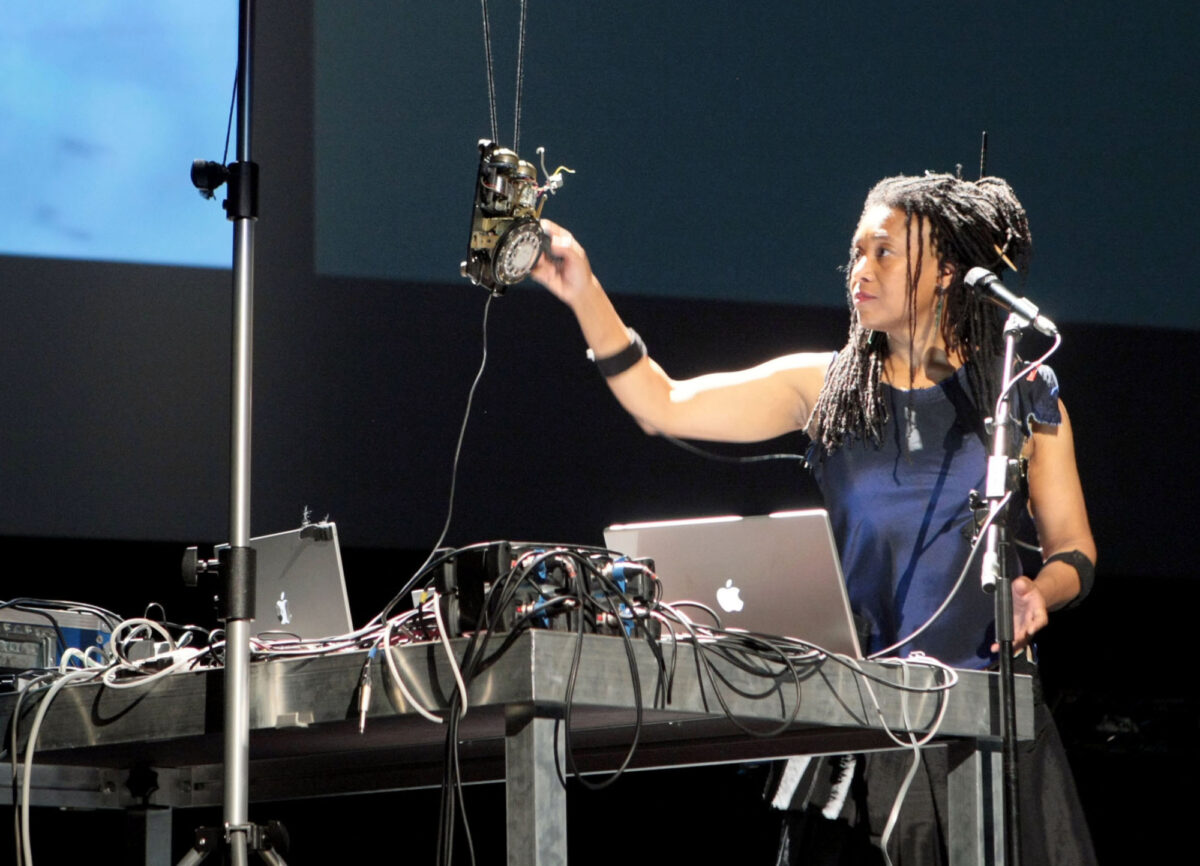 About
Pamela Z is a composer/performer and media artist working with voice, live electronic processing, sampled sound, and video. A pioneer of live digital looping techniques, she processes her voice in real time to create dense, complex sonic layers. Her solo works combine experimental extended vocal techniques, operatic bel canto, found objects, text, and sampled concrète sounds. She uses MAX MSP and Isadora software on a MacBook Pro along with custom MIDI controllers that allow her to manipulate sound and image with physical gestures. Her performances range in scale from small concerts in galleries to large-scale multi-media works in theaters and concert halls. In addition to her performances, she has a growing body of installation works using multi-channel sound and video.
Pamela Z has toured extensively throughout the United States, Europe, and Japan – performing in international festivals and venues including Bang on a Can at Lincoln Center (NY); La Biennale di Venezia; San Francisco Symphony's SoundBox, the Japan Interlink Festival; Other Minds (San Francisco); and Pina Bausch Tanztheater's Festival (Wuppertal, Germany). She has received commissions to compose live and fixed-media scores for choreographers and film/video artists. Her large-scale, performance works, including Memory Trace, Baggage Allowance, Voci, and Gaijin, have been presented at venues like the Kitchen in New York, Yerba Buena Center for the Arts, Theater Artaud (Z Space) in San Francisco, the Museum of Contemporary Art in Chicago, as well as at theaters in Washington D.C. and Budapest. Her one-act opera Wunderkabinet inspired by the Museum of Jurassic Technology (co-composed with Matthew Brubeck) premiered at The LAB in San Francisco, and was presented at REDCAT in LA and Open Ears Festival in Canada. She has shown work in exhibitions at the Whitney Museum (New York); Savvy Contemporary (Berlin); the Tang Museum (Saratoga Springs NY); the Dakar Biennale (Sénégal); Krannert Art Museum (IL), and the Kitchen (NY).
Ms. Z has received commissions from chamber ensembles including Kronos Quartet, Eighth Blackbird, Bang On A Can All Stars; Ethel, Del Sol Quartet, California E.A.R. Unit; Left Coast Chamber Ensemble; and Empyrean Ensemble. She recently composed a work for soprano Julia Bullock and the San Francisco Symphony. She has collaborated with a wide range of artists including Joan La Barbara, Joan Jeanrenaud, Brenda Way (ODC Dance), Miya Masaoka, Jeanne Finley + John Muse, Shinichi Iova Koga (Inkboat), and Luciano Chessa. She has participated in New Music Theatre's John Cage festivals, and has performed with The San Francisco Contemporary Music Players.
Pamela Z is the recipient of many honors and awards including the Rome Prize, Foundation for Contemporary Arts Dorothea Tanning Award, American Academy of Arts and Letters Award, United States Artists Fellowship, the Guggenheim Fellowship, the Doris Duke Artist Impact Award, a Robert Rauschenberg Foundation residency, the Herb Alpert Award in the Arts; the Creative Capital Fund; the MAP Fund, the ASCAP Music Award; an Ars Electronica honorable mention; and the NEA Japan/US Friendship Commission Fellowship. She holds a music degree from the University of Colorado at Boulder. For more information visit: www.pamelaz.com
See More
Links