November 18, 2021
Finding Hope and Harmony at Home
Take a look back at some musical moments that helped uplift our community in the darkest days of the COVID-19 pandemic.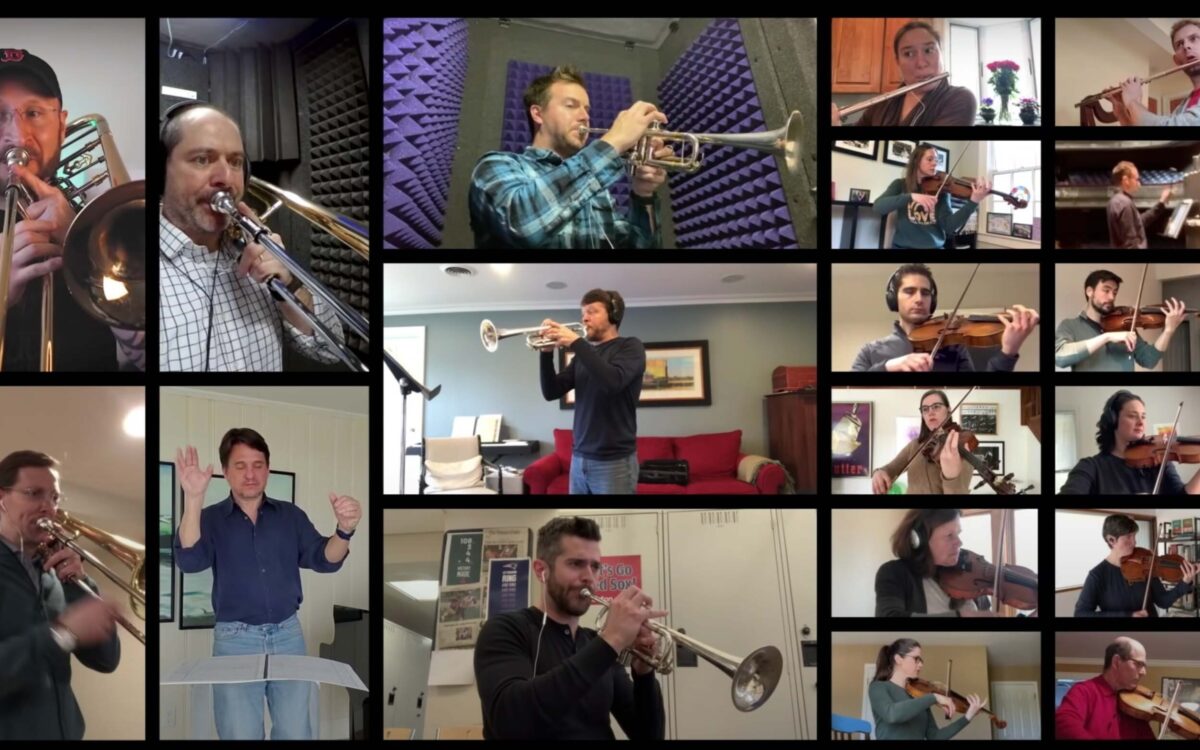 On March 12, 2020, the BSO canceled performances for two weeks due to growing concerns over the new COVID-19 virus. BSO and Boston Pops audiences, musicians, Boards, and staff had no idea what was to come: a full 18 months without live audiences in Symphony Hall.

As difficult as this time was, members of the BSO and Boston Pops found a way to get us through the best way they know how — by making music. In the early days of the COVID-19 pandemic when we were all confined to our homes, the musicians kept playing on through BSO at Home and Boston Pops at Home, using virtual programming to bring comfort and hope to listeners around the world.

Take a look back at some musical moments from BSO and Pops at Home that helped to carry our community through its darkest days.
BSO at Home
Listening Playlists
Our virtual programming began with a series of listening playlists released weekly, curated by Artistic Administrator Anthony Fogg. Check out the full playlist, combining each week's selections, on SoundCloud.
Musician Videos
Symphony Hall may have been quiet during Boston's lockdown, but BSO musicians were anything but. They kept the music alive from their homes, recording performances, practice sessions, and the occasional family dance party to share with the BSO community.
Pops at Home

"Summon the Heroes"
Under the direction of Keith Lockhart, the Boston Pops performed John Williams' "Summon the Heroes" — originally composed for the 1996 Olympic Games — as a tribute to the first responders who have provided critical services during the pandemic. Nearly 80 musicians recorded their individual parts from their homes, which BSO Recording Engineer Nick Squire and Video Engineer Brandon Cardley then edited together to create a symphonic performance. Williams joined the orchestra with a musical and spoken introduction taped from his home studio in Los Angeles.

This performance is sponsored by the New Balance Foundation.
Conversations with Keith
One way Keith Lockhart, Julian and Eunice Cohen Boston Pops Conductor, passed his time during lockdown was with a series called "Conversations with Keith." Through exclusive interviews, he introduced viewers to the people who make the Boston Pops "America's Orchestra," on the stage and behind the scenes.
BSO HomeSchool
Deeply committed to sharing music with the next generation, our musicians and Education and Community Engagement team were eager to create educational resources for anyone who wanted to learn more about music and the BSO while stuck at home. While they couldn't be with students in person, staff developed lesson plans, and players filmed everything from full instrument lessons to short demonstrations, excerpt tutorials, and more!