Meet the Musicians
October 20, 2023
The ABCs of Will Chow: ASL, Boba, and Exploring the City
If you work in an art form that depends on sound, what's it like to have to communicate without it? Cellist Will Chow is learning ASL (American Sign Language) to find out.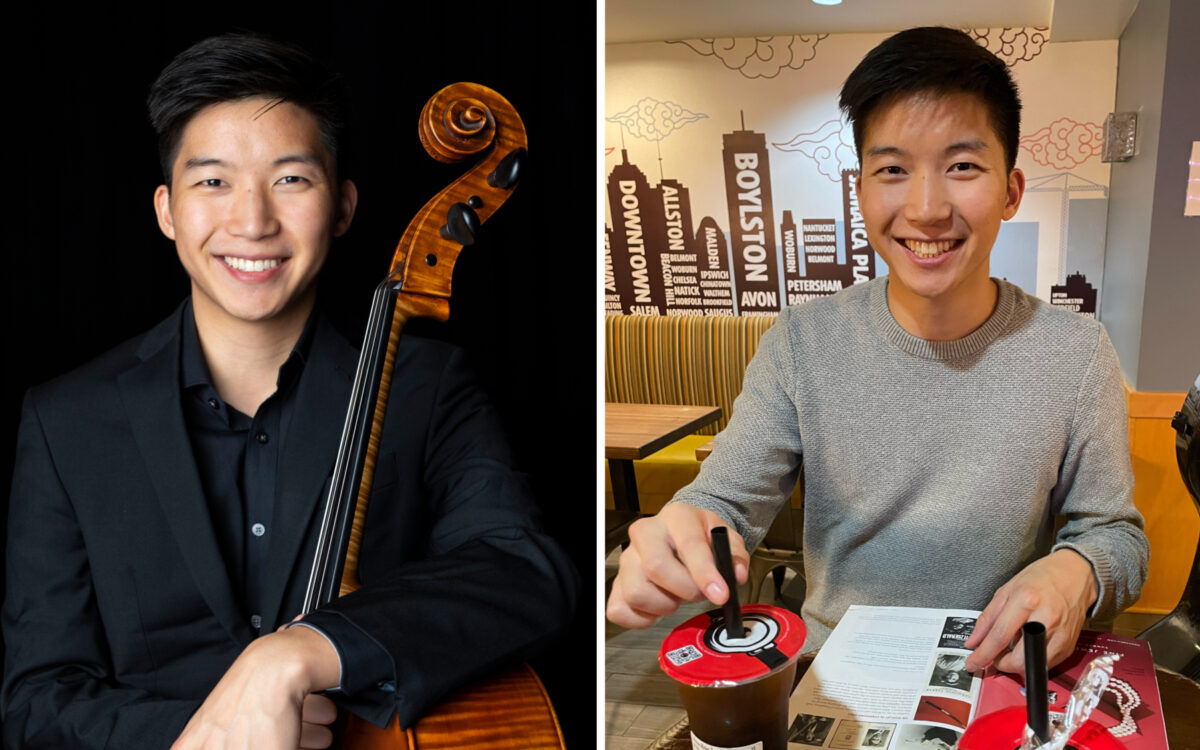 Chow came to the BSO from the Pittsburgh Symphony Orchestra in the fall of 2022. We spoke with the Bay Area Native just as the BSO's 22-23 season was ending about American Sign Language classes, playing Yo-Yo Ma's cello, and the joys and pains of growing grapes in his yard.
This interview has been edited and condensed for clarity.
Tell me about a non-musical hobby you have.
This year I've been really enjoying the city. I live in Jamaica Plain and there are so many parks around. It's great to have the Arboretum nearby. Having that so close is great, and so is the Commons.
Over the winter I've also been learning ASL [American Sign Language]. It's something my girlfriend and I have been doing together — she's an occupational therapist and wanted to learn in case she ever had a patient who uses ASL, and I've always been interested in learning it. We're long distance, so taking an online class was a fun way to do something together.
What's the coolest thing you've learned about sign language so far?
It's so interesting because it's multi-dimensional. How you use your facial expressions are just as important as what your hands do.
As a musician, my life revolves around what I can hear and listen to, so I've always been curious about how one lives in a world without that privilege.
A really cool thing I discovered about ASL is that you can communicate to someone way across a room without the need to speak. At the Concert for the City, where Mayor Wu played, there was a group of students from a deaf school in the audience, and I was able to sign with one of the kids from the stage. He started signing back at a million miles an hour and since I'm obviously still a beginner, I couldn't keep up with him. It was moving to see how excited he got when he realized I could sign. It was so humbling to think that kids who are hard of hearing or deaf would want to come to a symphony concert. I was thrilled to have a bridge to communicate with them in a way that they understood.
What keeps you occupied outside of work?
A lot of Boston neighborhood exploration. I really enjoy walking from Brookline to Back Bay, that whole stretch. The Commons is great. And I love JP (Jamaica Plain).
And I just got a place there too. I've been learning how to be more handy and to be a gardener. I have a side-yard now that's completely overgrown and I didn't really know about plants and stuff before.
Back in the spring, I saw that I had grape vines along my entire fence. I got so excited; there were grapes growing already, but they were really small, green, and sour. So I waited until after Tanglewood, and they were starting to turn purple but weren't ready yet, so I figured they'd be ready after the tour. When I came back from tour, very excited to finally try my grapes, all the vines had been picked clean! It looks like some animals probably ate all my grapes. I got comically angry.
What was your pandemic survival coping mechanism?
I did a lot of puzzles at home. I was in Pittsburgh at the time, and the Pittsburgh Symphony Orchestra musicians organized weekly Facebook Live home concerts on Sundays. We called it "Sunday Night Live." It was a way to keep ourselves busy and still be playing music.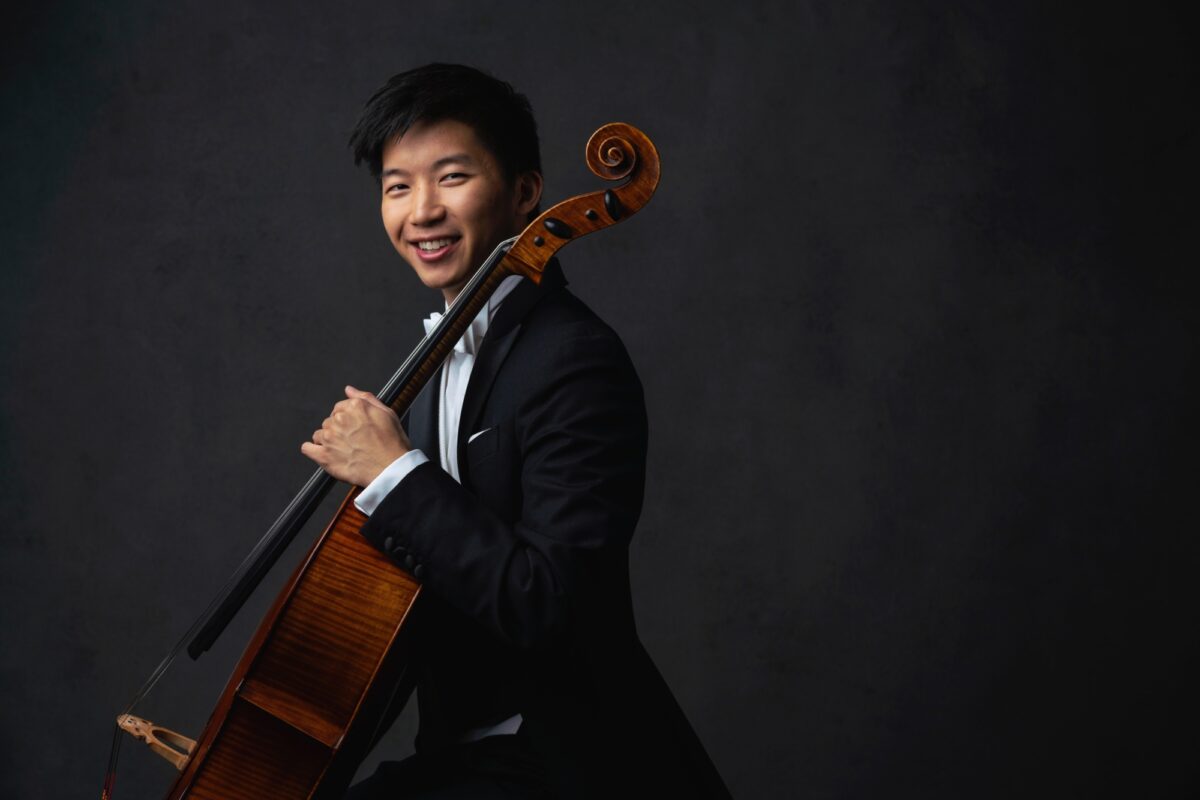 When did music come into your life? When did classical music become The Thing for you?
Pretty early. My parents were both music lovers. My mom plays piano to this day. Dad was pretty serious about classical guitar for a while. He considered pursuing music himself, but decided he wanted to stick to something more reliable and chose hardware engineering. But music has always been in the family since I was young. Dad still loves singing and sings in choirs in his area. My parents play music for church on Sundays too.
What's your favorite classical piece or composer?
I feel like I'm in a Beethoven phase. It's very easy to forget that he lived much of his life without the ability to hear. And since I've been taking ASL classes and studying deaf culture, it brings me a deeper admiration for Beethoven's life and his ability not just to live, but to create music at a level that has been unmatched by anyone else in modern history. Beethoven is also the only composer with his name inscribed above the stage at Symphony Hall, so it sort of feels like he's always watching. His music is frustrating to play at times and his manuscripts are so messy, but it actually feels more relatable because it feels so human. Tons of his original manuscripts have holes in them because he erased things so furiously, so many times. It's a big contrast to Mozart, who allegedly never had to erase anything he wrote down! While it's easy to marvel at someone like Mozart, it's hard to relate to perfection. I feel like Beethoven's music speaks to me so much more because he embodied the spirit of having to work hard through adversity and frustration. I feel like that's a journey we all have to go through in a sense -- trying to get better, getting frustrated at our own limits, and then persevering.
When you're not listening to classical, what are you listening to?
I enjoy lo-fi a lot. Being trained as a classical musician, I feel a lot more comfortable with music that doesn't have words. When there aren't lyrics, you can let your imagination and the music take you on your own journey of choice.
Do you have any rituals before a concert?
Stay hydrated!
Who's you dream person to collaborate with, in any genre?
My dream has always been Yo-Yo [Ma]. It's been great to see him so often since joining the BSO. He's such a generous person. I was chatting with him after a rehearsal, and I asked him which cello he was using, because he has two, one of them is a Stradivarius. And he said, "Oh it's the Strad. Here! Try it!"
He handed me his cello and I started shaking because I had a poster of him and that very cello in my room as a kid, so seeing that cello on my wall every day and finally holding it in my hands and playing it was mind-blowing.
What was it like playing his cello?
Playing the cello was like touching a match to a fuse. I barely grazed the string with the bow and I felt like I was strapped to a rocket that just took off!
What's an instrument you wish you played, or a talent you wish you had?
I wish I had kept up with piano. I started on piano before I played cello, and it fizzled out because I didn't enjoy it as much. Now looking back, I wish I could have done a little more. Maybe I could have gotten into jazz piano.
I also wish I could whistle.
Favorite place you've ever traveled?
The really cool thing is, because of how much we tour, I get the travel bug itch scratched quite often. This past trip to Japan was amazing.
In the States my favorite place might actually be Boston, it's always been my favorite place to visit. It still feels surreal to be a Bostonian now.
Favorite food place near Symphony Hall?
I love boba, and there happens to be a ton of it around here. When I first visited Boston as a senior in high school to take an audition for NEC [the New England Conservatory of Music], I couldn't find anything. Now there seems to be a boba shop on every other block!
What's your coffee order?
Either a latte or cappuccino.
What's your boba order?
Oolong milk tea with pearls.
Favorite social media app?
Instagram. I've been spending may too much time watching Reels, and they just so happen to be a lot of duck videos recently, just waddling around.
Favorite pizza topping?
Sausage and mushroom!