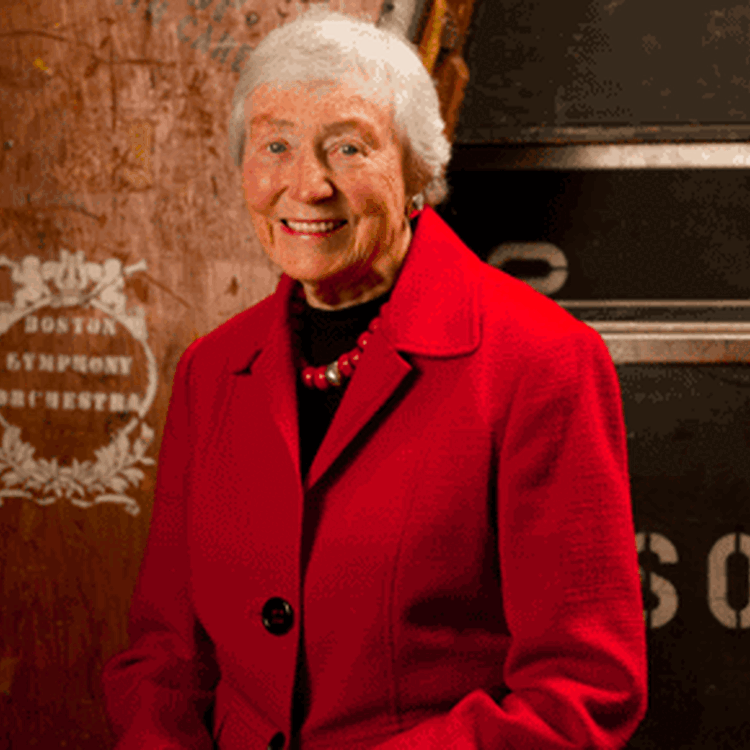 Former BSO Life Trustee Mary Newman's lifelong passion for music was first nurtured by her piano-playing mother. At the age of 10, Mary learned to play the trombone – and soon was playing with the local summer band.

After college, Mary went to work for Bolt, Beranek and Newman in Cambridge where she met Bob Newman. Bob not only became her husband but also introduced her to the Boston Symphony Orchestra, where "he courted me," Mary says. Throughout their marriage until Bob's death in 1984, they attended hundreds of BSO concerts together.

As an Advisor and then a Trustee, Mary has been a tireless crusader in support of the BSO's musical mission. Her powers of persuasion have been instrumental in supporting the organization's fundraising efforts and her generosity has had a deep impact on the BSO's continuing success. Consistently supporting the Annual Fund, she also has endowed an orchestral chair and her treasured seats in Symphony Hall.

In the mid-90s, Mary established a charitable remainder trust as "a good way to support the BSO and its great music – while giving my children use of the money when they most needed it." Planned giving donors like Mary become part of the BSO's Walter Piston Society and enjoy opportunities to deepen their BSO experience and connect with like-minded people.

Mary spoke passionately about the importance of supporting the BSO – to do whatever you can in return for the gifts that music offers. She recalled that, despite having heard many performances over the years, a recent BSO performance of Beethoven's Ninth Symphony brought tears to her eyes. "Music," said Mary, "fills a gap in life like nothing else – and brings on serenity when other things can't."