Students & Educators
BSO Youth Concerts
BSO Youth Concerts introduce students to the power of live orchestral music by exploring connections between the repertoire and the concert theme.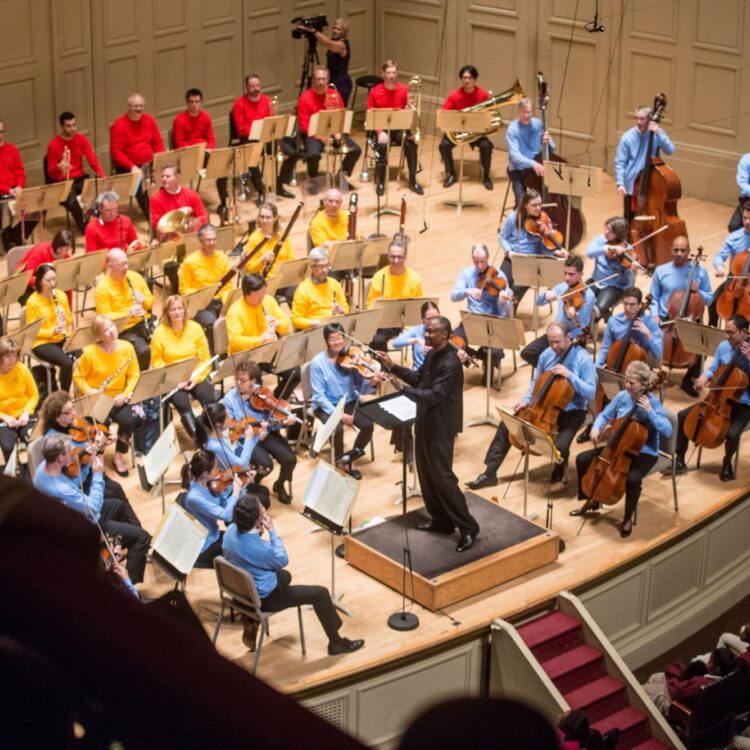 BSO Youth Concerts introduce students to the unique experience of hearing a live professional orchestra, encouraging an appreciation of orchestral music and a sense of connection to the Boston Symphony Orchestra and Symphony Hall. Concerts are about one hour long.
Germeshausen Youth and Family Concerts Conductor Thomas Wilkins designs each concert with 4th-6th-grade students in mind, speaking directly to youth between pieces to help them understand the music, and delivering positive character development messages throughout the performance.

Early elementary students and middle- and high school-aged students may participate; we encourage group leaders to contact education@bso.org for tips to optimize your students' experience.
Inclusion and special education groups are welcome to attend Youth Concerts. We can make accommodations, including wheelchair seating, noise-canceling headphones, and more – please advise us of your needs when booking your reservation.
Look for supplementary materials, including lesson plans tied to the concert and biographical information on composers, here this winter. We encourage educators to use these resources before and after your concert experience.
Tickets
Tickets are $10 each, with one complimentary ticket for every 20 tickets purchased. A 10% deposit is required six weeks before the concert, with the remainder due four weeks before. Students and teachers from Boston Public Schools can attend any Youth Concert for free, subject to availability and with advance reservation. Contact Group Sales at 617-638-9345 or groupsales@bso.org.

Food
Food is not permitted in Symphony Hall before, during, or after the concert, but we are glad to help you plan your post-concert lunch experience. Tip: Weather permitting, the Christian Science Plaza, right across the street, is a great place to enjoy an outdoor meal!
Youth Concert Social Story
Use the link below to download an editable copy of the Social Story for your upcoming Youth Concert! Help you and your students know what to expect before, during, and after the concert. You may modify this presentation as appropriate for your group, guidelines for modification can be found on the second slide, "Notes for Teachers."
Download Youth Concert Social Story
Sponsored by
Music for All Sponsor