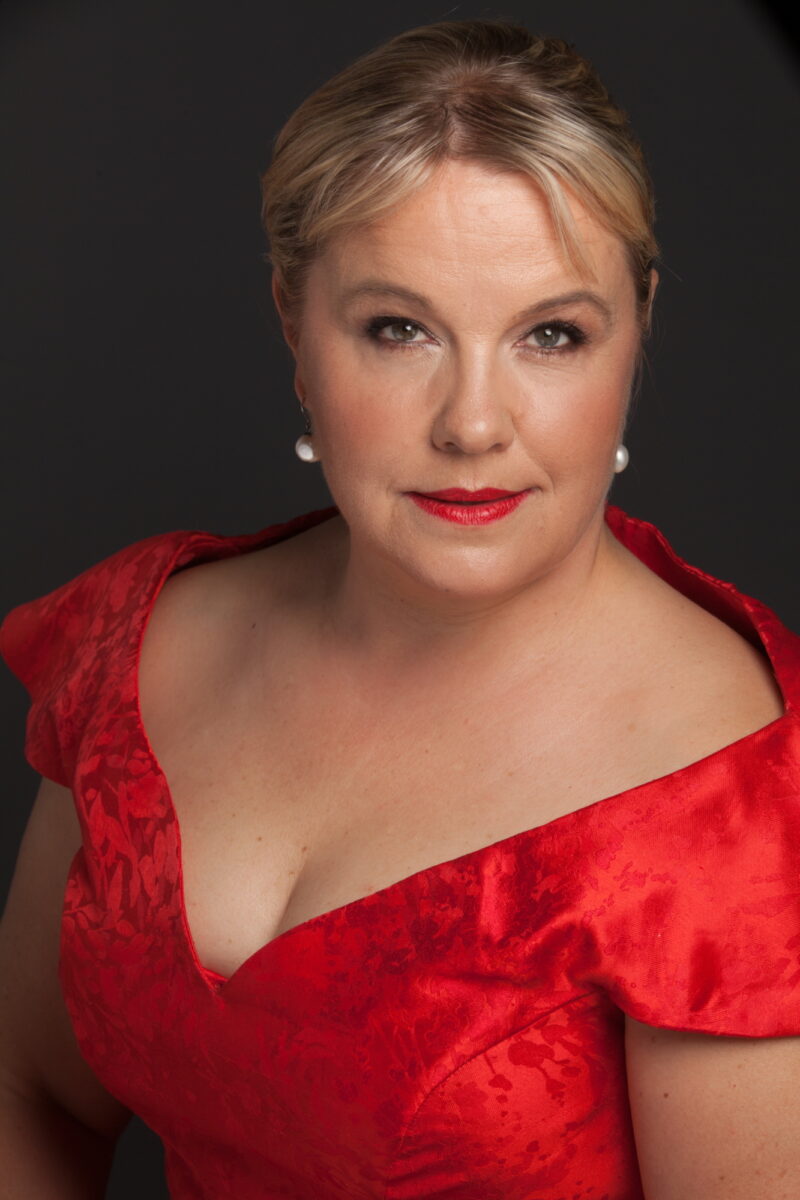 About
Anu Komsi continues to be praised for her versatile musicianship and her dynamic coloratura voice. She began her musical education in Kokkola, Finland, where she played both flute and violin in the Ostrobothnian Chamber Orchestra. Equally at home on both opera and concert stages, she has appeared regularly all over Europe and in the United States and Japan. She is a versatile recitalist and chamber musician with a repertoire ranging from Renaissance to contemporary music. New York Magazine New Yorker described her as being a "Pyrotechnic Grace" on the stage when she performed the title role in John Zorn´s Machine de L´éttre in New York City Opera . Engagements at leading opera houses and concert halls like in Wien, New York, London, Paris, Berlin, Milano, Cologne, Frankfurt, Bremen, Rome, Sao Paulo, Prag, Stockholm, Helsinki have kept her busy.
Her repertoire takes in 70 operatic roles including Lulu, Nannetta, Teiresias, Salome, Zerbinetta, Olympia, Gilda, Norina, Michaela, Queen of the Night, Catherine in Meyerbeer´s L´étoile du Nord . George Benjamin's Into the Little Hill opera was especially written for her and was premiered 2006 in Paris Opera Bastille and Anu has since had over 40 performances in Europe and USA and still ongoing singing the piece. Morton Feldman's Neither is one of her signature roles and at her Salzburg Festival debut in summer 2011 she was hailed in the press as "the excellent anti-opera heroine". In recent seasons the title roles of Lady Sarashina by Eötvös, Schneewittchen-Snowwhite by Holliger, President Kekkonen by H-J Hofmann and Eva in the spectacle of Donnerstag aus licht by Stockhausen has been internationally acclaimed.
Newest success in Salome´s title role in Salome by R.Strauss which she sung under that baton of Leif Segerstam in his farewell concerts with the Turku Philharmonic and recently in Helsinki in Teiresias in Poulenc´s Mamelles de Teiresias . Anu has worked world wide with the opera directors like Leea Klemola, Claus Guth, Pierre Audi, Lydia Steier, Christoph Loy, Achim Freyer, Daniel Jeanneteau, David Mouchtar-Samorai, Frank Hofmann, Kathrine Bayer, Maria Sid, Marco Arturo Marelli, Udo Samel, Anthony Pilavachi, She has been the soloist with numerous major orchestras like Vienna Philharmonic, New York Philharmonic, Los Angeles Philharmonic, Berlin Philharmonic, BBC Symphony Orchestra London, DSO Berlin, Orchestra Filarmonica della Scala Milano, Wien Symphoniker, CBSO Birmingham, Mahler Chamber Orchestra, Chamber Orchestra of Europe, Symphony Orchester des Bayerischen Rundfunks,Ensemble Modern , Cech Philharmonic, Ensemble Intercontemporain, London Sinfonietta, Oslo Philharmonic, Royal Stockholm Philharmonic, Philharmonic Orchestra of Radio France, Rotterdam Philharmonic, Ostrobothnian Chamber Orchestra and worked with celebrated conductors like Sir Roger Norrington, Esa-Pekka Salonen, Alan Gilbert, Sakari Oramo, Jesus Lopez Cobos, Jukka-Pekka Saraste, Hannu Lintu, Susanna Mälkki, Franz Welser-Möst, Rudolf Barshai, Leif Segerstam, Dima Slobodeniouk, Santtu-Matias Rouvali. In her most acclaimed repertoire in recent years includes Sibelius ́s Luonnotar which is recorded with Lahti Symphony for BIS, Kaija Saariaho ́s Leino Songs which are recorded for Ondine and the piano reduction was commissioned by Anu herself, Tiensuu ́s Voice Verser- specially written for her, E-P Salonen ́s Wing on Wing with her sister Piia Komsi and recorded by Deutsche Grammophon, Jonathan Harvey´s White as Jasmine, it´s premiere in Wien Konzerthaus was sung by Anu and the recording won the Gramophone prize in 2008, Szymanowski´s all 6 Songs of the Fairy Queen, Rue Langgaard´s 2. Symphony which Anu has recorded with Wienna Philharmonic & Sakari Oramo and won the precious Gramophone prize 2019, Magnus Lindberg ́s Accused which is recorded to Ondine with Finnish RSO&Hannu Lintu and will be published soon, Luigi Nono´s Canti di Vita é d´amore, Mahler Symphonies 2th , 8th and 4th which is also recorded with Sir Roger Norrington&SWRSO, B.A. Zimmermann: Soldaten Vokal Symphony which is recorded to Ondine with FRSO&Hannu Lintu. Alongside with big orchestral works Anu has appeared as a duo partner together with Angela Hewitt performing songs by Beethoven, Schubert and Chopin -Pauline Viardot. Anu continues to perform Kurtag´s Kafka Fragments in festivals and concert houses with various violinists like Isabelle Faust,Minna Pensola and András Keller. In the season 2020-21 the repertoire includes R.Strauss´s Vier Letzte Lieder, Poulenc´s Gloria, Songs by Grieg and Messiaen, Mendelssohn´s Lobgesang.
Along with a soloist career Anu has been in the festival ground as an Artistic leader of Kokkola Opera Festival 2004-2018(West coast Kokkola opera, www.kokkolaopera.com pages still available) in planning, organizing, financing , directing and singing versatile opera productions including commissioning three world premieres by Sebastian Fagerlund:Döbeln 2009, Heinz-Juhani Hofmann: Ahti Karjalainen-elämä, Kekkonen and works 2012, Seppo Pohjola:Harrbådas Brud 2015 and thirty other productions which all were placed in different various venues like the sea shore of Öja Karleby and was the venue for Mozart´s Le nozze di Figaro/Figaro´s Bröllop i Öja (i finska svenska dialekten) directed by Leea Klemola &conducted by Sakari Oramo 2006-2007, Mozart/Magic flute was placed in a circus tent in the city centre of Kokkola city/dir. by s. Reunanen & cond. S.Oramo/Santtu-Matias Rouvali 2011, Puccini´s Suor Angelica together as a diptych with Carissimi´s Jephta in a church of Kokkola cond.by S.Oramo&dir. Juha Mustanoja&Anu Komsi 2008, J. Strauss:Fledermaus in a Snellman concert hall Kokkola and in Kabel factory Helsinki dir. by Maria Sid&Cond. by S.Oramo&silent films by Juho Kuosmanen 2007-2008, Alban Berg´s Lulu was performed in the Kabel factory Helsinki with Finnish RSO/tv Teema dir. by Leea Klemola& cond. S.Oramo 2009, Children´s Opera by J.Franklin as a language bath finnish-swedish "Hästarna kommer" was toured in ostrobothnic schools 2009, Bizet´s Carmen took place in Concert Halls both in Kokkola and in Helsinki Musiikkitalo Concert Hall dir. by Juha Mustanoja& silent films Juho Kuosmanen &cond. S.Oramo 2010&2012, Giocomo Meyerbeer´s L´étoile du Nord was performed first in Sport Hall in Kokkola and later on in Musiikkitalo Concert Hall Helsinki cond. by S.Oramo&dir. Maria Sid 2017 which was filmed by YLE and is still on demand on https://areena.yle.fi/1-4088312. Alongside opera productions in the festival weeks Anu planned c. 100 concerts with versatile programs the repertory ranging from renaissance till contemporary and free jazz improvisation. Kaija Saariaho´s Leino songs commissioned by Anu herself were first premiered in Kokkola Opera Summer festival in 2008. Many productions of the Kokkola Opera summer festival were acclaimed in the international opera magazine Opernwelt as the most interesting and innovative productions produced in Finland. Kokkola Opera´s recording of Sebastian Fagerlund´s opera "Döbeln"(BIS) won the Record of the Year prize in 2010 by Finnish YLE broadcasting company and the recording of Heinz-Juhani Hofmann´s opera "Ahti Karjalainenlife, Urho Kekkonen and works"(ALBA) was nominated as candidate for the record of the year in 2014 by Emma prizes Finland. Side by side with the classic repertoire Anu sings modern& free jazz and has a duo with Marzi Nyman and soon they will publish their first cd together; Sacred Concert by Duke Ellington. With Petri Nieminen Band Anu has recorded "Night Walk" to Alba, and with Antero Priha a jazzy buddhist songs recorded in Mielen Taivas. Anu has a long lasting relation with many contemporary woman composers like Kaija Saariaho, Karin Rehnquist, Un Suk Chin, Aija Puurtinen by premiering their works and keeping them in her repertory.
Anu graduated with a Master´s degree from the soloist singing department Sibelius Academy Uniarts in Helsinki. Anu speakes and writes fluently finnish, swedish, english, german languages and can speak some italian, french and russian. Singing languages include also spanish, polish, czech, flamish, hebrew, norwegian, rhetoromanian, japanese, chinese.
See More
Links