Conductor
Seiji Ozawa
Music Director Laureate, Boston Symphony Orchestra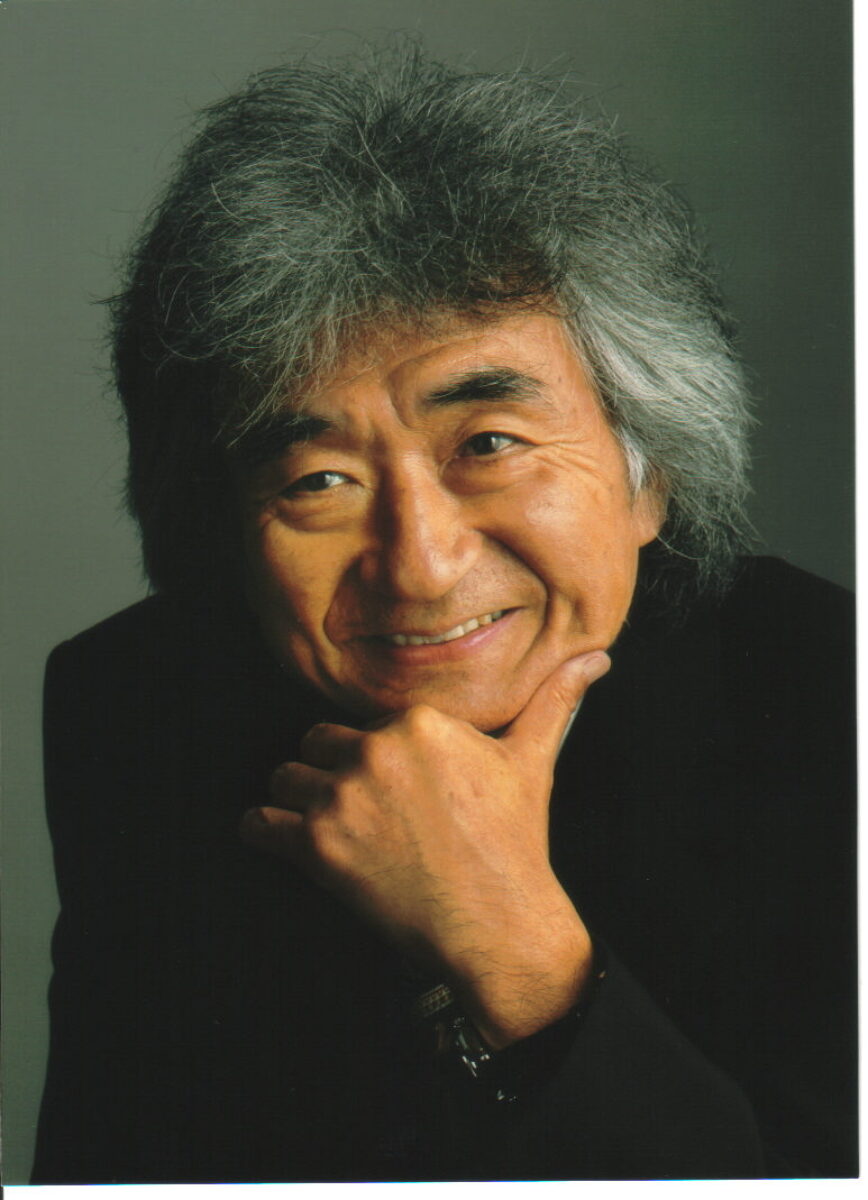 About
Seiji Ozawa was music director of the Boston Symphony Orchestra from 1973 until 2002. His 29-year tenure was the longest in the history of the orchestra, eclipsing the 25-year tenure of legendary BSO music director Serge Koussevitzky. Born 1935 in Shenyang, China. Seiji Ozawa studied piano from a young age, and after graduating from Seijo Junior High School, he went on to study conducting under Hideo Saito at the Toho School of Music. In 1959, he won first prize at the International Competition of Orchestra Conductors held in Besançon, France, and was invited the next summer to Tanglewood by Charles Munch, who was a judge at the competition and music director of the Boston Symphony Orchestra at the time. He proceeded to study under Karajan and Bernstein and went on to serve as assistant conductor of the New York Philharmonic, music director of the Chicago Symphony Orchestra's Ravinia Festival, music director of the Toronto Symphony Orchestra, and music director of the San Francisco Symphony before accepting the BSO post.
As music director of BSO, he built the orchestra's reputation nationally as well as internationally, with successful concerts in Europe in 1976 and Japan in March 1978. In March 1981, BSO toured 14 cities in America to commemorate its centennial and then executed a worldwide tour in fall of the same year, with stops in Japan, France, Germany, Austria, and the United Kingdom. It went on to perform in Europe in 1984, 1988, and 1991, and Japan in 1986 and 1989, all to great acclaim. He was named the orchestra's Music Director Laureate in 2002.
In 1978, Ozawa was officially invited by the Chinese government to work with the China Central Symphony Orchestra for a week. A year later in March 1979, Ozawa visited China again, this time with the Boston Symphony Orchestra. In addition to orchestra performances, he facilitated significant cultural and musical exchanges through discussions and teaching sessions with Chinese musicians. He has since continued to build a strong relationship with China.
In autumn 2002, Ozawa became music director at Wiener Staatsoper, a position he held until spring 2010. His reputation and popularity are enormous in Europe, where he has conducted many orchestras including the Berliner Philharmoniker and the Vienna Philharmonic. He has also appeared in prominent opera houses such as Wiener Staatsoper in Vienna, l'Opéra National de Paris, Teatro alla Scala in Milan, Opera di Firenze, and the Metropolitan Opera in New York.
In Japan, Ozawa formed the Saito Kinen Orchestra with Kazuyoshi Akiyama in 1984 to commemorate their late mentor, Hideo Saito. The orchestra held greatly successful concerts in Tokyo and Osaka and went on to tour Europe in 1987, 1989, and 1990. In 1991, it performed concerts in Europe and America and was received with great accolades. These activities lead to the inception of Ozawa's artistic dream in 1992: the Saito Kinen Festival Matsumoto. Ozawa became director of this international music festival, a role that continues to this day. SKO continued to tour, with overseas concerts in 1994, 1997 and 2004. From 2015, the festival has entered a new stage as the "Seiji Ozawa Matsumoto Festival."
Ozawa has been particularly focused on education. The Chamber Music Academy Okushiga had evolved from the Saito Kinen chamber music study group sessions that started in 1997, and in 2011, this became the non-profit organization Ozawa International Chamber Music Academy Okushiga, Asia, to provide opportunities to outstanding students from countries in the region. Ozawa also founded the Seiji Ozawa Music Academy Opera Project in 2000 and the Seiji Ozawa Music Academy Orchestra Project in 2009, working actively to cultivate young musicians through performance. In 2005, he established the Seiji Ozawa International Academy Switzerland to educate European music students. Ozawa has also worked closely with the Mito Chamber Orchestra since its founding in 1990, serving as general director of the orchestra as well as director general of Art Tower Mito from 2013. He has also worked regularly with the New Japan Philharmonic since its founding.
Ozawa has won many awards in Japan and abroad, including: the Asahi Prize (1985); an Honorary Doctorate from Harvard University (2000); the Austrian Cross of Honour for Science and Art, First Class (2002); the Mainichi Art Award (2003); the Suntory Music Prize (2003); an Honorary Doctorate from the Sorbonne University of France (2004); Honorary Membership from the Wiener Staatsoper (2007); France's Officier de la Légion d'Honneur (2008); Foreign Associated Member in the Académie des Beaux-Arts de l'Institut de France (2008); the Order of Culture, which is the highest honor in Japan (2008); Giglio D'Oro by Premio Galileo 2000 Foundation of Italy (2008); the first Japanese national to be bestowed honorary membership to the Vienna Philharmonic (2010); the Praemium Imperiale from the Japan Art Association (2011); the Akeo Watanabe Foundation Music Award (2011); and the Kennedy Center Honors (2015). In February 2016, the Ravel L'enfant et les sortilèges album conducted by Seiji Ozawa and performed by the Saito Kinen Orchestra that was recorded at the 2013 Saito Kinen Festival Matsumoto won the 58th Grammy Award for Best Opera Recording. In April 2016, he was named an Honorary Member of the Berliner Philharmoniker.
See More