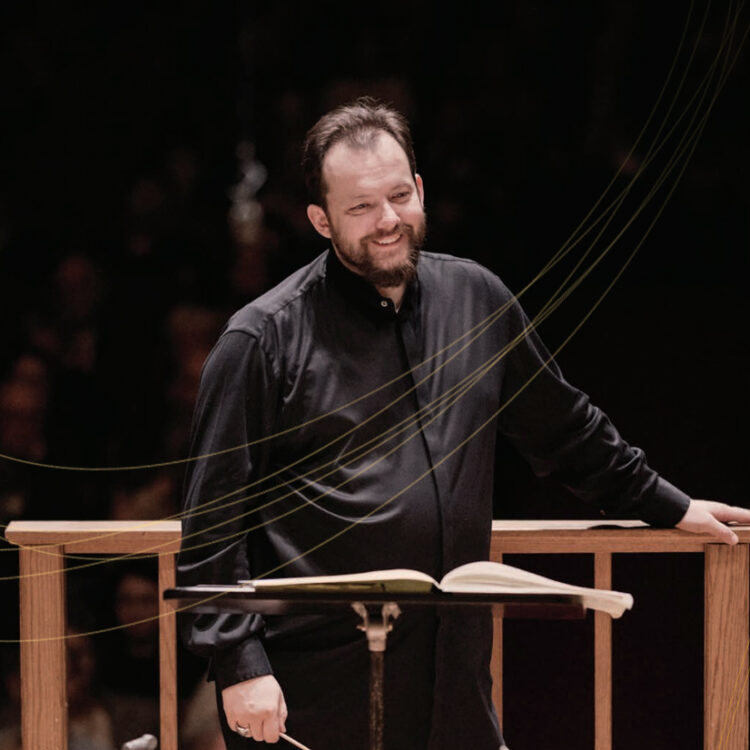 We are so happy to invite you back to Symphony Hall for the BSO's 2021–22 season and return to our devoted music community. This is a moment we have been longing to celebrate for quite some time — when the musicians of the Boston Symphony Orchestra and I reunite with our devoted audiences. Our time apart has served to strengthen our appreciation not only for music as a necessary source of reflection, inspiration, comfort, and growth, but also for the vital energy we share with our audiences during each and every concert. The prospect of once again sharing music with you fills us with great joy and anticipation.
So many of music's spiritual gifts, including its power to connect us with friends and strangers alike, await us throughout the upcoming season, my eighth as music director. We are especially excited about this season's wide and beautiful palette of music.
The celebratory tone of the season is set with our opening concert, as Anne-Sophie Mutter performs a new violin concerto by John Williams. The first work on that program is Beethoven's Consecration of the House overture, which is sure to carry a special significance for everyone present. In the spring, our beloved Tanglewood Festival Chorus will be reunited with the BSO for the first time since March 2020, singing Janáček's Glagolitic Mass and Britten's War Requiem.
In the coming season, my BSO conductor colleagues Thomas Wilkins, Thomas Adès, and Anna Rakitina bring their distinctive musical gifts to the Symphony Hall podium. Other highlights include Berg's Wozzeck, our continued exploration of Shostakovich, six works by Richard Strauss, and the start of a Beethoven piano concerto performance cycle with Mitsuko Uchida. Familiar masterworks will be presented alongside world and American premieres by important composers of our time—including Julia Adolphe, Unsuk Chin, HK Gruber, Bernard Rands, Kaija Saariaho, and Jörg Widmann. Many gifted and acclaimed vocalists, instrumentalists, and conductors will be joining us, with some making exciting debuts and others making highly anticipated return visits.
We also welcome Gail Samuel, who became the new President and CEO of the BSO in June. Gail brings a wealth of experience, a great passion for music and community, and a distinctive and creative approach to collaboration.
As we settle back into the routines of daily life, I believe we must seek out and treasure the activities that bring deep meaning to our lives and nurture our souls. This is how I feel about the return to concertizing with the BSO before its wonderful audiences, who have sustained us in so many vital ways during this past year and always. We are deeply grateful to you, as your support is crucial to the future of the BSO and its music-making.
We are counting the days until we reunite with you at Symphony Hall this fall.
With warm wishes,
Andris Nelsons