Dining at Symphony Hall
Pre-Concert Menu
Order ahead off the Pre-Concert Menu to reserve a table in the Cabot-Cahners Room. Reservations can be made up to 72 hours prior to the concert by calling 617-638-9238.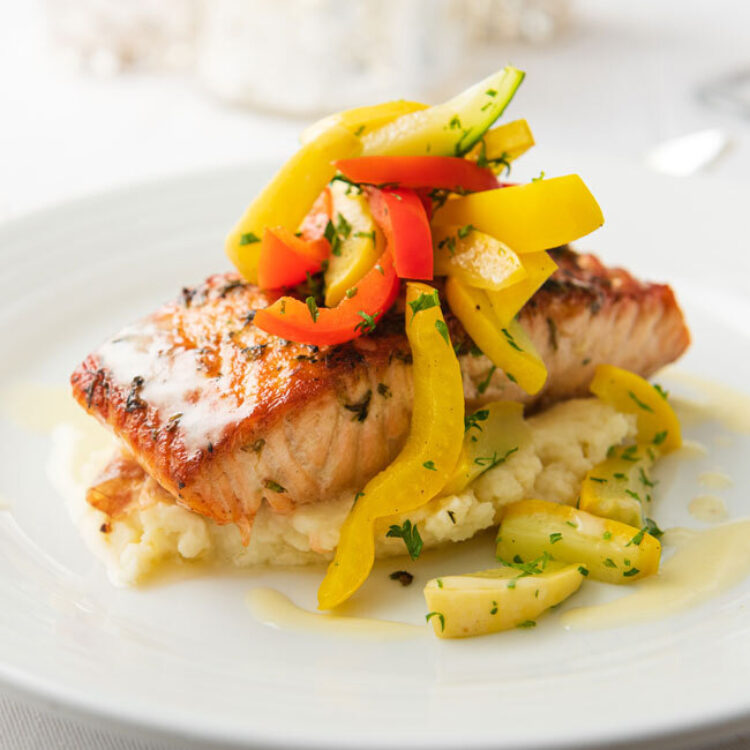 Receiving Your Meal

Please check-in with a bartender in the Cabot-Cahners room to receive your meal.
Winter 2023
Starters
Artisan Cheese and Charcuterie Bamboo Board $45
Regional and imported cheeses, cured meats and pate, dried and fresh seasonal fruits, Castelvetrano olives, honeycomb, fig chutney, cornichons, whole grain mustard, crackers and rustic bread.
Cheese Plate $25
Smoked gouda, herb cheese spread, brie, sharp cheddar, dried fruit, fig marmalade, grape cluster, and water crackers.


Mezze Plate $23
Falafel, hummus, tabouleh, tzatziki, grape leaves, and pita chips.


Shrimp Cocktail $26
Six chilled poached shrimp, cocktail sauce, and lemon.


Symphony Caesar $18
Romaine lettuce, torn radicchio, rosemary croutons, and Caesar dressing.


Winter Burrata $26
Local burrata, truffle honey, and winter fruits served with baguette.
---
Entrees
Horseradish Crusted Salmon $42
Roasted potatoes, pickled golden beets, and ginger beurre blanc.
Short Ribs $45
Braised beef short ribs, crispy polenta cake, butternut squash, and demi-glace.


Shrimp Bowl $25
Marinated Shrimp, buckwheat noodles, English cucumber, bean sprouts, cilantro leaves, red pepper, green onion, and crispy shallots tossed in a ginger vinaigrette. *Served chilled
---
Desserts
Chocolate Fudge Torte with Raspberries and Chantily Cream $12
Lime Cheesecake with Strawberry Coulis and Duo Chocolate Batton $12
Fresh Berries with Raspberry Coulis (V/GF) $12
---
Menu items are made on shared equipment that processes nuts, tree nuts, dairy, shellfish, eggs, wheat, and soy.
The Department of Public Health advises that eating raw or undercooked meat, poultry, eggs or seafood poses a health risk to everyone, but especially the elderly, young children under age 4, pregnant women and highly susceptible individuals with compromised immune systems. Thorough cooking of such animal foods reduces the risk of illness. Before placing your order, please inform your server if a person in your party has a food allergy.