Each year, some 600 Boston and Tanglewood volunteers offer their enthusiasm, leadership, and more than 17,000 hours of their cumulative time in service of the BSO's musical mission. The high points of this season would not have been possible without their unflagging commitment.
Meet Paul and Marilyn Flaum
For over forty years, Paul and Marilyn Flaum have been integral to summers at Tanglewood. As BSAV volunteers since 1981, Paul and Marilyn welcomed many new and old friends to the Berkshires. From teaching classes about the BSO and local history to serving as ushers, they shared well over 15,000 hours of their time. In 2011, Paul was the second recipient of the Carrie L. Peace Spirit of Volunteering award. As they step back from active volunteering, Paul and Marilyn took a moment to reflect on their experience with the BSO and shared some favorite memories. We are so grateful for their years of service and dedication to making Tanglewood a welcoming destination for all.
Read Marilyn and Paul's Interview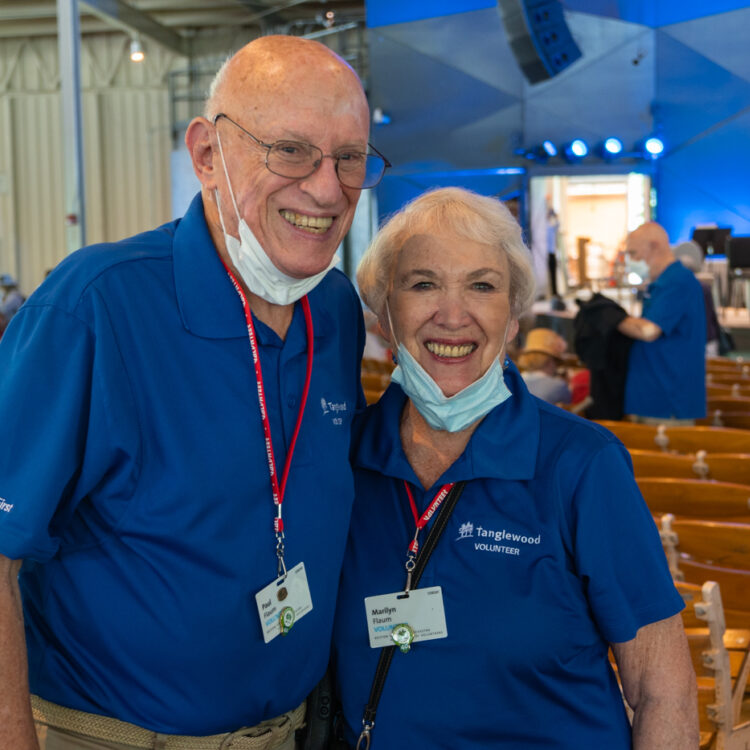 Boston Symphony Association of Volunteers
Bob Braun, Chair
Cathy Mazza, Vice-Chair, Boston

Susan Price, Vice-Chair, Tanglewood
Beverly Pieper, Secretary
Karen Brown
Greg Chetel
Melissa Riesgo
Nancy Finn
Judy Levin
Phyllis Pollack
Lynne Harding, Usher Liaison, Tanglewood
Peter Geller, Gift Shops Liaison, Tanglewood
Italics = Volunteer Emeritus
Bold = Leadership
‡ Deceased

Sue Abramsky
Bernard Abramson
Helen Adelman
Harold Adler
Susan Aery
Jim Aisner
Judy Albee
Michael Albert
Robyn Aldo
Bruce Alexander
Mark Alimansky
Susan Alin
Sylvia Allan
Jackie Anapolle
Suzanne Andeway
Howie Arkans
Sue Arkans
Paul Arnold ‡
Eva Arnott
Gisela Ashley
Diane Austin
Bill Ayres
Joyce Bacharach
Bill Ballen
Jeff Bancroft
Sue Barnes
Ilene Baron
Judy Barr
Paul Barresi
Barbara Barron
Amy Bart
Lester Bart
Suzanne Baum
Miriam Bazeley
Rosalie Beal ‡
Kimberley Beaudet
Carol Beck
Lisa Beede
Lauren Behrman
Mark Beiderman
Pam Beiderman
Carol Beitel
Jeff Beitel
Gloria Belastock
Mickey Beller
Nicki Belt
Ruth Bemak
Anne Benaquist
Alan Benjamin
Judy Benjamin
Marlene Bergendahl
Rosalie Berger
Amelia Bergquist
Marc Berman
Donna Bernstein
Viera Bernstein
Donald Betit
Barbara Blank
Rita Blieberg
Doris Bloom
Anita Bluestone
Peter Bluhm
Herb Blum
Art Blumenthal
Betsy Bobo
Jim Bobo
Judy Boehr
Judy Borger
Gary Borla
Barbara Borys
Jane Brady-Close
Barbara Brand
Bob Braun*
Carol Braun
Arline Breskin
Anita Breslaw
Joe Brindisi
Laura Broad
Ellen Brodbar
Stephen Brodbar
Gunta Broderick
Ruthann Bromley
Joan Brotman
Larry Brotman
Carl Brown
Carol Brown
Cipora Brown
Karen Brown
Jackie Browner
Joan Bryson
Joan Buccino
Esther Budnick
Jack Budnick
Carole Burack
Debbie Burke
Steve Butera
Laura Butterfield
Kathleen Byrne
Margaret Cahill
Bruce Callahan
Cynthia Caminiti
Jeffrey Caminiti
Sylvia Cancela
Karen Carmean
Cathy Carter
Joan Carty
Liyang Cheng
Greg Chetel
Yoojin Chung
George Citron
Beth Clark
Douglas Clark
Judy Clark
Linda Clarke
Ileen Cohen
Marcia Smithen Cohen
Pat Cohen
Barbara Cohen-Hobbs
Bobbi Cohn
Jody Colvin
Miri Colvin ‡
Pat Come
Russell Conn
Lisa Controy
Mary Cooper
Nic Cooper
Judith Corell
Kristen Corman
Albert Coury
Barbara Coury
Kathy Cowan
Adele Cukor
Ronnie Cunningham
Vivian Cunningham
Nancy Curme
Joel Curran
Phyllis Curran
Bob Cutick
Nancie Dangel
Chet Davis
Joe de Moncada
Ray De Mott
Laura Delaplain
Theresa Delusky
Madailein Demler
Bonnie Desrosiers
Christian Dewailly
Susan Diamond
Shelli DiCioccio
Dick Dixon
Joe Doboszynski
Carlton Dodge
Nancy Dolan
Gil D'Oliveira
Norma D'Oliveira
Catharine-Mary Donovan
Lisa Donovan
Jerry Dreher ‡
Joanne Dreher
Linda Dulye
JoAnn Dunlavey
Victor Duprey
Michael Durst
Joan Dwyer
Marian Ead
Bonnie Edelstein
Burton Edelstein
Ursula Ehret-Dichter
Melva Eidelberg
Susan Eisler
Bonnie Ekelund
Mary Beth Eldridge
Sabrina Ellis
Ginger Elvin
David Engelhard
Phyllis Epstein
Susan Erdos
Suzanne Courtright Ezekiel
Paula Farbman
Fran Farkas
Jeremy Farkas
Marie Feder ‡
Jan Feinman
Diana Feld
Stanley Feld
Fran Feldman
Lisa Feldman
Rhoda Ferat
Merle Ferber
Heidi Ferren
Clare Figler
Michelle Filiault
Diane Finger
Nancy Finn
Dena Fisher
Marilyn Flaum
Paul Flaum
Joan Flesch
Dick Fletcher
Bruni Fletcher-Koch
Stephen Foley
Jude Forrest
Zita Fox
Giovanna Franchi
JoAnne Freedman
Phil Freedman
Mickey Freundlich
Mike Freundlich
Bert Friedman
Fay Friedman
Fredric Friedman
Larry Friedman
Audley Fuller
Paula Furst Neckyfarow
Magda Gabor-Hotchkiss
Irma Gal
Robert Gal
David Galpern
Athena Garivaltis ‡
Alexandre Franco Garcia
Lorrie Gardella
Peter Gardella
William Gardella
Bob Gardiner
Pauline Garfinkel
Elizabeth Garger
Joel Garrelick
Sandy Garrelick
John Gartner
Toni Gartner
Rita Gazarik
Pat Gazouleas
Terrillyn Geer
Pattie Geier
Ellie Geller
Marne Geller
Peter Geller
Susan Geller
Lynn Gelman
Richard Gelman
Joe Gerard
Stephanie Gertz
Roger Gibboni
Cora Ginsberg
Robert Ginsberg
Stephanie Gittleman
Jack Gladstein
Barbara Glasser
Ruth Glazerman
Joan Gluck
Paul Gluck
Bobbie Gold
Renee Gold
Mae Goldberg
Shel Goldberg
Judi Goldsmith
Cassandra Gordon
Myles Gordon
Ronnie Gordon
Ina Gottlieb
Michael Gottlieb
Bill Grabel
Linda Grabel
Bill Grace
Carol Gramm
Virginia Grant
Barbara Greenbaum
Carol Greenberg
Eric Greenberg
Phyllis Greenberg
Lenore Greenstein
Mary Gregorio
Carol Gremli
Jack Gremli
Kelly Grems
Barbara Grill
Wendy Griswold
Hope Hagler
David Haines
Judith Hall
John Halpin
Barbara Hammel
Dave Harding
Lynne Harding
Suzy Hardy
Gail Harris
Olivia Harris
Sarah Hatch
Madeline Hawboldt
Gerry Hayes
Naomi He
Ellen Heffan
Peter Heller
Stephanie Henry
Yona Hermann
Wally Hersee
Nelson Hershman
Terry Hickey
Sarah Hicks
Janet Hinderliter
Helaine Hirshfeld
Joseph Hirshfeld
Lois Hobbs
Helen Hodys
Ina Hoffman
Nancy Hoffmeier
Anne Holliday
Shelley Holtzberg
Shirley Horan
Shuey Horowitz ‡
Sid Horowitz
Sonya Horowitz
Sharon Hotchkiss
Julia Hsia
Patricia Hubbard
Penny Hudnut
Marianne Hudson
Agnes Hungerford
Ann Hurley
Mary Hurley
Bonnie Hyken
James Hyun
Joanne Imohiosen
Bob Inglis
Dean Inglis
Helen Irwin
Carolyn Ivory
Charlie Jack
Eileen Jacobs
Howard Jacobs
Jane Jacobs
Barbara Jacoby
Frederic Jaffee
Veronica Jarek-Prinz
Wendy Jennis
Jeanne Johnson
Randy Johnson
Cheryl Jones
JJ Jones
Sherry Jones
Mort Josel
Sandra Josel
Dorothy Kahn
Linda Kahn
Judi Kalmanson
Ken Kalmanson
Jane Kamer
Joel Kamer
Louise Kaminow
Cindy Kaplan
Eva Karger
Vivian Kasen
Tugce Kasikci
Joyce Kates
Lillian Katz
Carol Kaufman
Joel Kaufman
Rita Kaye
Mai Keklak-Meacock
Debra Kelsey
Jean Kennedy
Judy Keshner
Barbara Kiddle
Kathy Killeen
Oliver Klapper
Laura Klebanow
Nick Kopp
Julie Koppenheffer
Carol Kosakoff
Esther Kosakoff ‡
Gabe Kosakoff ‡
Nancy Kramer
Tina Kramer
Carla Krasnick
Ken Krentsa
Maureen O'Hanlon Krentsa
Laura Krich
Steven Krich
Carl Krieger
Iris Krieger
Elyse Kuhn
Michelle Kuzia
Amy Kwei
Tom Kwei
Catherine Lafer
Cookie Lamet
Claire Lampila
Judith Lane
Moni Lapin
Mordy Lapin
Linda Lapointe
Marilyn Larkin
Joanne Larmon
Amy Laskey
Wendy Laurich
Trish Lavoie ‡
Sharon Lazerson
Ruth Lebovitz Markovits
Vera Lecocq
Brandon Lee
Gus Leibowitz
Jean Leif
Rick Leif
Mima Leivi
Dorothy Lerner
Harvey Lerner
Howard Lerner
Judith Levenfeld
Meta Levi
Debra Levin
Judy Levin
Alan Levine
Hilda Levine
Marty Levine
Toby Levine
Alice Levitus
Estelle Levy
Henry Levy
Philip Levy
Rita Levy
Marge Lieberman
Marvin Lieberman
Purlaine Lieberman
Rachel Lieberman
Chuck Liebowitz
Robby Liebowitz
Ann Ruth Lipman
Louise Lonabocker
Mandy Loutrel
Cynthia Lovell
Peter Lund
Lisa Mafrici
Natsumi Malloy
Charles Mandel
Mary Mangini
Cathy Demain Mann
Carolyn Manson
Natalie Manzino
Len Margulies
Gail Marlow
Steve Marlow
Richard Marx
Ellen Masters
Stuart Masters
Bernice Matty
Allen Mayer
Carol Maynard
Gary Mayne
Kate Mayne
Ellen Mayo
Marcia Mayper
Cathy Mazza
Peter McCallion
Jeanne McConnell
Nancy McCusker
Doris McNabb
Jane Meisel
George Mellman
Barry Meneghelli
Denny Meneghelli
Esther Messing
Michele Mestman
Steve Mestman
Jayne Meth
Joe Meth
Elizabeth Michalak
Edie Michelson Milender
Sumner Milender ‡
Chuck Miller
Harriet Miller
Leslie Miller
Paula Miller
Ron Miller
Stanley Miller
Alan Model ‡
Alice Model
Aileen Monheit
Patricia Monk
Kevin Montague
Mandy Morgan
Toby Morganstein
Gayle Moskowitz
Anne Most
Erika Mueller
Carlos Murawczyk
Susan Murawczyk
Lori Murphy
Richard Murphy
Barbara Myers
Clark Nelson
Sydney Neugebauer
Helen Neville
Faith Newmark
Stan Nikkel
Laurie Carter Noble
Ruth Nodiff
Rosemary Noren
Donna Noyes-Grosser
Aaron Nurick
Nora O'Brien
Bonnie Ochsner
Ellie O'Connor
Don Odell
Elizabeth Olenbush
Kym Oliver
Linda Olson
Sue O'Neill
Lesley Oransky
Mark Orenstein
Nancy Ormsby
Henry Ouellette
Curt Pader
Elaine Padilla
Virginia Pancotti
Joan Parker
Liz Parnes
John Parsons
Alba Passerini
Olive Patrick
Rita Paul
Bill Pelosky
Thomas Peltier
Suzanne Pelton
Peggy Peregoy
Doane Perry
Rebecca Phelps
Jane Phend
Ann Philbin
Phyllis Phillips
Beverly Pieper
Peter Podol
Phyllis Pollack
Alan Ponanski
Ted Popoff
Len Price
Susan Price
Joyce Pyenson
Steven Pyenson
Julie Quain
Donna Quallen
John Quallen
Helen Radin
Beth Radsken
Susan Randall
R. Elna Rapp
Douglas Rendell
Norman Resnick
Emily Reynolds
Liz Reynolds
Marsha Rheubottom
Rita Richmond
Ed Richter
Bob Ricles
Melissa Riesgo
Elaine Roberts
Susanne Robertson
Arthur Rock
JoAnn Rock
Gloria Rodhouse
Paul Rodhouse
Cassidy Roh
Dianne Romeo
Gary Roosma
Ronney Rosenberg
Allen Rosenblatt
Ellen Rosenblatt
Sabina Rosenblum
Sandra Rosenblum
Esther Rosenthal
Jonathan Rosenthal
Ruth Rosenthal
David Ross
Myra Ross
Pat Ross
David Rothstein
Harriet Rothstein
Janet Rothstein
Wally Rowe
Andrew Royer
Alan Rubin
Sandi Rubin
Clifford Rudisill
Norma Ruffer ‡
Lin Saberski
Carol Sabot
Bob Salerno
Mark Salsberg
Harriet Samuels
Phyllis Sandrew
Joan Sasson
Diane Saunders
Jean Scarrow
Rowena Scarrow
Eric Schafler
Sharon Schafler
Reba Schecter
Loretta Scheel
Edna Schenkel
David Scheraga
Alice Schiller
Leonard Schiller
Emilie Schmidt
Myrna Schneiderman
Arlene Schoen
Mel Schoen
Gail Schwartz
Joyce Schwartz
Naomi Schwartz
Suzanne Schwing
Freya Segal
Tony Segal
Bonnie Sexton
Berta Shaffer
Gail Shaw
Valerie Sheehan
Emery Sheer
Jill Sheer
Adele Sheinfield
Anne Sheridan
Molly Sheriff
Trish Shuart
Carl Shuster
Claudia Shuster
Carole Siegel
Alex Sieja
Leonard Sigal
Barbara Silverstein
Dorothy Silverstein
Monica Sinclair
Ken Singer
Margie Skaggs
Debee Slater
Natalie Slater
Elliot Slotnick
Judy Slotnick
Marvin Smith
Richard Smith
Starbuck Smith
Barbara Snyder
Sue Snyder
Stanley Sokol
Elaine Soldato
Sheila Solomon
Stanley Solomon
Sylvia Solomon
Sally Soluri
Lorraine Sossin
Laurie Spar
Naomi Spatz
Audrey Spellman
David Speyer
Arthur Starr
Linda Starr
Margy Steinberg
Caryl Stern
Donald Steven
Anna Stevenson
Judy Stolzberg
Betty Stone
Paula Strasser
Carol Stroll
Janis Su
Kay Tabbarah
Janet Taylor
Mary Taylor
Leslie Taynor-Mones
Deborah Terrell
Magdalena Tosteson
Maryellen Tremblay
Rona Troderman-King
Alan Tuckerman
Lisa Tully
Mark Tully
Olga Turcotte
Geri Turkington
Mehala Vaidhyanathan
Carolyn Vandervort
Leon Vilinsky
Rita Vilinsky
Barbara Viniar
Chet Vogel
Madeline Vogel
Barry Volkman
Felicia Volkman
Ted von Gerichten
Abbie Von Schlegell
Bella Vorontsov
Dottie Walchenbach
Carol Walker
Jennifer Walker
Terry Wallach
Ashley Wang
Sarah Ward
Alexandra Warshaw
Harriet Warshaw
Melvin Warshaw
Louise Wasserberg
Christine Watson
Pepi Weiner
Don Weisberg
Carl Weiss
Julie Weiss
Norman Wellen
Susan Wellen
Ron Weston
Sandy Weston
Harriet Wetstone
Margaret Wey
Lis Wheeler
Alice White
Constance White
Marit White
Aviva Wichler
Marilyn Widrow
Mary Ann Wiegand
Sybil Williams
Margaret Williams-DeCelles
Ray Wilson
Mara Winn
Randy Winn
Elena Winter
Barbara Wolff
Mel Wolff
Fran Wolk
Joel Wolk
Todd Wolleman
Elena Yazgur
Marlene Yesley
Mady Zawel
Christine Zelehoski
Jeff Zimmerman
Rena Zimmerman
Gail Zinberg