Boston Pops Fireworks Spectacular 2023
Welcome from Boston Pops Conductor Keith Lockhart
Dear Friends,
"So, let us not be blind to our differences—but let us also direct attention to our common interests and to the means by which those differences can be resolved. And if we cannot end now our differences, at least we can help make the world safe for diversity." So said President John F. Kennedy, in a speech at American University in June of 1963.
Every year, the Boston Pops brings millions of Americans together on the banks of the Charles River, either in person or virtually, to celebrate "our common interests." Our program is designed to highlight the wonderful diversity of America: this year, we feature R&B/soul icons En Vogue, the country duo LoCash, and Broadway leading lady Mandy Gonzalez, the daughter of a Mexican immigrant. Also appearing will be the cast of our recent revival of Ragtime, celebrating the 25th anniversary of that landmark musical and its still relevant theme of American diversity, and the perils and promise of a Union founded on such differences.
It's easy for each of us to proclaim what the American core concepts of freedom and fairness mean in our own lives. It's more difficult to listen to others and respect their differing takes on the American Dream. We live in a time when it seems that very few of us listen to each other, and it's important to take a moment and remember that the Pledge of Allegiance says "with liberty and justice for all." Not for just you. Not for just me. Not for one group of people, at the expense of others.
Maybe today's event is a step in that direction…as we listen to the Boston Pops and the U.S. Army Field Band and Soldier's Chorus, and join with them to sing our favorite patriotic songs, we can each remember that is everyone's job to listen, even to those with whom we disagree.
After all, we have much in common: as President Kennedy continued in that speech from 50 years ago, "in the final analysis, our most basic common link is that we all inhabit this small planet. We all breathe the same air. We all cherish our children's future. And we are all mortal."
Happy Fourth of July, everyone!
Keith
Program
The Circus Bee
Henry Fillmore
U.S. ARMY FIELD BAND, LT. COL. DOMINGOS ROBINSON, conductor
Battle Hymn of the Republic
William Steffe/Julia Ward Howe—arr. Wilhousky/Neilson
U.S. ARMY FIELD BAND and SOLDIERS' CHORUS, LT. COL. DOMINGOS ROBINSON, conductor
One Big Country Song
Jesse Frasure/Ashley Gorley/Michael Hardy
LOCASH
Star Spangled Banner
John Stafford Smith/Francis Scott Key—arr. Bass
MANDY GONZALEZ, SOLDIERS' CHORUS, and HONOR GUARD
The Brass Bash (medley)
TRUMPETS, EUPHONIUMS, and TROMBONES of the BOSTON POPS and U.S. ARMY FIELD BAND

Raiders March from Raiders of the Lost Ark
John Williams
Let Freedom Ring
Barry Manilow/Jack Feldman/Bruce Sussman—arr. Hough
SOLDIERS' CHORUS, SARAH POLINSKI and IAN BOWLIN, soloists
Armed Forces Medley
arr. Kessler/Hayman
FIELD BAND AND SOLDIERS' CHORUS
From Ragtime: The Symphonic Concert
Ragtime—Back to Before—Wheels of a Dream
Terrence McNally/Stephen Flaherty/Lynn Ahrens
ANDREA JONES-SOJOLA, ELIZABETH STANLEY, ALTON FITZGERALD WHITE, and SOLDIERS' CHORUS
42nd Street
Harry Warren/Al Dubin—arr. Sebesky
Everything I Know from In the Heights
Lin-Manuel Miranda—arr. Mansfield
MANDY GONZALEZ

Patriotic Sing-Along
arr. Hayman
SOLDIERS' CHORUS
PRESENTING LOCASH
Fearless
Lin-Manuel Miranda—arr. Elliott
MANDY GONZALEZ and SOLDIERS' CHORUS
Defying Gravity from Wicked
Stephen Schwartz
MANDY GONZALEZ
PRESENTING EN VOGUE
1812 Overture
Pyotr Ilyich Tchaikovsky
Stars and Stripes Forever
John Philip Sousa
FIELD BAND and SOLDIERS' CHORUS
Boston Pops Esplanade Orchestra
First Violins
Katherine Winterstein
Charles Dimmick
Lisa Crockett
Christine Vitale
Sasha Callahan
Sarita Uranovsky
Sarah Atwood
Zoya Tsvetkova
Gregory Vitale
Susan Faux
Liana Zaretsky
Cynthia Cummings

Second Violins

Clayton Hoener
Jennifer Elowitch
Colin Davis
Dorothy Han
Heidi Braun-Hill
Judith Lee
Stacey Alden
Julie Leven
Mina Lavcheva
Omar Guey
Violas
Abigail Cross
Scott Woolweaver
Sharon Bielik
Jean Haig
Donna Jerome
David Feltner
Barbara Wright
Kenneth Stalberg
Cellos
Ronald Lowry
William Rounds
Jennifer Lucht
Eugene Kim
Leo Eguchi
Steven Laven
Francesca McNeeley
Melanie Dyball
Basses
Susan Hagen
John (Bebo) Shiu
Anthony D'Amico
Elizabeth Foulser
Randall Zigler
Peter Walsh
Flutes
Renée Krimsier
Ann Bobo
Linda Toote
Piccolo
Linda Toote
Oboes
Andrew Price
Amanda Hardy
Andrew van der Paardt
English Horn
Andrew van der Paardt
Clarinets

Ian Greitzer
Ryan Yure
Bass Clarinet
Ryan Yure
Bassoons
Ronald Haroutunian
Adrian Jojatu
Horns
Kevin Owen
Hazel Dean Davis
Whitacre Hill
Kate Gascoigne
Trumpets
Terry Everson
Michael Dobrinski
Bruce Hall
Richard Kelley
Trombones
Hans Bohn
Alexei Doohovsky
Bass Trombone
Angel Subero
Tuba
Takatsugu Hagiwara
Timpani
Richard Flanagan
Percussion
John Tanzer
Hans Morrison
William Manley
George Darrah, drums
Sean Skeete, drums
Harp
Krysten Keches
Keyboard
Benjamin Cook
Jesse Taitt

Guitar
Scott Johnson
Electric Bass
Mike Rivard

Librarians
Mark Fabulich
Joshua Luty
Personnel Manager
Nolan Welch
Fireworks Music Selections
Hoe Down from Rodeo (Aaron Copland), BOSTON POPS ORCHESTRA
This City, LADY A
Main Titles from The American President (Marc Shaiman)
More Than a Feeling, BOSTON
Midway March (John Williams), BOSTON POPS ORCHESTRA
The Best, TINA TURNER
Dibs, KELSEA BALLERINI
Don't Get Me Wrong, MATCHBOX 20
Pearls, JESSIE WARE
Stronger, KELLY CLARKSON
Theme from The Patriot, BOSTON POPS ORCHESTRA
Symphony No. 9 (Ludwig van Beethoven), BOSTON SYMPHONY ORCHESTRA & TANGLEWOOD FESTIVAL CHORUS
Military Information
Cannons
The 101st Field Artillery consists of 350 men and women from the 1st Battalion 101st Field Artillery Regiment, with Headquarters in Brockton, Alpha Battery in Fall River, and Charlie Battery in Danvers. Members of the 211th Military Police Battalion and the 1st Civil Support Team are also on hand assisting with public safety.
M102 Howitzer Cannon Specs
Caliber 105mm (4.13 in)
Width 6.4ft (2m)
Weight 1.5tn (1.4t)
Range 11,500m (7.1 miles)
Length 17.1ft (5.2m)
Height 5.2ft (1.6m)
Crew 8
Rate of fire 10 rounds per minute maximum
Event Information
Additional information is available at bostonpopsjuly4th.org.
Public Safety
For your safety, 25 federal, state, and city agencies are onsite in Boston and Cambridge and in the event's Unified Command Center. Emergency Medical Services, first aid stations, and personnel are onsite in Boston and Cambridge.
Bathrooms
There are over 200 bathrooms located in Boston and Cambridge.
Weather
Updated weather forecasts will be announced periodically over the event's public address system. Please follow any instructions given by public safety or via the sound system.
Remember, "If You See Something, Say Something"™
If you see something suspicious at all, please report it to one of the many uniformed public safety officers onsite or call 911.
Keep the Music Playing!
Help the Boston Pops present music at free concerts like this one. Your gift directly supports our talented musicians and programing, enabling access to music for thousands of kids and families across the state of Massachusetts.
Make a Gift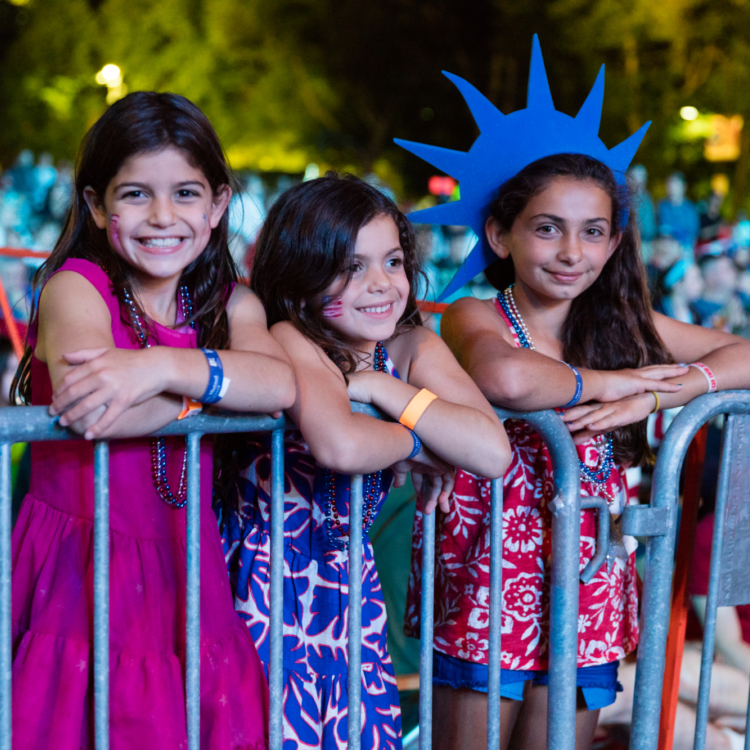 Thank You to Our Sponsors
Presenting Sponsor

Media Partner