BSO
BSO Presents a Week of Family-Friendly Programming, Oct. 25–28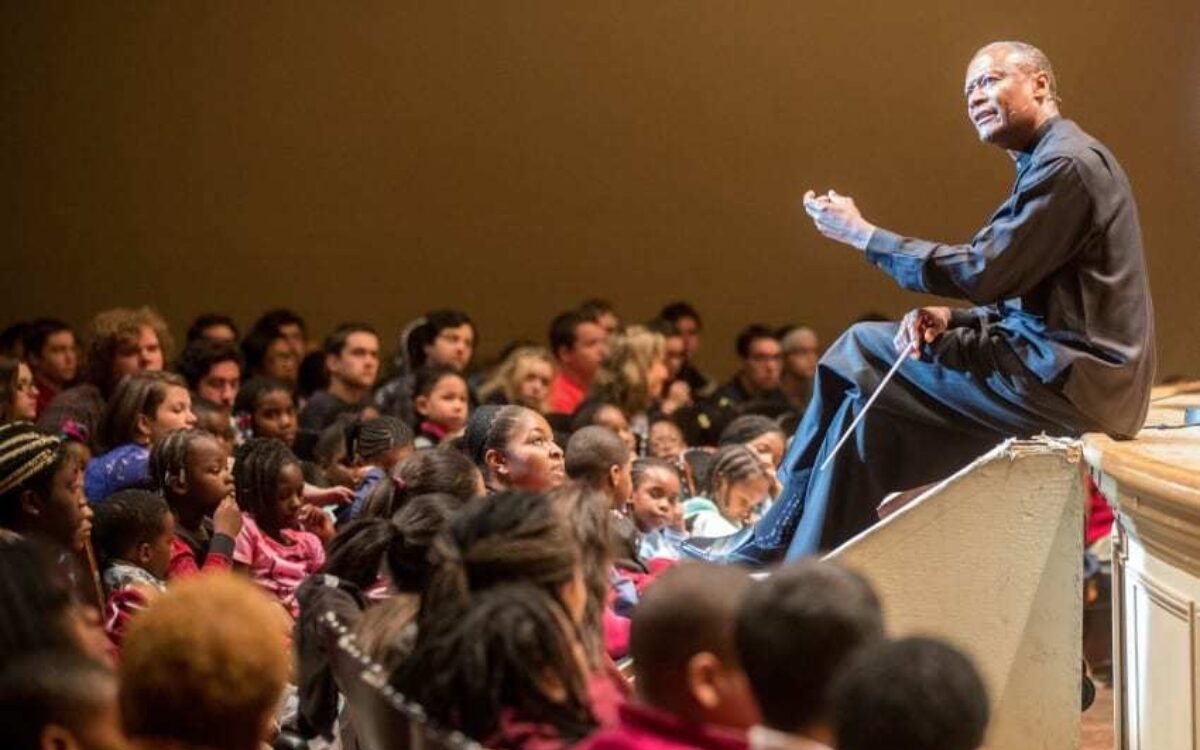 From October 25–28, the BSO will present an exciting concert program designed for students and families, entitled May I Have Your Attention Please: A Musical Look at Getting, Giving, and Paying Attention. Led by BSO Artistic Advisor for Community Engagement / Germeshausen Youth and Family Concerts Conductor Thomas Wilkins, the hourlong concert program features music by composers from Beethoven and Tchaikovsky to William Grant Still. The eclectic program is designed to call attention to musical elements such as tempo, rhythm, repetition, and contrast. Wilkins, now in his twelfth year conducting the BSO's Youth and Family Concerts, is also the subject of a PBS documentary, Beyond the Baton: A Conductor's Journey that will air on Friday, October 27 at 10:30 p.m. on GBH2.
Weekday Youth Concerts, designed to introduce students in grades 4–6 and up to the power of live orchestral music, take place at 11 a.m. on Wednesday, October 25, Thursday, October 26, and Friday, October 27. Students will hear directly from Wilkins in between pieces and get a chance to interact with BSO musicians and their instruments in pre- and post-concert activities. Tickets cost $10, and students and teachers from the Boston Public Schools may attend for free. For more information, please see the ticketing section at the bottom of the release.
The BSO is pleased to offer a Sensory-Friendly Family Concert on Saturday, October 28 at 10 a.m., designed for people of any age with an autism spectrum disorder or sensory sensitivity and their families. Sensory-friendly concerts feature relaxed house policies to allow for more audience movement and welcome audience engagement and enjoyment of all kinds in a judgment-free environment. BSO staff and musicians learn about the individual needs of audience members from credentialed experts who are also on hand to support them and their families. Since their inception in May 2019, sensory-friendly concerts have garnered praise for making Symphony Hall accessible to all. The Sensory-Friendly Concert will also feature a pre-concert interactive instrument playground beginning at 9 a.m.
The final Family Concert of the week on Saturday, October 28 at 12 p.m. will feature a special addition to the program: Keila Wakao, winner of the BSO's annual Concerto Competition, playing the romantic second movement of Sergei Prokofiev's Violin Concerto No. 2. Seventeen-year-old Wakao began playing the violin at the age of three and is currently a senior at Walnut Hill School for the Arts. She was selected by a panel of BSO musicians out of a competitive pool of 22 applicants and nine finalists.
In addition to the Youth and Family Concert Series, the BSO presents a variety of engaging programs for students and families, including Holiday Pops Kids' Matinees, High School Open Rehearsals, the Fidelity Investments Young Artists Competition, and a free summer arts immersion program called Days in the Arts. To learn more about our offerings for families, visit our website.
For more information, download the complete press release.

Press Contact
Jan Devereux
Senior Director, Public Relations and Communications
jdevereux@bso.org
Matthew Erikson
Senior Publicist
merikson@bso.org

Rena Cohen
Publicist
rcohen@bso.org
Voice mailbox: 617-638-9280